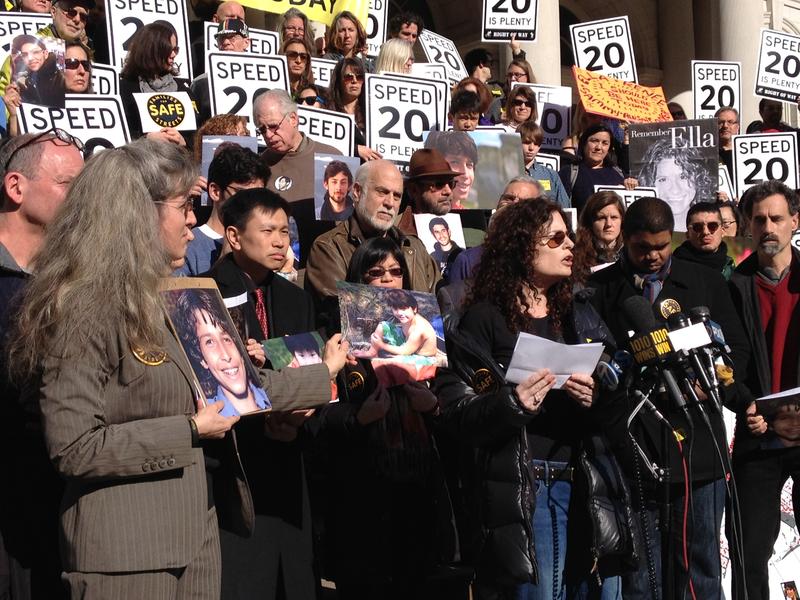 Families members of people who have been killed or injured in collisions on city streets have come together to demand an end to traffic fatalities. They want Mayor Bill de Blasio's administration to strengthen its recently announced plan to eliminate street fatalities.
"Families for Safe Streets," which is supported by the advocacy group Transportation Alternatives, gathered on the steps of City Hall Sunday to call for annual benchmarks with death and injury reduction goals from each agency in Mayor de Blasio's "Vision Zero" task force.
Mayor de Blasio unveiled "Vision Zero" earlier this month. Its 63 recommendations, which he intends to implement within 10 years, can be roughly broken down into three categories: enforcement, education, and engineering.
At Sunday's rally six people spoke about a loved one who was killed in New York City traffic.
Amy Cohen's 12 year-old-son Sammy was killed by a van on a Brooklyn street last fall. She thanked Mayor de Blasio for his Vision Zero plan, but urged him to speed up the timetable. "We demand rapid implementation of Vision Zero because, as you heard from these stories, ten years is too long to wait," Cohen said.
Dana Lerner's 9-year-old son Cooper Stock was killed last month by a cab that was turning on the Upper West Side.
Lerner wants the state to temporarily suspend the licenses of cab drivers involved in fatal collisions, including the one at the wheel when her son died. "This driver is legally allowed to drive a taxi. In fact, you could hail a cab right now and the driver could be the man who killed my son," Lerner said.

The City Council will hold its first hearing on Mayor de Blasio's Vision Zero plan Monday morning.