Booker Touts a "Construction Boom" in Newark... Do the Numbers Back it Up?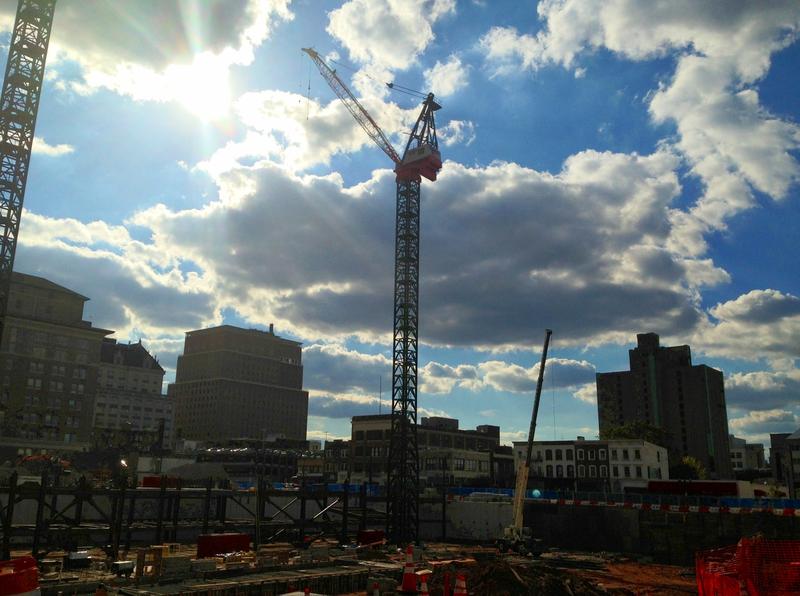 On the campaign trail of U.S. Senate candidate Cory Booker you'll hear that Newark is in the midst of an economic and construction boom. Yet poverty and joblessness remains stubbornly high in New Jersey's largest city.
"One of the most commonly seen birds in Newark is the crane," Booker said at a recent event. But some economists say the numbers don't back up claims of an economic revival in the city.
About a third of the population still lives below the poverty line. That's been nearly unchanged since Booker took office.
One in nine local government jobs were cut in Newark, according to data from the New Jersey Department of Labor and Workforce Development.
Unemployment in the city is still above 14-percent, according to the Bureau of Labor Statistics.  The state unemployment rate is 8.5-percent.
"If [Booker] is some sort of economic development wizard the effect of the recession in Newark should have been less severe," said Dan O'Flaherty, a professor of economics at Columbia University. "I think that's the minimal standard even to be a junior economic development wizard."
O'Flaherty briefly worked as Mayor Booker's Finance Director and in the 1970's and 80's he was an aide to Newark Mayor Ken Gibson.
He says the effect of the recession in Newark was more severe than in the rest of the New York metropolitan area and the rest of New Jersey.
New Development Under Booker
Walking the city's downtown you'll hear the distant sounds of tractors and electric saws as workers several feet below the ground build a new office tower for Prudential and a new residential tower—the first in 50 years, according to the city.
The city has broken ground on the Indigo Hotel and a housing complex for teachers called the Teacher's Village—a $130 million project that will include new charter schools and retail space.
Three supermarkets came in and a BBQ chain. 
In all Booker brought in a billion dollars in new development last year, and another $2 billion are in the pipeline for next year. But O'Flaherty says that doesn't compare to the development under previous mayors. 
Newark's last mayor, Sharpe James, brought in Seton Hall Law School, the New Jersey Transit building, the Blue Cross/Blue Shield building by Penn Station, the FBI building and NJ-PAC.
Before that he says Mayor Ken Gibson brought in all the housing projects, the Public Service Building, four office towers called Gateway 1, 2, 3, and 4, and the new Newark airport.
"The Newark airport is billions and billions of dollars worth of investment," O'Flaherty said. "Bigger than anything that's been contemplated or completed under Mayor Booker."
And it's the place where there are more jobs in Newark than any place else, he says.
The Challenge in Newark
Education sector jobs in Newark did go up under Booker, as well as food service jobs and employment in the arts. And the number of people employed in construction has been on the rise since 2010. 
That could point to some of Booker's priorities, said Julia Schwenkenberg, a labor and development economics professor at Rutgers University who studies inequality. But it's difficult to gage Booker's effectiveness as mayor.
"Because we have no counterfactual," she said. "We don't know how much worse it would have been under a previous mayor."
She says the city struggles with the effects of concentrated poverty: low graduation rates, high crime and a workforce that lives primarily outside of the city. These issues are difficult to address when the recession and the state cut the city's budget.
"If you want to solve poverty and increase education, you need public investment," Schwenkenberg said. "What's also important in a city like Newark is safety, so you want to invest in the police force, make sure people feel safe on the streets, and they want to open businesses there, they want to live there."
Since public dollars were shrinking, Booker turned to private funding, says Adam Zipkin, the deputy mayor of economic development in Newark.
"The boom that we're seeing now in Newark, the billion dollars of new investment, its private sector investment," Zipkin said. "Its developers and investors that literally in the past would not have considered coming and investing in Newark and developing in Newark."
Booker requires the companies that move to Newark to hire locals to work the construction jobs. And new companies are required to consider residents for the permanent jobs.
"We have first source agreements that say that for the Marriott hotel and for Panasonic and for the new restaurants that are opening, that whenever they have new hires, that they'll interview Newark residents first."
There is no quota. The new companies don't have to hire Newarkers. But the city is hoping to create a pipeline of pre-screened, pre-trained workers that will be competitive for the new jobs that open up. 
The city expanded its job-training program and launched an Office of Re-entry Program for ex-offenders. Of the 2,000 ex-convicts who have gone through the program, close to 800 of hardest people to employ still had a job six months in.
"And what we're seeing is that at the Marriott, at the Dinosaur BBQ, at the new 1st Street supermarket, 50, 60, 70% of the people being hired are Newark residents that are coming though our program."