Facing Slim Competition, de Blasio Has Stage to Himself in Reelection Bid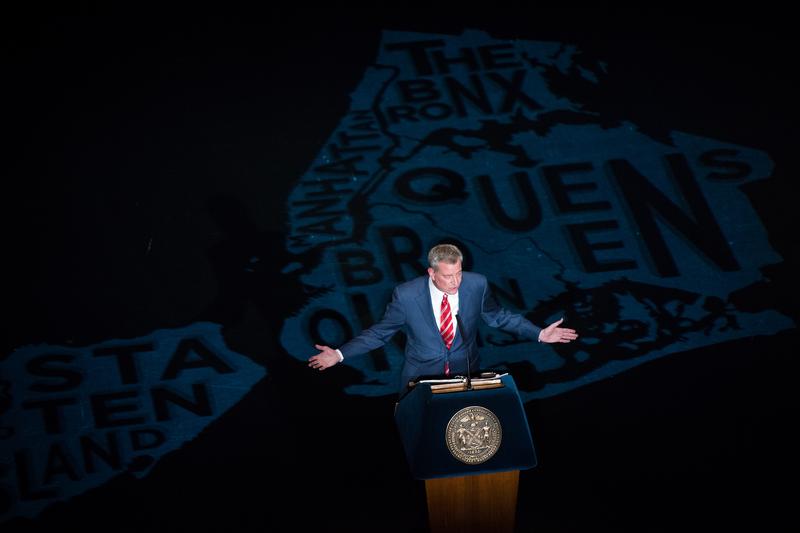 It's a strange campaign season for New York City Mayor Bill de Blasio. Election Day is just eight months away -- six until the Democratic primary -- and there's still no major challenger who's stepped up to run against him.
His campaign points to the body of work that make up the past three-plus years. Crime continues to be down, the economy is humming along and he's launched concrete programs such as universal pre-kindergarten that have changed people's everyday lives.
"By many benchmarks, across many issues, the state of the city in New York City is good," said Phil Walzak, a senior campaign advisor who used to work in City Hall.
For those who say the state of the city should be better, there are a handful of candidates eagerly taking shots at the incumbent. Lobbing accusations of laziness, poor management skills, corrupt political dealing along with some plain-old name calling, these candidates want to take the spotlight off de Blasio's accomplishments. But they have stumbled and struggled to gain traction.
Paul Massey wants to be a contender. He's a successful real-estate executive with a hint of Boston, his hometown, in his accent and a ruddiness to his complexion. He's running for mayor on the Independence Party line and hopes to pick up the Republican nomination. And while he's banked — and spent — serious campaign cash, it would take a major upset, according to the latest polls, for him to oust de Blasio from City Hall.
Standing at the podium in charcoal pinstripes, sweat beading on his forehead, he made his pitch to a crowd of about 100 people at the Metropolitan Republican Club's Upper East Side townhouse last month. Massey touted his management skills before taking a swing at de Blasio's relationship with the police officers and his work ethic.
"The police will never protest me in front of the gym at 11:30 at the morning," said Massey. "I will have been at work for four or five hours."
It was a sure-fire applause line, like almost any criticism of the mayor. But Massey did not exactly win over the room. He sidestepped a question from an audience member about his views on "illegal immigration" and was warned by another about not becoming a "progressive conservative."
Massey trains at a boxing gym and knows how to throw a punch. But politics is a numbers game. The winner works the system, builds the largest coalition and turns those people out when it's time to vote.
"Running against Bill de Blasio is never going to be an easy thing," said Joe Lhota, who ran on the Republican line and lost to de Blasio in 2013. "His political skills are second to none."
For Republicans, there's also the enrollment gap. There are six registered Democrats for every one Republican in New York City, and that gap has grown since 2013. The electorate is also more diverse and less white than when the city elected Rudolph Giuliani and Mike Bloomberg on the Republican line.
Lhota said the demographics are in de Blasio's favor. Plus, any Republican challenger is now running in the party of Trump. The mayor has positioned himself as the president's polar opposite. He's shoring up his progressive base with endorsements from nearly a dozen labor unions and the Working Families Party.
"He does control the progressive wing of the Democratic party and any Democrat who wants to challenge Bill de Blasio will be up against his keen political instincts," said Lhota, "I think that's why you are not seeing substantive candidates from the Democratic party trying to challenge the mayor.
"On the Republican side, you've got everyone saying, 'Oh well, you know, if he gets indicted, it weakens him significantly,' " Lhota said. "That very well may be, but I don't see a scenario in which the mayor gets indicted."
That is the wild card. There are two grand juries now hearing evidence in parallel state and federal investigations into the mayor's fundraising practices. So far, there have been no charges and the mayor maintains no one did anything wrong, even after spending four hours in an interview with the U.S Attorney's office last Friday.
But top-tier candidates are circling. Mike Morey, a Democratic political consultant at SKD Knickerbocker who worked on Christine Quinn's 2013 mayoral bid, said there's still plenty of time for a dramatic shakeup in the race.

"If an indictment were to come either for him or for his staff, I do think it sort of reinforces some of the concerns New Yorkers have about Bill de Blasio," Morey said. The concern being that the mayor makes decision for political reasons instead of on the merits.
In the meantime, Morey said, the race is filling with second-tier candidates.
An unlikely duo of mayoral hopefuls joined forces outside City Hall last month.
Bo Dietl is a retired NYPD detective, runs his own security firm and played an unsavory character on the ill-fated HBO series Vinyl. Sal Albanese is a former City Councilmember, running for mayor for the fourth time. They've come together to push for nonpartisan local elections, which would require a change in city law.

"The political class is a strangle hold," said Albanese. "They don't want to expand the process. We want to open up the process. We want to get more voters involved."

There are a dozen other declared mayoral candidates on file with the city's Campaign Finance Board, most of whom would be total unknowns to voters. Another handful of candidates list the office sought as undeclared.

It's still early — in 2013, Anthony Weiner didn't jump into the race until the end of May, and the scandal that sunk his campaign came in late July. But there are deadlines looming: candidates start circulating petitions to get on the ballot in June and must declare what office they are seeking with the CFB by June 12th.
Correction: An earlier version of this story referred to Paul Massey as a real estate developer. He is a real estate executive and co-founder of the brokerage firm Massey Knakal. This story was updated Thursday at 11:30 a.m.