Faces Of NPR: Steve Mullis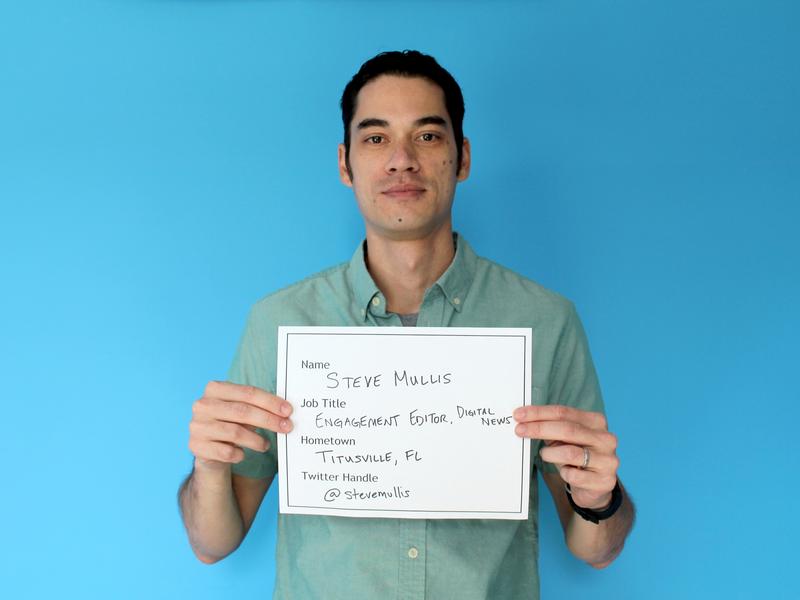 Faces Of NPR is a weekly feature that showcases the people behind NPR, from the voices you hear every day on the radio to the ones who work outside of the recording studio. You'll find out about what they do and what they're inspired by on the daily. This week, meet Steve Mullis, digital whiz and video game aficionado.
The Basics:
Name: Steve Mullis

Twitter Handle: @stevemullis

Job Title: Engagement Editor for Digital News

Where You're From: Titusville, Fla. (where the Space Shuttle used to take off from)
An Inside Look:
You're an Engagement Editor for Digital News. What does that mean?
Right now, my primary role is working with the rest of the engagement team shaping how NPR's stories are presented and promoted on our front-facing platforms, including the NPR.org homepage, Facebook and Twitter.
How did you get started here?
First, I was a digital editor at the Orlando Sentinel in Florida. Then I worked as a digital editor and producer for MPR in St. Paul, Minnesota. I parlayed those connections when I was ready to leave the snowy tundra of the Land of a Thousand Lakes to land at NPR, first as a weekend producer and editor for digital news.
What's your favorite #nprlife moment?
Getting to randomly meet D.C. punk rock legend Ian MacKaye as he walked through the hall with Guy Raz.
What are some cool things you've worked on?
I created, edited and grew an NPR video game Tumblr, called NPR Plays, to 20K+ followers, as well as writing more than a dozen video game reviews for NPR.org, an area that we don't typically cover.
What's on your desk?
A wide collection of pop culture figures (called Pops) from my favorite movies and TV shows. The prize of the collection is The Dude, from The Big Lebowski.
Favorite podcast?
I listen to so many, but right now I'm an NPR Politics Podcast junkie, as well as listening to How I Built This as soon as a new episode drops.
Favorite Tiny Desk?
Favorite places in Washington D.C.?
Right now, the house my wife and I just purchased in Brookland.
First thing you do when you get to the office?
Check Twitter, then get coffee with digital editor Stephanie Federico.
What advice do you have for writing great tweets?
Be smart, be informative, but be you (or your organization's voice). Also, own your mistakes when you make them. People like transparency. For more, I wrote a whole post about Twitter for our Social Media Desk Tumblr.
What are you inspired by right now?
YouTuber Casey Neistat is someone I watch everyday. He's a filmmaker and vlogger that just has a fascinating life, posts amazing videos everyday and just has an outlook on life that adds a lot of positive and creative energy to the pool that is a constant source of inspiration.
What do you love about public radio?
The love, trust and loyalty of our audience. I first experienced this working the state fair booth for Minnesota Public Radio. People were so excited to meet and say hello to me, a lowly digital editor, simply because I was associated with their local public radio station. It was incredibly inspiring and refreshing, considering the often negative sentiment toward the media.
Copyright 2016 NPR. To see more, visit http://www.npr.org/.