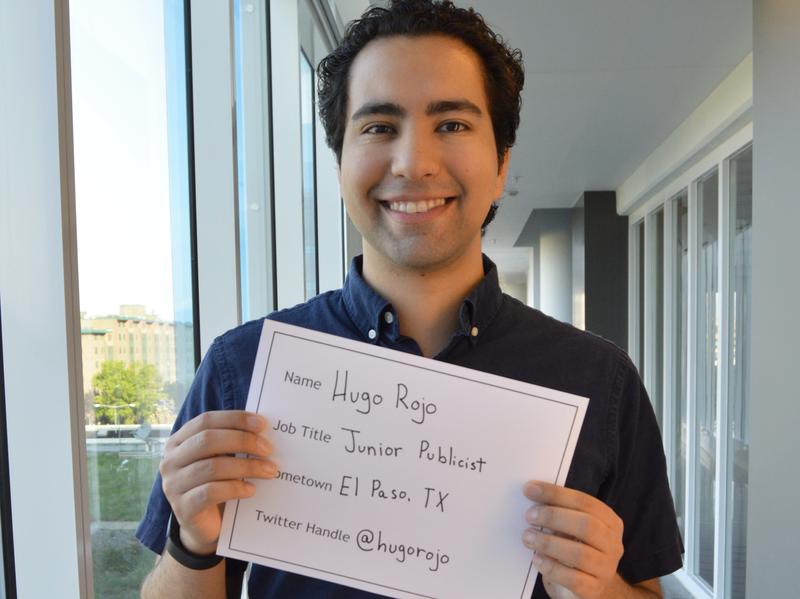 Faces Of NPR is a weekly feature that showcases the people behind NPR, from the voices you hear every day on the radio to the ones who work outside of the recording studio. You'll find out about what they do and what they're inspired by on the daily. This week, we are featuring Hugo Rojo.
The Basics:
Name: Hugo Rojo

Twitter Handle: @hugorojo

Job Title: Junior Publicist

Where You're From: El Paso, Texas
An Inside Look:
You're the Junior Publicist. What does that mean?
I support press and publicity for our reporting, people, programming and products. I like to think of my team as the stage moms and cheerleaders of our employees and their work!
How did you get started here? Or what advice do you have for someone who wants a job like yours?
I interned at NPR in summer 2014. It was then I fused my first love of journalism with my second, new-found passion for public relations. This is my first post-grad job. Before moving to Washington, D.C., I was at the University of Texas at Austin getting my undergrad in public relations.
Public relations is a 24/7 job. The nature of news is also 24/7. This job requires relentless curiosity and creative thinking. I'd advise aspiring media publicists to immerse themselves in the industry and do their homework on the challenges and opportunities facing journalism.
What are some cool things you've worked on?
This year I got to handle publicity for NPR Music's South By Southwest showcase in Austin, Texas. In that vein, I recently visited the White House to support the promotion of our Tiny Desk concert with Common during South By South Lawn. That was a surreal experience.
I loved getting the word out about the new Code Switch podcast. The reporting on race and ethnicity coming out of that team is something I'm really proud of.
What's your favorite #nprlife moment?
I did not grow up listening to NPR or public radio. Since I started here, NPR has become a fixture in the media diets of my family members. They'll rave about Lulu Garcia-Navarro's reporting from Brazil during the Olympics or Peter Sagal's zingers on Wait Wait...Don't Tell Me! My #nprlife moment comes from seeing Lulu and Peter's names in my inbox. I get to work with these folks!
What are your guilty pleasures?
Television and film are my guilty pleasures. I'm meticulous when it comes to what I watch. I have a spreadsheet that tracks what documentaries I need to catch up on, when films and series become available on Netflix or Amazon. I also love crowdsourcing recommendations from people I know and also may have just met. You can learn a lot about someone from what they suggest.
What's on your desk?
I believe in being surrounded by inspiration. I keep mementos from events and projects I've worked on. I like keeping a stash of NPR buttons at my desk for any visitors that come by our HQ. A large jar of sweets is also next to me—I've found this is a quick way of making friends.
What are you inspired by right now?
I'm listening to Guy Raz's new podcast How I Built This. I do my best thinking when going for a walk, washing dishes or folding laundry, so his interviews with luminaries and innovators are perfect companions for that.
Book-wise, I'm digging into Angela Duckworth's Grit, which takes a look at what makes people persevere and push through challenging times. I'm obsessed with work and company culture, so Work Rules by Lazlo Bock, Google's former Head of People Operations, has been a great read lately.
Favorite Tiny Desk?
I could listen to Quetzal's Tiny Desk concert on repeat all day long.
Favorite places in Washington, D.C.?
There's something about walking under the string of lights at City Center near Chinatown. Get some gelato from Dolcezza nearby and you're set for an evening of people watching and fountain sounds.
What do you love about public radio?
I love the love the audience has for us. I can't think of any other tribe as fiercely loyal and protective as public radio fans.
Copyright 2016 NPR. To see more, visit http://www.npr.org/.