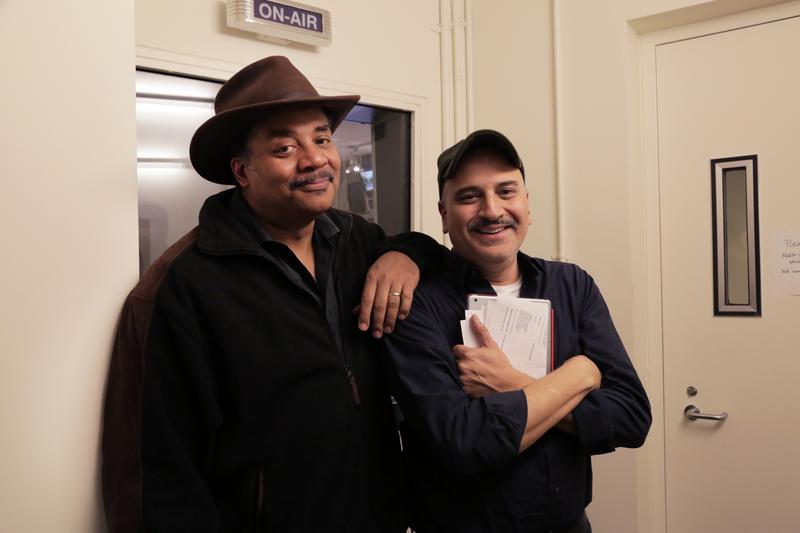 In between breaking down the secrets of the stars, the mysteries of the Milky Way, and all the things that come with exploring the limitless universe, your local astrophysicist Dr. Neil deGrasse Tyson also enjoys the American Songbook. Specifically, those perfect little lyrical phrases they contain.

In the episode last fall, our astrophysicist got frothy about Rocky Horror Picture Show, Jesus Christ Superstar, and My Fair Lady, among others. In this podcast extra, Neil excitedly tells host Julian Fleisher about his environmental perspective on a pair of songs written by Paul Simon in the mid-1960s. Both songs spark a flurry of questions for Neil about how times have changed, and how science affects songwriting.
Back when Neil visited us at Naked American Headquarters, he'd recently released not one but two books: Welcome to the Universe: An Astrophysical Tour and Star Talk the book. Now he's got another: Astrophysics for People in a Hurry.

In fact, he's probably written another book by the time you hear this Simon & G-Funk Naked American bonus.
If you want more of Neil deGrasse Tyson's take on music and astrology, listen here to his deep dive on Gustav Holst's The Planets with WQXR host Elliott Forrest. And you can hear more of his American Songbook musings on our full episode: Perfect Phrases with Neil deGrasse Tyson.

Looking for more? Check out the Naked American Songbook archives, and subscribe on iTunes so you don't miss an episode. Please leave us a comment if you like the show, and be sure to join the conversation on Twitter and Instagram and Facebook!