EXTRA: Julian Judges Peggy Lee and Sarah Vaughan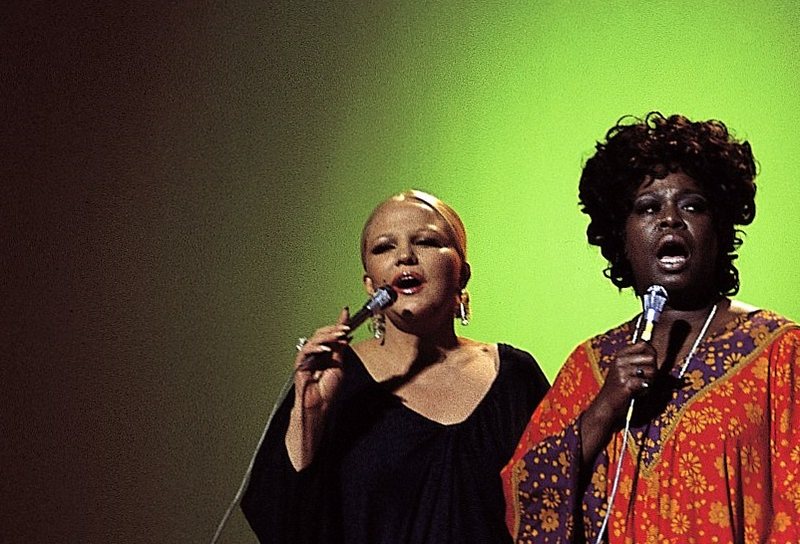 Today Judge Julian will be presiding over the case of Lee vs. Vaughan. Two unlikely opponents are brought to court to defend their music and the title of "Who Sung it Better!" 
FEVER: Peggy Lee
It would be churlish if not downright contrary not to award the trophy for this one to Miss Lee, who masterfully put this song on the map where it has rightly stayed since forever. Sassy's peppy rendition is a latin-flavored confection that shows off her chops, humor and, yes, sass. But Peggy's stripped-down, bass-driven approach, her godlike sense of time and her uncanny ability to tell a dark story add up to a recording that is nothing less than iconic. And rightfully so. Peggy Lee, very simply, owns this tune.
THE FOLKS WHO LIVE ON THE HILL: Sarah Vaughan
The best version of this song is unquestionably that of Mel Tormé (who includes the charming verse!), though Gabriel Kahane's recent effort is a welcome and unexpectedly haunting contender. Of these two entrants, however, Vaughan walks away with the prize. Lee's approach to Kern's mini-masterpiece has her sounding bored, as if she's doing her math homework in front of a full orchestra. Sarah Vaughan and her small combo, on the other hand, seem to understand that the sublime music and fantasy lyric indeed exist together on some astral plane of unattainable domestic bliss — one that seems ideally matched to her singular gifts. Point: Vaughan.
I'M GLAD THER IS YOU: Peggy Lee
If there's one criticism that is consistently leveled at Sarah Vaughan it's that she can, upon occasion, be indulgent to a fault. This is one of those occasions. It's always intense to hear her magnificent instrument slide up and down the pentatonic scale, but in this instance the song itself is all but lost. Peggy Lee's version, however, while not particularly inspired, shows off the tune to better advantage and is rendered with her trademark glimmering vulnerability and strange, smoldering charm. The honor goes to Ms Lee.

LULLABY OF BIRDLAND: Sarah Vaughan
This isn't really even a fair fight. This tune resides squarely in the heart of Sarah Vaughan's hulking musical wheelhouse. Even with an assist from the immortal George Shearing, Peggy Lee can't conjure the kind of jazzy, swinging, shining magic that Vaughan does negotiating the tune's swooping melody and ingenious rhythmic scheme. It's always fun to watch Lee's plangent lips work their way around the poetry of a gamine lyric such as this, but it's really no contest. Sassy for the win.

ELLINGTON MEDLEY: Tie
Lee should get the trophy for just appearing in this one — alongside three of the greatest voices of all time. I mean lets face it, her fame is built more upon her unmatched ability to tell a story than it is upon her vocal prowess, strictly speaking. And here she is, with none other than the undefeated firm of Vaughan, Flack and Franklin — all at the height of their awesome powers. Lee clearly holds her own here, and the format doesn't really do any of them any favors—if you don't count the raw blockbuster thrill of their just standing there together. But if we're being honest, this performance really belongs to Aretha. So, lets be nice and call it a draw!
We want to hear from you! Subscribe to The Naked American Songbook on iTunes, follow us on Twitter, like us on Facebook. Tell Judge Julian what case you'd like the Naked American Songbook court to hear next…