More Explosive Devices Found In New Jersey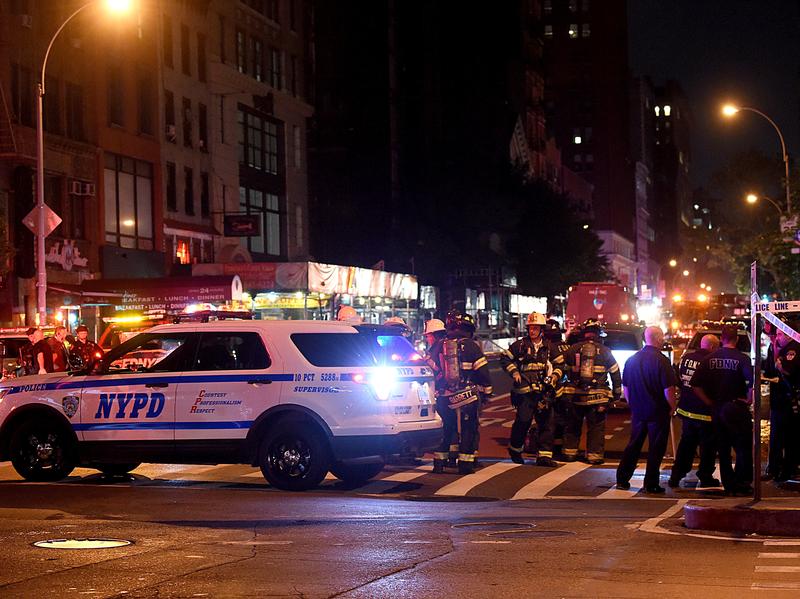 A backpack found near the Elizabeth, N.J., train station Sunday night contained five explosive devices, several of which were pipe bombs, according to Elizabeth's mayor, J. Christian Bollwage.
As FBI technicians were attempting to disarm one of the bombs with a robot it detonated. No one was injured.
Meanwhile, officials continue to investigate Saturday night's explosion in Manhattan that injured at least 29 people, according to officials in New York City. None of the injuries appear life-threatening, police say.
Mayor Bill de Blasio says initial investigations suggest the explosion, on West 23rd Street in New York City's Chelsea neighborhood, was an "intentional act," but that there is "no evidence at this point" of a connection to terrorism.
A second bomb was found several blocks away on West 27th Street. Law enforcement sources close to the investigation tell NPR's Dina Temple-Raston that the two bombs were similar in the way they were assembled.
Both were pressure cookers and Christmas lights were used to spark the explosives. A flip phone appeared appeared to serve as the timer for both devices. Both pressure cookers were filled with ball bearings and BBs to serve as shrapnel.
Late Sunday night the FBI confirmed in a statement that law enforcement officers had stopped a car and detained five people for questioning in the investigation. The statement said no one has been charged with a crime.
NPR's Temple-Raston also reports that officials have a "person of interest" but it is unclear if the person has been identified or simply spotted in a surveillance video.
At a press conference Saturday night, de Blasio cautioned that the investigation was still in the early stages and there was little that authorities could definitively say about the explosion. But he said there was no specific and credible terror threat against New York City.
The explosion occurred around 8:30 p.m. Eastern time. The New York Police Department's bomb squad and counterterrorism units responded to the scene, along with other officers and emergency medical services.
The NYPD's counterterrorism department tweeted out a photo that appears to show a mangled dumpster, calling it an "update" on the 23rd Street explosion. At the press conference, de Blasio would not confirm the specific site of the explosion's origin, but did say it appeared to be outdoors.
NYPD Commissioner James O'Neill said at the press conference that evidence did not suggest the explosion was caused by "any natural gas cause," and he said the location is being treated as a crime scene.
President Obama has been briefed on the situation, according to a White House official.
Journalist Josh Marshall lives across the street from the site of the explosion but wasn't there when it happened. He wrote in a post on his site, Talking Points Memo, that a large building at the location described by authorities has been the site of "low-intensity construction" for months.
The street is not normally the site of heavy foot traffic, he says.
This is a breaking news story. As often happens in situations like these, some information reported early may turn out to be inaccurate. We'll move quickly to correct the record and we'll only point to the best information we have at the time.
Copyright 2016 NPR. To see more, visit http://www.npr.org/.