The Takeaway
Exploring D-Day's Underwater Secrets 70 Years On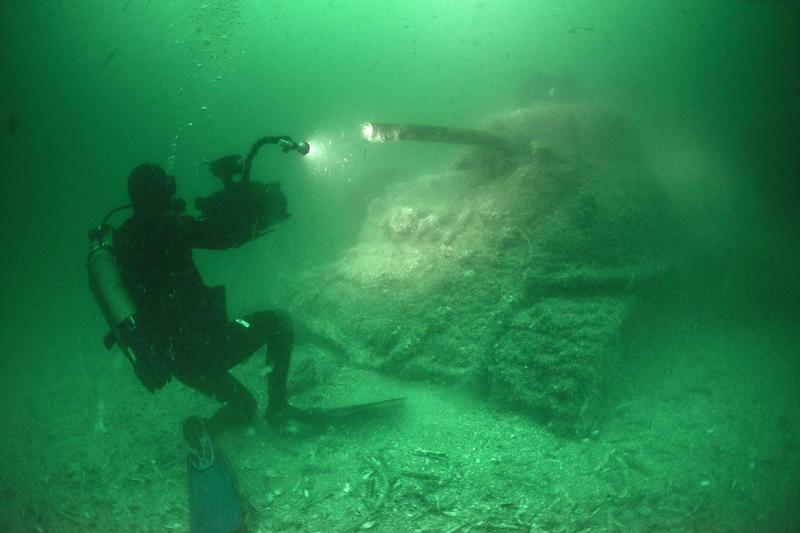 It has been almost 70 years since the Allied Forces, led by the United States, Canada and Britain, stormed the beaches of Normandy during World War II to liberate Western Europe from the Nazis.
The D-Day invasion on June 6, 1944 required years of detailed planning and was the largest military operation of its kind, with more than 150,000 service members supported by some 5,000 ships and 11,000 airplanes.
During the battle and the days that followed, hundreds of ships and tanks sank off the coast of Normandy. Recently, an international team of archaeologists and military historians has been surveying the underwater sites of the sunken ships off the Normandy beachheads, in an attempt to better understand the extraordinary technology and engineering that contributed to the success of the assault.
The Takeaway talks with Doug Hamilton, the producer, director, and writer of a new NOVA documentary called "D-Day's Sunken Secrets," about the latest underwater survey work. 
"We focus very much on the initial landings—the four or five hours that it took to get control of Omaha Beach," says Hamilton. "That's an incredibly heroic story, but the operation would not have been successful if we couldn't land all of the millions of men and tons and tons and tons of equipment that was required to sustain the invasion and move forward."
Tim Beckett is the director of Beckett Rankine Marine Consulting Engineers. Beckett's father was a World War II engineer who designed a critical part of the artificial harbors built especially for the D-Day landings, known as the "Mulberry Harbors." The artificial harbor is looked at as a technological marvel—it came complete with floating roadways and piers.
"The roadways floating in the waves was my father's design, and the artificial harbors were very much Churchill's concept," says Beckett. "It was well known that we were going to have to land in France eventually—the Germans knew it as well as we did. Floating bridges have been done before with rivers—the Romans had them—but never in the open sea with all the motions that involved. To actually tow it across the channel and then install it rapidly was, I believe, an outstanding achievement that was critical to the success of Normandy."
Putting aside his father's accomplishments, Beckett says that Mulberry Harbors was an incredibly impressive feat of engineering. 
"From the engineering perspective, it was hugely ambitious—and not just to design and construct it and transport it over there, but also, remarkably, to keep it secret," says Beckett. "Without the surprise element, it probably wouldn't have been a success."
Beckett says that constructing Mulberry Harbors was something that Winston Churchill could not afford to get wrong.
"Churchill was wrong quite a few times on many issues, but on this one he was insistent that there would not be landings without the proper support of artificial harbors," says Beckett. "I think, on this, he was right."
Hamilton says he worked with French engineers on the new NOVA documentary to create animations that truly show the size, scale, and difficulty of creating Mulberry Harbors.
"If you go to the coast of France now, you just see the remains of the concrete blocks that were brought over," says Hamilton. "They give you a sense of how big it is, but they don't really show how this was a functioning port."
Hamilton and his team interviewed the chief historian for the Navy to get a sense of the complexity of Mulberry Harbor. Before its construction, ensuring that LSTs or landing ship tanks—which could carry upwards of 200 men and 20 tanks—could mount the shore and take position on the beach was an incredibly difficult task
"Landing them on the beach and unloading them took about 10 hours because of the tides that you had to work around, and the whole process of getting a ship up onto the sand," says Hamilton. "Once the Mulberry Harbors were in operation, they were able to pull up at the pier and unload an entire ship in an hour and a half and then go back out to sea. It really added to the efficiency of unloading."
The NOVA team went on an expedition to locate sunken ships, and then reached out to some World War II veterans who were on the beaches of Normandy so many decades ago.
"After we found a ship that we could dive on, we contacted the veterans," says Hamilton. "I remember calling up (veteran) Bill Allen and asking if he would come. Two weeks later, he was there. It was an incredibly significant event for him—he had not been able to talk about his experiences with his family or anyone else for 50 years. It was only in the last few years that he began to think that he would be interested in returning to Normandy, but he's 88-years-old and didn't really think that opportunity would ever come."
Hamilton says that coming back to Normandy was hugely important for him. When he returned, he asked to see the grave of his commanding officer.
"Someone like Bill Allen will say, 'I'm not the hero—the heroes are the guys that died there,'" adds Hamilton.
NOVA's "D-Day's Sunken Secrets", produced by our partner WGBH, airs at 9pm eastern on PBS tonight.