Exclusive: De Blasio To Offer Six Weeks Paid Parental Leave For Non-Union City Workers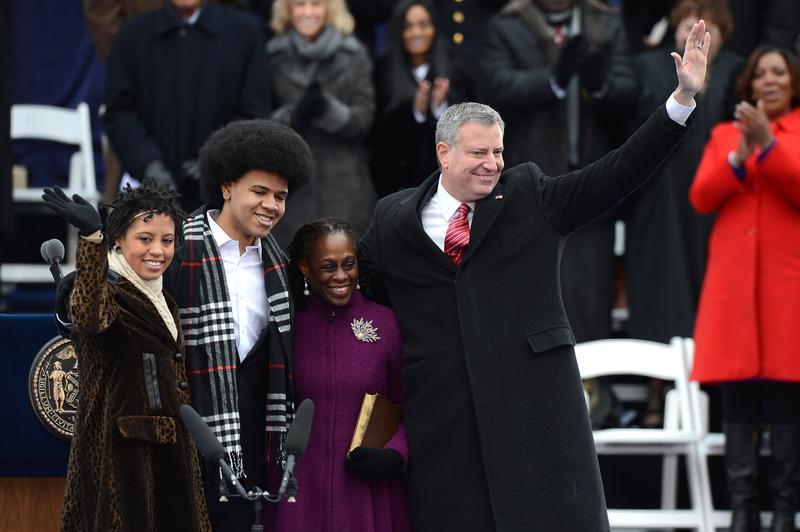 WNYC has learned New York City Mayor Bill de Blasio plans to issue an executive order guaranteeing some city workers 6-weeks of paid parental leave. He plans to make the announcement Tuesday.
Starting in January, 20,000 managers and non-unionized workers will be eligible for the policy – covering maternity, paternity, adoption, and foster care leave, at 100 percent of their salary.  When combined with existing paid time off, some employees will be eligible for up to 12 weeks total. 
"I remember after Chiara was born, just our economic reality was that Chirlane had to go back to work very quickly," de Blasio told WNYC. "She has always felt a tension over that. She didn't feel good about not being able to spend more time with Chiara."
It's a decision faced by many new parents: bond with your baby or pay the bills.
"We want to give parents that choice. We want to give them that opportunity at that precious moment to spend time with their child in the way that makes sense for them," de Blasio said.
To cover the $15 million cost, all non-union employees will see their vacation time reduced by two days, from 27 to 25. The city will also take back a small portion of a multi-year raise that would have taken effect in July 2017 to pay for the extra leave.
The policy does not apply to the city's 300,000 union employees. But the mayor said the benefit can be added to their contracts through collective bargaining. 
Henry Garrido, head of District Council 37, the largest municipal union, says that is "absolutely" what he wants for his 122,000 members.
"I think it should be offered to all city employees and I think we should begin a process to negotiate," Garrido said. 
Paid family leave is becoming more popular in the private sector as companies compete to keep employees. But in the public sector, this benefit is a rarity. Only Austin and Pittsburgh offer 6 weeks paid leave. 
It's something feminist activist and writer Gloria Steinem has been trying to push since the Nixon administration. She says the city's new policy is progress.
"It sends the message that we might barely begin to catch up with other advanced democracies in the world that have long since offered such policies," Steinem told WNYC. She added, "We are way behind."
According to a United Nations report, only two countries in the world do not guarantee some form of paid leave parental leave: the United States and Papua New Guinea.