Every Night, Ads Turn into Art in Times Square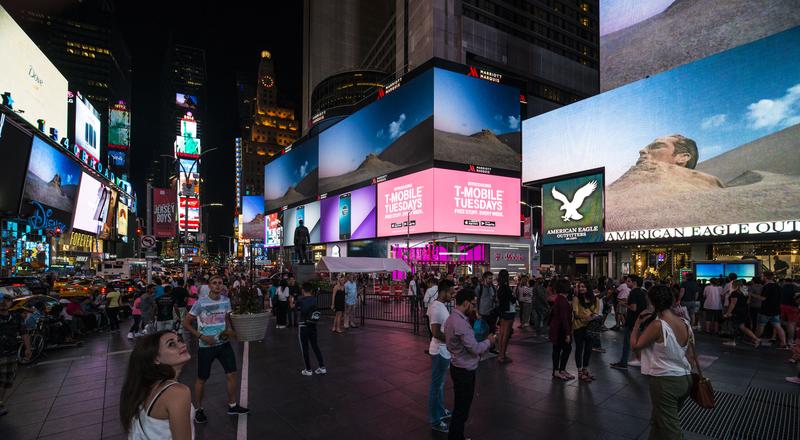 Some New Yorkers might not know this, but every night at 11:57 p.m. on the dot, many of the electronic billboards hanging over Times Square stop flashing ads and turn into an art exhibit for three minutes.
The project, called Midnight Moment, premiered in May 2012 and features a different artist every month. Work from artists like Yoko Ono and Andy Warhol have been displayed every night on up to 61 screens spread over five blocks.  
"The only night that we give up is New Year's Eve," said Sherry Dobbin, Director of Times Square Arts. 
Featured in August is musician Jherek Bischoff, who filmed a series of videos shot throughout the world for his new album "Cistern." On the nights of Aug. 21 and 22, 11 musicians from the New York ensemble Contemporaneous will perform his music — silently.
Passersby will only be able to see musicians playing electric violas, violins and horns. In order to hear them, they'll have to put in one of the 400 wireless headphones organizers will hand out. 
Dobbin said the fact that many New Yorkers might be unaware of Midnight Moment isn't a worry.
"It's that funny thing, you want to be really successful and you want people to know about it," she said. "But in order to keep it fresh you need people to continue to discover it, and feel as if they've uncovered one of the greatest unknown secrets."
(The music starts at 11:30 p.m. and ends at midnight. Headphones will be handed out starting at 11:00 p.m. on Broadway, between 43rd and 44th streets.)