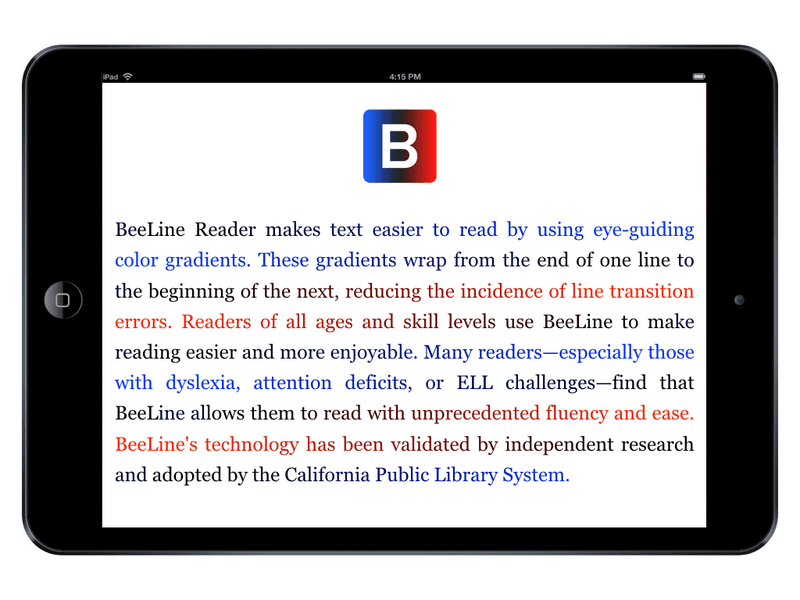 Click on the 'Listen' button above to hear this interview. 
E-reader and website developers have all toyed with ways to make reading on screens easier. It was a question Nick Lum asked himself while working as a corporate attorney in Silicon Valley for seven years. He wondered what it would be like if the text wasn't just black on white, but in color instead. Then he tried it out.  
He posted a simple plug-in on a website called Hacker News. By the time he returned from lunch, the post had moved up to the number one spot on the site. Soon thousands were trying it out, and word among the ADHD and dyslexia communities began to spread — people who had struggled previously with reading found success with the app.
Lum's idea, now called BeeLine Reader, won the Stanford Social Entrepreneurship and Dell Education startup competition in 2014. The concept is simple: The gradient coloring of text makes it easier for the eyes to move from line to line, making reading more efficient and faster (pictured above). 
Click on the 'Listen' button above to hear Lum explain how the BeeLine Reader works, and how you can get it on your tablet or computer.
Related: Paper Vs. Plasma: How the Digital Reading Shift is Impacting Your Brain