Ethical Culture Leader Algernon Black Confronts Bias and Bigotry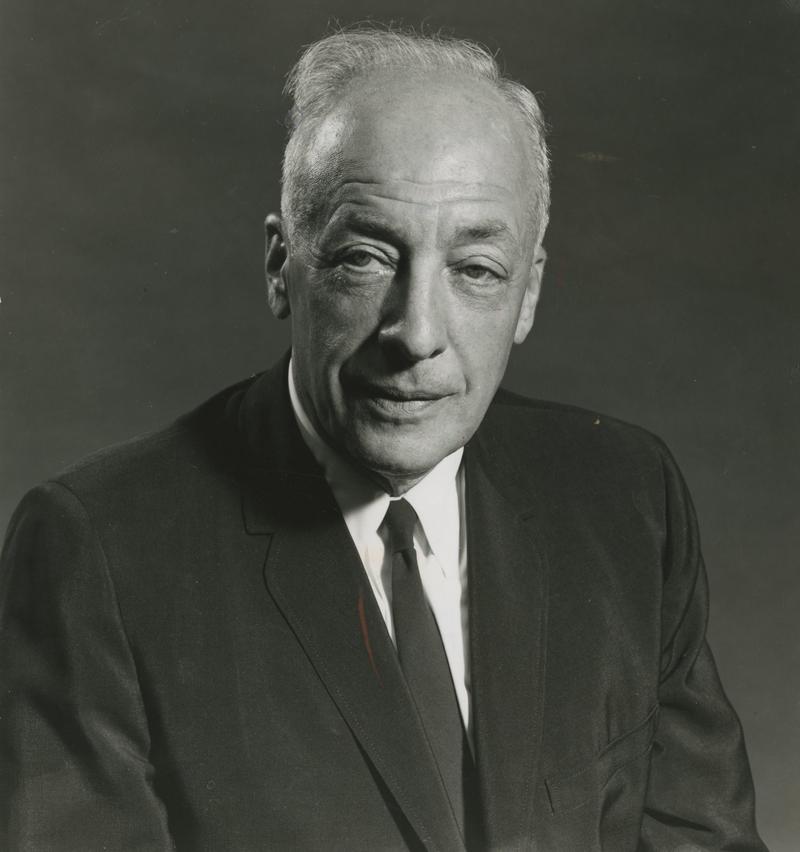 How can men live together on this earth? noted educator and social activist Algernon Black asks in this 1951 talk given at Cooper Union. Black, leader of The Society for Ethical Culture, starts by contrasting the ways in which we are alike and the ways in which we differ. His aim is to strike a balance between the two, based on mutual respect and understanding. Our bedrock similarities--our chromosomes, our bodies, our capacity for thought--are rooted in science, not spirituality. Yet we all possess different "rhythms," both cultural and personal. He identifies seven levels of human relationship on an ascending scale starting at murderous intolerance, culminating in altruistic love, concluding with a plea that may sound clichéd today but perhaps did not over a half-century ago, "the need for unity with diversity."
Turning to specifics, Black calls for desegregated schools which must, in turn, result from desegregated neighborhoods. He urges changes in curriculum, questioning why slavery is barely discussed in today's History classes, which could in turn lead to a discussion of the day's current race problems. Puerto Rican children should not be taught by teachers who do not speak Spanish. Teachers who teach in Harlem should know something about the community. Black is convinced that education can solve most of society's ills. His own experiences have taught him that "man is infinitely more plastic than I ever thought." He speaks at length about the Encampment for Citizenship program and its use of dramatic skits and role-playing as a way to confront the question of how one should respond to public displays of bigotry. He addresses anti-Semitism as well, noting that airlines and banks still do not hire Jews. While he applauds legislation to address these problems he still insists it is the responsibility of the individual who, if properly informed, will do the right thing. This belief that wisdom can be attained through the eradication of ignorance reaches its height during a question-and-answer period when he contends the A-bomb is only a threat because we have "bad human relations" with the Soviet Union.
---
Algernon Black (1900–1993) was a product of the belief system he came to represent. A child of immigrants, he was knocked unconscious by a public school assistant principal for a committing a minor infraction. His mother then applied for him to be granted a scholarship to the Ethical Culture School, which advocated a faith based on reason rather than God. Black, after attending Harvard, returned to the Ethical Culture and eventually took over the leadership of the society from its founder. As the New York Times notes in its obituary:
Upon the death of Dr. Adler in 1933, Mr. Black was among those most responsible for translating the movement's message into programs to meet the crises of the Depression. And after World War II, he came to be viewed by many as emblematic of that spirit as he spoke out on social issues like equal housing opportunities or health conditions in Harlem… He headed or sat on numerous committees, panels and boards concerned with juvenile delinquency, racial discrimination and human rights.
As can he heard here, Black was a tireless speaker, hosting many talks on various radio stations. The range of his interests seems, in retrospect, remarkably prescient, addressing many problems that would only gain wider attention in the decades to come. The Ethical Culture website lists how:
…Black worked actively against discrimination in housing, chaired the Civilian Police Review Board, and participated in the Committee for a SANE Nuclear Policy. In 1944, he founded the Encampment for Citizenship, a summer program for young adults with the purpose of encouraging political activism and volunteerism that sought to educate its participants about civic responsibility, participation in government, and tolerance of diversity. 
Indeed this last program, which he describes in detail during the talk, sounds like a model for many similar camps and organizations that sprang up in the 1960's and continue to this day. The Encampment for Citizenship website speaks of how:
…Al Black was inspired by the Civilian Conservation Corps (CCC) and American Friends Service Committee (AFSC), but thought those programs lacked diversity and didn't explore the meaning of democracy enough for a lasting impact. The Encampment was founded on the core idea that young people can be a positive force in their communities if they develop critical thinking skills, youth activism, leadership qualities and the courage to break free from stereotypes. … The young men and women who took part in the first Encampment for Citizenship were from every part of the United States and from several other countries. White, Black, American Indian, Japanese-American and Mexican-American, North and South, Protestant, Catholic, Jew, farmer, office worker, factory worker, miner, veteran, student—all were represented. 
Audio courtesy of the NYC Municipal Archives WNYC Collection.
WNYC archives id: 150857
Municipal archives id: LT1379