The Essential Listener's Guide to Trump and Clinton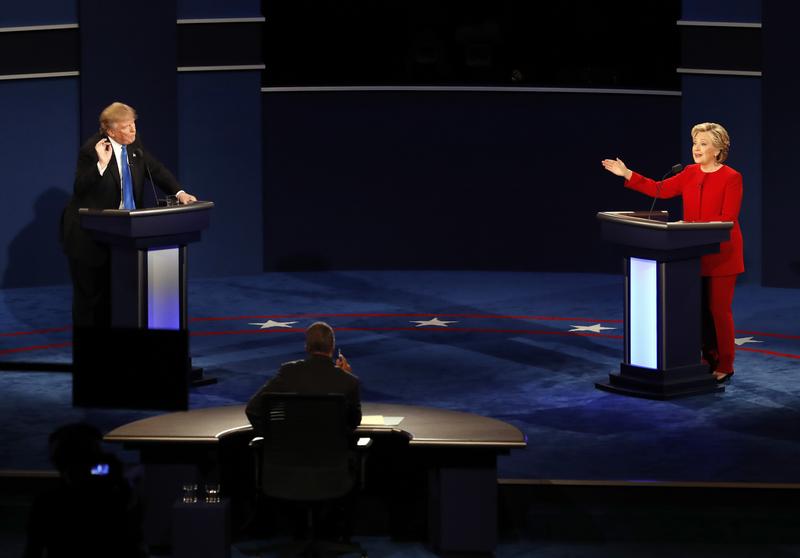 Donald Trump
The One Thing Donald Trump Didn't Inherit
Trump Village in Coney Island is where the career of Donald Trump's real estate empire began. However it was not the GOP nominee who built the 40-acre housing complex, but his father, Fred Trump. Stephen Nessen traces how these two men interacted, and how Donald Trump became the man he is today.
This Week in Politics: Playwright Tony Kushner on Roy Cohn and Donald Trump
Roy Cohn was held many hats in the 20th century, from chief counsel to Joseph McCarthy during the senator's Communist witch hunt in the 1950s to the regular attorney for mafia bosses. He also happened to be Donald Trump's lawyer in the 1970s and 1980s. David Furst sits down with playwright Tony Kushner to talk about Cohn, Trump, and 2016 politics.
This Week in Trump: New York Real Estate and the Mob
For New York's real estate developers in the 1980s, working with organized crime was nearly inevitable. So where did budding-real estate mogul Donald Trump figure into the game? David Furst talks with Tom Robbins of The Marshall Project and the Daily News, who says Donald Trump was not the exception to the rule.
Armed Men Once Patrolled the Polls. Will They Reappear in November?
In 1981 the Republican National Committee spent $75,000 to implement the National Ballot Security Task Force in New Jersey's black and Latino neighborhoods to stave off voter fraud. It's eery similarity to today's rhetoric sent Matt Katz looking to see if this year's election cycle is a case of history repeating.
Is Donald Trump Saving NYC Millions, or Making Millions Off Taxpayers?
In 1986, the city of New York allowed Donald Trump to take the lead in repairing Central Park's Wollman Ice Rink. It is an experience Trump has touted as an example of his business acumen for building on time and under budget. Janet Babin looks into the fiscal state of the city, once the GOP-nominee was given access to its coffers.
Cruz, Trump and the Islamophobia Network
 In 2010, Park51 or the 'ground zero mosque' became a flash-point on the perception of Muslims within America. Arun Venugopal dives into contemporary Islamophobia, and found a direct line from the Ground Zero mosque to the 2016 Republican primary campaign.
Is Donald Trump the Archie Bunker of Today?
A television staple,  a native of Queens, and a brash talker with little filter. Depending on the decade, these attributes could describe two figures: Republican presidential candidate Donald Trump; and, All in the Family patriarch Archie Bunker. Stephen Nessen looks at the overlap of how a piece of cultural commentary from the 70s is playing out in present day politics.
Hillary Clinton
How September 11th Revealed the Real Hillary Clinton
It is well known that Hillary Clinton was the Junior Senator for New York State on September 11th, 2001. Yet, through WNYC tapes, what is uncovered is how the Democratic nominee for president was fundamentally changed and informed by the attacks and their aftermath. Andrea Bernstein looks for the real Hillary Clinton under the shadow of 9/11. 
As Senator, Clinton Made New York Love Her. Now She Has To Do It Again.
 When Hillary Clinton first moved to New York State in run-up to her Senate campaign, the choice of Chappaqua seemed politically expedient. Andrea Bernstein traces Clinton's status from carpetbagger to respected Senator, and how this year's presidential primaries brought her back to the Empire State under similar conditions.
The Tale of the Tape: Hillary Clinton's Gay Marriage Evolution
Throughout the primaries and into the general election, a question has lingered: is Hillary Clinton sincere or a political opportunist when it comes to her policy positions? Using the case study of same-sex marriage, Andrea Bernstein looks at how Clinton has evolved on issues before and the levels of sincerity underscoring the shifts.
This Week in Politics: A Historic Moment – But Don't Get Too Excited
Hillary Clinton becoming the first female nominee for president of a major political party is historic. But her record in public office suggests that she may not be groundbreaking enough for all on the left side of the ideological spectrum. Darnell Moore of Mic.com joins Andrea Bernstein to put into perspective both the historic nature and limits of Hillary Clinton.