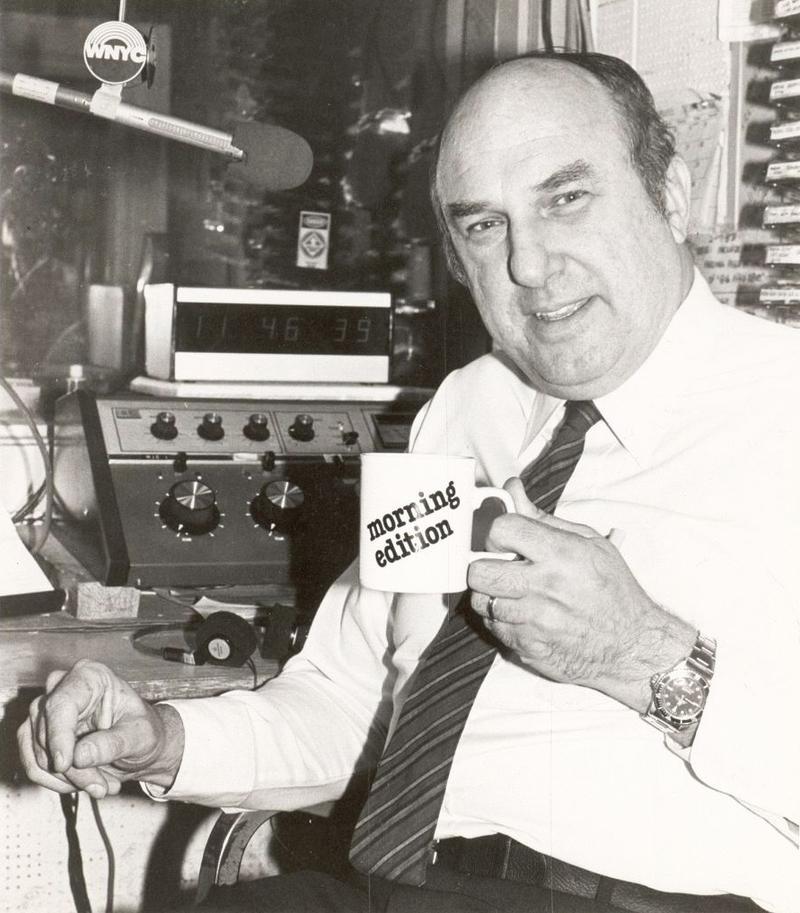 Originally published in the November 1989 issue of Wavelength, WNYC's program guide. It followed a profile of NPR's Bob Edwards.
To New York listeners, Morning Edition has always been synonymous with another name: Eric Zoro, who as news anchor has been putting together the local and state news in the predawn hours for more than a decade. This fall marks Eric's 20th anniversary as "morning man" at WNYC.
Eric says his involvement with the news "just evolved. I've done everything here --traffic, weather reports, classical music." Before he began doing the news on Morning Edition and working with WNYC's news team, Eric was a one-man band. "I would do the morning news at 6am and then go over to City Hall, where I would tape interviews with city councilmen," he says, adding that the current set-up suits him just fine: "Now that I'm in the studio all the time, I have more control over what I'm doing; I spend more time editing and rewriting. The news is better now because we're able to devote more time to analysis."
A "radio nut" since childhood, Eric got into the business shortly after he got out of the navy, when he happened to spot an advertisment for television workshops in the Yellow Pages. With the help of the GI bill, he got his first class radio license and spent several years down South working as a transmitter engineer. In Norfolk, Virginia, Eric started his own radio station literally "in a friend's backyard." Although the station "was an impressive hit with the listeners," Eric had to sell out after a few years. In 1967, he came to New York, where he worked at several station "disc jockeying and doing the news" before coming to WNYC.
Eric says that his career in radio has not been without its risks. Among the mishaps that have occurred while he was on the air are an exploding microphone wire ("Thankfully someone on the other side of the studio window realized what was happening and took the helm"), a radiator that burst, and a nosebleed that obliterated his copy ("I talk my way through it: after a while you can almost repeat some stories verbatim off the top of your head"). Eric has literally put his life on the line: Once, while he was working on some wires at the Virginia station he owned, 3,000 volts passed through his body, throwing him to the floor. "Smoke was coming out of fingertips and I couldn't talk...but I went back on the air that night."
As news anchor, Eric says that toughest part of the job is the hours. Five days a week. Eric clocks into the WNYC newsroom at 4:30 after commuting in the dark from his home in Astoria, Queens.
Why does he do it? Partly it's the love of radio: "The intimacy of radio is beautiful. To me, radio will always rank higher than television because no matter how powerful TV is, radio brings the message home. When you want to know what's going on in the world or what the weather's like, turn the radio on and in a few minutes, you'll know. It's a business everyone's got their ear on." Partly it's the ambience of public radio: "It feels good to be giving information in a responsible way. We're not gearing ourselves to 12- or 13-year-olds." Most of all, says Eric, its the WNYC audience that makes his job truly rewarding. "Sometimes you think no one is listening when you're on the air. But then, whenever I meet our listeners at fund-raisers, I'm amazed at their warmth and sincerity. They do listen. At WNYC, you connect with a real listener, not a statistic. That's one of the tangible benefits I get from an intangible job."
_________________________________________
Eric Zoro left WNYC in 1991 and retired to Virginia Beach, Virginia. He passed away in 2004.
Listen here to Eric's coverage of the Mets reception at City Hall in 1969 after they won the World Series.