At Eric Garner's Funeral, Mourners Cry 'It Ends Today'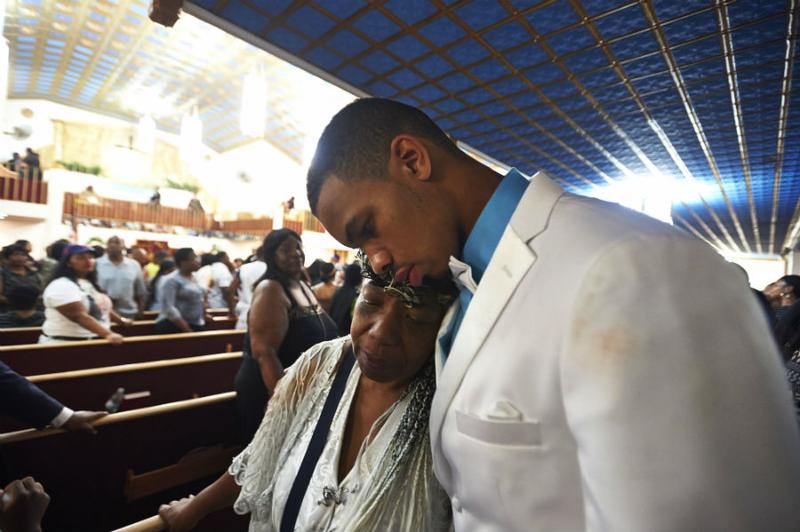 Hundreds of people filled the 100-year-old Bethel Baptist Church Wednesday evening to mourn Eric Garner, the 43-year-old Staten Islander who died after an apparent chokehold by police.
Garner was remembered as good-natured family man. As a youth, he adored sleeping so much, Garner was known to occasionally do so standing up. He also relished spending weekends in Coney Island with his grandparents.
Feelings of anguish over how Garner lost his life became the focus of the service. Elected officials and loved ones of other New Yorkers killed during police encounters sat solemnly as one speaker quoted what Garner told police just before he died. "It ends today."
The Rev. Al Sharpton used his turn at the pulpit to put city officials on notice — that nothing less than criminal prosecutions for the officers involved would be acceptable. He rejected NYPD Commissioner Bill Bratton's charge that more training is one remedy.
"You don't need no training to stop choking a man who says I can't breathe. You need to be prosecuted," he declared.
Sharpton called up Randy Orta, the bystander who videotaped Garner's encounter with police before he died. The congregation gave Orta a standing ovation while some of Garner's family moved forward to embrace him.
After the nearly two-hour service ended, people lingered outside in the rain. Several NYPD chiefs in white shirts stood with other officers in the street opposite the hearse. One Brooklyn mother, 55-year-old Dervie Mapp Kofti, said she didn't know the family but was shaken by Garner's death as a mother.
"Enough is enough…enough is enough, it has to stop," she cried.