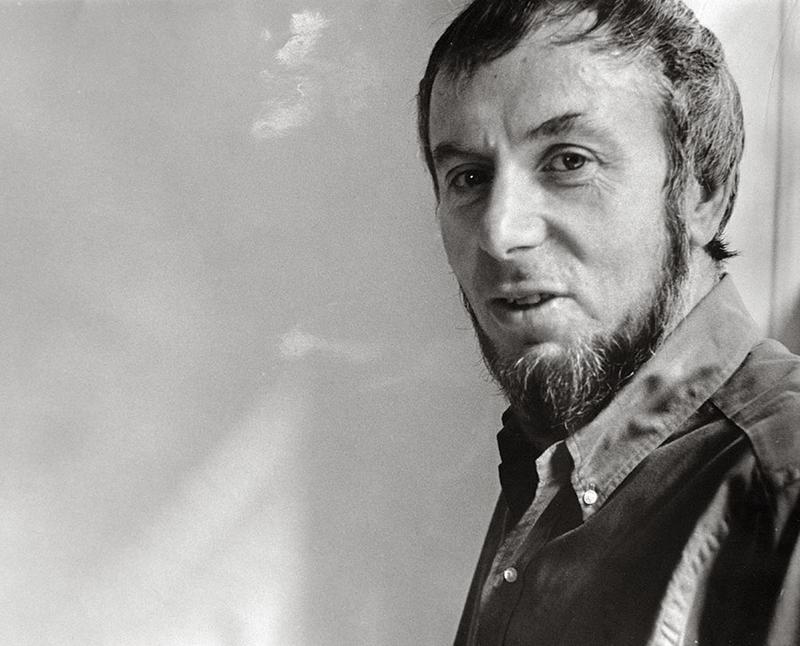 Theater critic, playwright, singer and editor Eric Bentley will turn 101 later this year. Throughout his long and distinguished career, he is perhaps best known as one of the preeminent experts on Bertolt Brecht. Bentley is also known for his works of criticism, as well as his scholarship and opposition to the House Un-American Activities Committee.
We've pulled two interviews with him from our collections.  The first (player above) was by Eleanor Fischer, who produced reports and documentaries for the CBC in the 1960s and opened NPR's New York city bureau in the early 1970s.
In this 1967 interview they begin by discussing the banned East German singer and poet Karl Wolf Biermann and how Bentley came to meet him. He likens Biermann to Bob Dylan and Joan Baez and says he is among a new style of poets under 30 who sing their poems and circulate the text on mimeographed sheets.  Bentley suggests he is a rebel who has not broken with communism but seeks a newer and more libertarian type of communism akin to Rosa Luxembourg. Bentley suggests that the economic situation in East Germany has improved for workers but become more repressive for intellectuals, that, in fact, the East German state is far more Stalinist than anywhere else in the east. Still Bentley believes the regime is afraid of Biermann, which is why they want to silence him. He suggests the poet and singer is 'a sleeping beauty, waiting for his kiss' and that his silencing is only temporary. 
Fischer and Bentley talk about the need for international publicity that acts to protect artists who are under attack from the state. If the artist or activist is forgotten, then the leadership can do away with them. Bentley argues, however, that Biermann isn't looking to be a hero of anti-communists. He is and remains a communist who supports anti-colonial wars of national liberation. Bentley describes Biermann's style of music as reminding him of traditional cabaret and American folk music, and sometimes classical German lieder seeps through.
The discussion turns to how Bentley got involved with Brechtian scholarship and Brecht's politics. Fischer wants to know how and why Brecht is now popular in the United States. Bentley suggests Brecht's anti-war themes and the war in Vietnam and 'drift of world politics' are factors, as well as the current climate and appearance of political satire attacking President Johnson.  Bentley talks about Brecht's communist sympathies and criticism from critic Martin Esslin and his disagreement with Esslin. The veteran critic believes Brecht's irony, spirit, anarchism, cynicism, biting wit, and discontent all feed into Brecht's current popularity. He ads that the portrayal of homosexuality is also a factor.  Bentley suggests that the more modest efforts at rendering Brecht's work have been more successful than the more established productions.
The two discuss Brecht's reconciling his pacifism and sympathies with communism. The discussion wraps up with Bentley's plans for the future, including a political cabaret on the upper west side of Manhattan.
 ____________________________
In a May 31, 2000 interview with Leonard Lopate, Eric Bentley talks about a recently published compilation of his theater criticism, What is Theatre? incorporating dramatic events and reviews he wrote between 1944 and 1967.