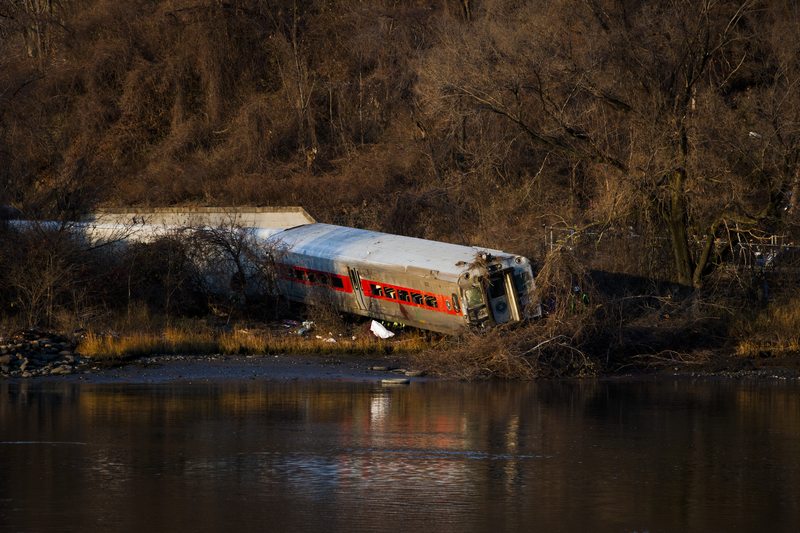 According to the National Transportation Safety Board, the engineer at the controls of the Metro-North train that derailed in the Bronx last year had undiagnosed "severe obstructive sleep apnea."
In addition, engineer William Rockefeller was also being treated for hypothyroidism (low thyroid hormone) and was only "intermittently compliant" with his thyroid medication. His medical records also note he was considered to be "prediabetes," and immediately after the crash, his blood glucose level was found to be elevated.
These and other details were released Monday by the NTSB as part of its investigation into the Dec. 1 crash. But the agency cautions that this release is "factual in nature and does not provide any analysis." Its determination of the cause will not come until the final report is made.
Both sleep apnea and hypothyroidism can contribute to drowsiness. According to the NTSB, Metro-North's medical guidelines do not mention sleep apnea or any other sleep disorder.
In the transcript of his interview with the NTSB (see below), Rockefeller told investigators: "It was sort of like I was dazed, you know, looking straight ahead, almost like mesmerized. And I don't know if anybody's ever experienced like driving a long period of time in a car and staring at the taillights in front of them, and you get almost like that hypnotic feeling staring straight ahead."
The NTSB also released the transcripts of interviews with other train employees. Conductor Michael Hermann was asked about his own sleep habits and how many schedule changes Metro-North employees had experienced.
His response: "too many."
The MTA, which oversees Metro-North, said: "MTA Metro-North Railroad is reviewing the documents released today by the NTSB. The investigation is still ongoing, and Metro-North will continue to work with the NTSB on addressing their recommendations."
NTSB "Medical Factual Report" on Metro-North Engineer William Rockefeller by kaaronwnyc