The End of Bill Thompson's Long Campaign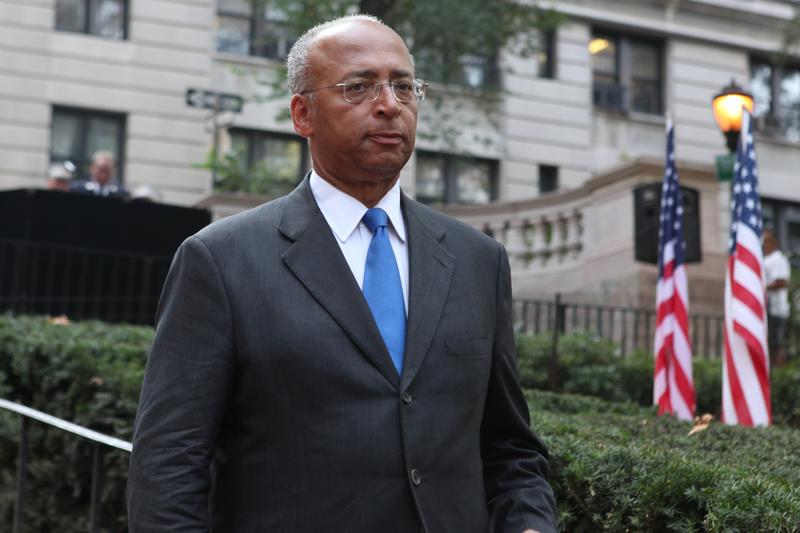 The longest campaign of any of the Democratic hopefuls has ended, as Bill Thompson conceded defeat and endorsed Bill de Blasio.  Thompson's campaign began four years ago, and didn't stop -- until Monday.
"The work that we started during this campaign doesn't end tonight. In fact, it's just beginning," Thompson told his supporters in November 2009, on the night he lost to Mayor Michael Bloomberg by fewer than 50,000 votes. 
That year, Thompson message was simple: No More Bloomberg.
His message then sounded a lot like Bill de Blasio's now.  "After eight years of a mayor who has looked out for the rich and powerful, isn't it time we had a mayor who looked out for the rest of us?" Thompson said on the night he accepted the Democratic nomination in 2009.
Thompson saw that narrow loss as a vindication that conventional wisdom was wrong about his candidacy – including worries that he was too mild-mannered to catch on. Within months, he told The New York Times he intended to run again.
But questions about whether he was tough enough didn't go away. In fact, it was the first one from the audience at a breakfast hosted by business leaders in January.  "Look, it's New York City. If you don't scream, if you don't holler, you're mild-mannered. If you don't try and throw someone down the stairs, you lack fire in the belly," he joked.  
Thompson emphasized his comfort with being a power broker in city politics. He talked about his father, a politician who eventually became an appellate judge and his roots in Brooklyn's rough-and-tumble politics.
"I'm the son of this city, a product of Brooklyn's streets, schools and churches," he said.  
But complicating his message was his companion,  Al D'Amato, the former Republican senator who became a top fundraiser for the Thompson campaign. Thompson was projecting this message: he was a candidate the establishment could be comfortable with. He called for more police officers, for example, but said he wouldn't make wealthy New Yorkers pay for it.  
Cut waste and outside contracts, he said. "That's how you increase the number of police officers," he said, and leaned into the microphone, "without increasing taxes."
Contrast that with Comptroller John Liu, who told the same group of business leaders a few months later that you can't be afraid of policies that "piss off the rich people."  The current and former Comptrollers also sparred on stop and frisk, in a prescient exchange at a mayoral forum in March, when John Liu brought Thompson's stepson into the debate.
"Bill, I have to say this. Every time you talk about your 15 year-old, I feel terrible. I feel terrible that he has to live in a city like this, and a young man like your son would have to go through the potential of being stopped and frisked," Liu said, before Thompson quickly interjected.
"No, I'm the one who has to worry about my son being stopped and frisked. I'm concerned about my son also being shot by somebody who's a member of a gang in the streets!" Thompson shouted back.
But in the end, it was not Bill Thompson's black stepson who became the face of stop-and-frisk. It was another 15 year-old: Bill de Blasio's biracial son.
On education, Thompson was less measured and more anti-Bloomberg. Thompson, a former city Board of Education president, won the coveted endorsement from the United Federation of Teachers.  "As mayor, let me make it real clear," Thompson said to a stirred-up crowd on the June night he was endorsed. "I'm not going to demonize teachers. We've had enough of that. We've had enough of that."
The teachers union didn't endorse when Thompson ran against Bloomberg four years ago. This time, it spent more than 2 and a half million dollars to help him.
It wasn't enough. After several days of waiting to see if the vote count might get him into a run-off, Thompson conceded another loss. "I've been out there speaking to New Yorkers for months and months and months," he told reporters after endorsing Bill de Blasio. "So, this is kind of the end of that. And, there's a little bit of, it's touching in a lot of ways."
Thompson ended his campaign on the steps of City Hall, surrounded by teachers union leaders and members of the old guard of the city's black political leadership, including Rep. Charles Rangel.
This time around, Thompson had bet that being the only black candidate in the field would go a long way to getting him in second place – in position to win a run-off.
A WNYC analysis found Thompson lost eighty percent of majority black precincts to Bill de Blasio.
"He was seen, and still is to a certain extent, as part of the black political elite." said Mark Winston Griffith, executive director of Brooklyn Movement Center, which tries to build political power in Bed-Stuy and Crown Heights. "I think that Bill Thompson has always been seen as someone who's got a good combination of an inside as well as an outside game. Someone who you go to who has the ability, at least on some level, to speak to the quote-unquote masses, as well as deal with people on the inside, you know, the smoke-filled rooms.
"Someone's who's straddled those worlds," he said. "That just wasn't the candidate folks were looking for this time around."
Instead, Democrats picked the politician who ran as the outsider: Bill de Blasio. And as Thompson conceded this time, he didn't call it a beginning. This time, he said it's kind of the end.
To hear more about Thompson's second run for mayor from WNYC's Anna Sale, click the audio above.
To hear more analysis about the Thompson's campaign from WNYC's Brigid Bergin, click on the audio below.