Review: 'The Encounter' Is an Extraordinary Journey Into the Amazon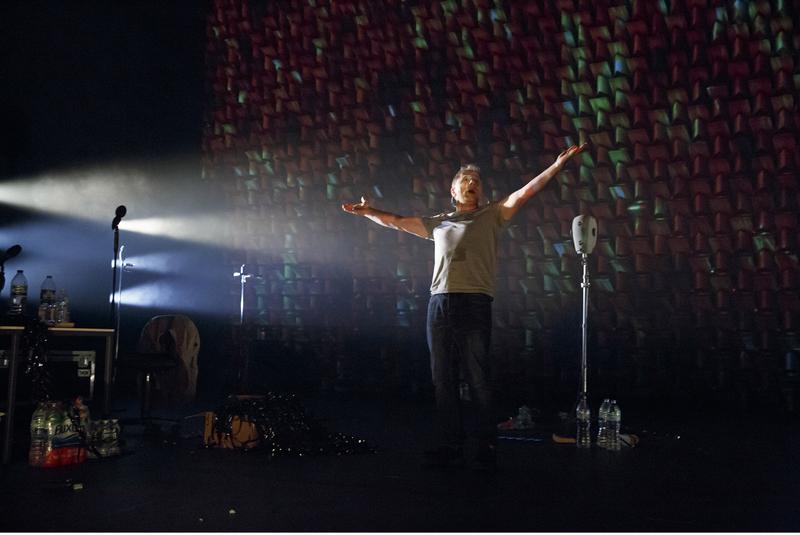 Imagine a narrative that's as compelling as the podcast Serial, crossed with a multi-layered sonic landscape like Radiolab, and you might have an idea — a little bit of an idea — of what it is to experience the haunting, exhilarating "The Encounter," now on Broadway at the Golden Theater. 
It's one of the most extraordinary shows I've ever seen.
To tell you the plot — a  recounting of a supposedly true tale from 1969, when National Geographic photographer Loren McIntyre traveled to the Amazon and contacted one of the last, primitive tribes — is to tell you almost nothing. The adventure moves swiftly and it's funny, disturbing, surprising. But what will really capture you is the way the story is told, through radio play-like audio that is completely immersive.
Actor Simon McBurney (he also conceived of and directed the show) is the only man on a stage dressed with a desk, a box, a scad of water bottles, many microphones, and the mannequin-like Sennheiser dummy head, which creates binaural stereo sound that's similar to how your own ears hear. He runs from microphone to microphone, using different sound in different places to create a rich, layered environment that old-timey Foley artists could only dream of. McBurney is assisted by a team of sound designers and voice artists behind the scenes, and together they create a show that shatters the fourth wall and lives, instead, inside your head.
They can do that because the audience members wear headphones and the sound in the show flows through them: narration from McBurney, crackly interviews he captured on his phone, looped squeals and pops McBurney makes to simulate jungle animals, eerie music from sound designers Gareth Fry and Pete Malkin. When you hear a door, it sounds like a door is actually opening to your right — you might turn your head (I did). 
But the true magic comes as the character of McIntyre ventures farther and farther into the jungle in both the literal and metaphoric sense. As his wristwatch is taken, and his camera, and his shoes, he wanders away from Western ideas of communication, time and reality. He loses himself. He touches insanity. 
But as we travel with him, fear for him, he becomes more open to the mysteries of the world. And so do we.
Through Jan. 8
Broadway's Golden Theater
252 W. 45th St.