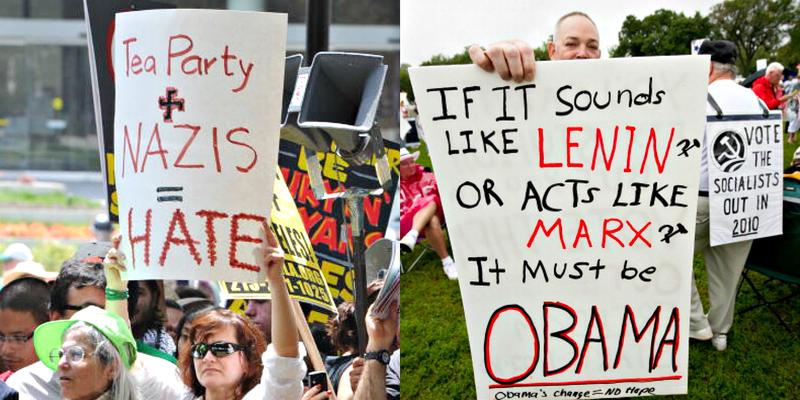 Summary
For many on the Left, Trump's popularity confirms their worst suspicions: that half of the population are fascistic morons. Similarly, President Obama's presidency has confirmed for many on the Right that half of the population are America-hating elitists (who are also morons). According to Michael Lind, co-founder of the New America Foundation, these myths we perpetuate to explain how someone could have a different political, religious, or economic belief than we do are perhaps the most dangerous lies of all. 
Music:
"Smoke Gets In Your Eyes" by EQ All Star
Transcript
BROOKE GLADSTONE: We began this show about lies with Donald Trump. After all, as we've heard, he's broken the mold, in that regard. But the people who support him, what does that say about them? According to Michael Lind, co-founder of the New America Foundation, what the rest of us think it says may be the most insidious lie of all, the one we tell ourselves about those other people, the lie or myth that explains to us how they could ever possibly disagree with what we know to be true.
MICHAEL LIND: For about half a century, if not longer, the right's fundamental narrative has been that liberals or progressives are snobbish, upper-class unpatriotic traitors. The progressive narrative is that no person could possibly disagree with liberal positions, like subsidizing, you know, wind and solar power, unless they were emotionally disturbed and ignorant, or probably a combination of both. There's like this constant fear on the part of progressive intellectuals that at any moment their fellow citizens will turn out to be secret Nazis and round everybody up. You know, this undermines the progressive politicians, for obvious reasons. You can't go with - you know, and try to win over people who are voting for Republicans, saying, vote for me, you crypto-fascist ignoramuses.
BROOKE GLADSTONE: [LAUGHS] Where did they get this idea?
MICHAEL LIND: I would argue they got this from Marxist emigrés from Weimar Germany who fled Hitler - Herbert Marcuse -
BROOKE GLADSTONE: And sociologist Theodor Adorno?
MICHAEL LIND: Exactly, and Max Horkheimer. Marxism claimed that the working class should rally behind the Marxist intellectual vanguard and, in fact, that had not happened in the countries of Europe. And so, they came up with a theory that the working class did not know its own interests; it suffered from so-called false consciousness. And so, then they applied this in the 1950's in the United States, a much different society. There would be a lot of working class and middle class support, particularly for McCarthy, whom they tended to view as a kind of Hitler-type figure. Again, these are European emigrés, so they're interpreting American politics through the lens of their traumatic experience.
BROOKE GLADSTONE: You also cite the historian Richard Hofstadter.
MICHAEL LIND: That's right. In addition to Marxist emigrés, more moderate, centrist Northeastern liberal intellectuals, including Richard Hofstadter, Peter Viereck, Arthur M. Schlesinger, Jr., tended to be upscale, very well-educated reformers, with a very rationalistic approach to public policy. And they tended to interpret Americans who did not share their support for Adlai Stevenson and [LAUGHS] John F. Kennedy, and so on, as being irrational, ignorant people who were a danger to a civilized constitutional democracy. And I think the blend of these two strains of thought, the Marxist explanation of why the white working class does not rally behind left wing socialist intellectuals and this more centrist liberal explanation, trying to explain the phenomenon of McCarthyism and, and support for Barry Goldwater and later for Ronald Reagan, I think these have essentially written the narrative that a lot of progressives unthinkingly rely on to this day. And their evidence for this is simply that people do not share liberal politics.
BROOKE GLADSTONE: Let me get a clear idea of why Adorno and Hofstadter are wrong about the vulnerability of the masses to fascism.
MICHAEL LIND: Well, for one thing, the history simply doesn't work. And it particularly does not work for the McCarthy 1950s because that was the golden age of the American white working class and of capitalism. It was booming. Now, in the case of Nazi Germany, in particular, the more recent scholarship shows that Hitler's support was not based on the alienated white working class, you know, mainly because of the depression. He had solid support across every class of German society because he appealed to a common German patriotism. He also appealed to very widespread anti-Semitic and racist attitudes. They were simply right wing German nationalists. It wasn't because they were emotionally-disturbed losers.
BROOKE GLADSTONE: The main political story of the Obama years was, arguably, the rise of the Tea Party, which is made out to be this unruly populist movement that harnessed an overwhelming conservative American discontent, right? And yet, President Obama won the 2012 election by a landslide.
MICHAEL LIND: Well, that's right but the actual coalitions do not fit into either the progressive or the conservative narrative, which is based on class, that is, the Republicans supposedly representing the working class, the liberals, you know, representing the elite. In practice, our politics is based more on region, ethnicity and race and religion than it is on class. Catholic Americans, for example, tend to be split between liberals and conservatives, and the division is how frequently you attend church. The more observant Catholics are Republicans, the less observant Catholics are Democrats. Class is actually fairly minor in determining partisan affiliation, compared to region, religion and race.
BROOKE GLADSTONE: So is the issue here, then, if you are a liberal and you judge these people based on their fundamentalist beliefs of the Bible and all of that, then you're failing to see their potential as a force for liberal economics?
MICHAEL LIND: Exactly. The goal of politics is to put together coalitions of people who disagree about everything, except for the particular purposes of the coalition. So if you want a coalition for universal paid family leave, why would you turn away someone who believes in the literal story of Noah's Ark? Who cares? You want their vote for family leave. Now, there are some things that are so fundamental to American citizenship, such as nondiscrimination racially, I would argue, nondiscrimination on the basis of sexual orientation and gender, that these are nonnegotiable subjects for progressives, and rightly should be.
But, on the other hand, the religious right has lost almost all of the battles in the last 50 years. The Supreme Court, dominated by Republicans, has legalized gay marriage and gay rights and, and as well as abortion. That's not gonna be turned back. Why turn away religious people? If you look at polls, they actually tend to be somewhat progressive on some social issues, you know, Wall Street reform, pro-family policies, like childcare. And so, you can have enlightened progressive government without giving the US population a Mensa test and flunking half the population.
BROOKE GLADSTONE: You say that these narratives that are put forth by the parties and repeated by the media not only fail to hold up factually but fail politically too, because they leave a considerable swath of the public out in the cold? These are people who are too liberal to be conventionally conservative and too conservative to be liberal.
MICHAEL LIND: That's exactly right. Trump and Huckabee, two of the populists, have attacked the Republican Party for wanting to cut Social Security and Medicare, because their white working class voters depend upon it. The number of white Americans who want to combine less immigration with preserved or expanded Social Security and Medicare is enormous. It's nearly 50 percent. No one in either party represents pro-Social Security, anti-immigrant voters. And yet, they're a huge part of the population. The conservatives have adopted the anti-immigrant theme but, at the same time, the mainstream conservatives all want to cut Social Security and voucherize Medicare, which their own voters don't want to do. Thirty-three percent of Democratic voters want to cut immigration. Only 20 percent want to expand it. And yet, that view is not represented in the Democratic Party.
When you get large groups in the population whose combinations of particular policies do not fit the combinations on offer by our two parties, you get a substantial part of the electorate turning to outsiders because of a lack of any other choices.
BROOKE GLADSTONE: Do you see any sign that these myths are abating?
MICHAEL LIND: No, I think they're worsening as a result of two phenomena. One is what has been called the sorting geographically. There tend to be very few conservative Republicans in Manhattan and very few liberal Democrats in Tulsa, Oklahoma. And, in terms of message, we live in the world of click bait. The most inflammatory progressives and the most inflammatory conservatives are going to shout out the more nuanced people on the left and the right. Jonathan Chait in New York Magazine just described Trump followers as knuckle draggers. He compared them to apes, and liberals all cheered him on. None of this is new. But what you need is some kind of political system which is capable of transcending these divisions, instead of just pouring more gasoline on the fire. And we don't have that, at the moment.
BROOKE GLADSTONE: Michael, thank you very much.
MICHAEL LIND: Thank you.
BROOKE GLADSTONE: Michael Lind is co-founder of the New America Foundation and a contributor to Politico.
[MUSIC/MUSIC UP & UNDER]
BOB GARFIELD: That's it for this week's show. On The Media is produced by Meara Sharma, Alana Casanova-Burgess, Jesse Brenneman and Dasha Lisitsina. We had more help from Emma Stelter, Isabel Cristo and Micah Loewinger. And our show was edited – by Brooke. Our technical director is Jennifer Munson.
BROOKE GLADSTONE: Katya Rogers is our executive producer. Jim Schachter is WNYC's vice president for news. Bassist composer Ben Allison wrote our theme. On the Media is a production of WNYC Studios. I'm Brooke Gladstone.
BOB GARFIELD: And I'm Bob Garfield.
[FUNDING CREDITS]