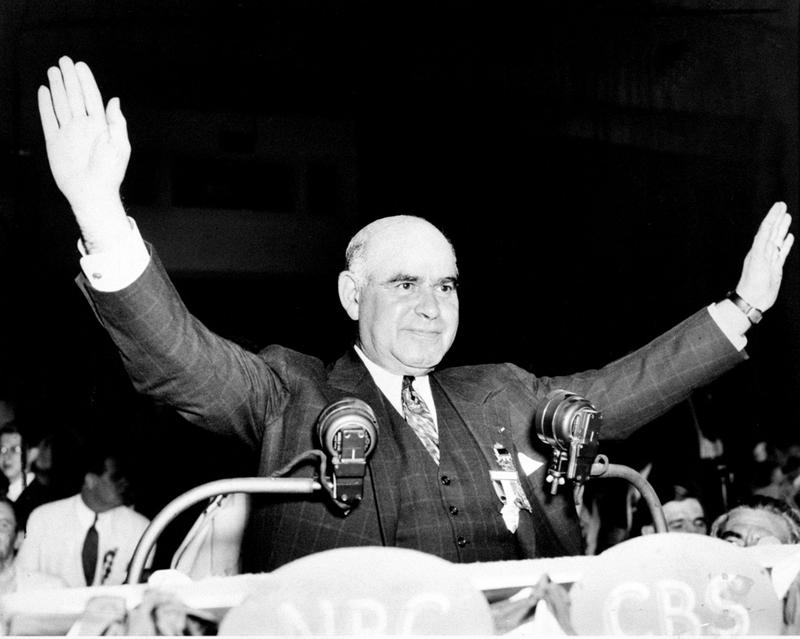 This episode is from the WNYC archives. It may contain language which is no longer politically or socially appropriate.
Live coverage of Election Night right after the polls closed. Microphones installed by remote control at police headquarters, with Tommy Cowan and Herbert Stone; microphone at Times Square, with Ted Cott; microphones at Lehman headquarters, with Tony Marvin and Dick Pack; microphones at Dewey headquarters, with George Ward and Russ Johns; in Municipal building, tabulators and statisticians.

Tommy Cowan at police headquarters, back to the Municipal building, for an explanation of news-gathering for the evening, They then go to Times Square with Ted Cott for an explanation of NYTimes light signals: white lights indicate Lehman has been elected, red lights indicate Dewey has been elected, etc. Back to Municipal building for the first returns; to Tony Marvin at Lehman headquarters (more policemen than civilians) and Dick Pack (everyone's excited, Governor Lehman and family are expected); to Dewey headquarters, with George Ward (air of optimism) and Russ Johns (information for the "sartorially-minded"); back to Municipal building, for returns from Missouri (?), returns on betting decisions; music while they get NYC returns together. At Dewey headquarters, Roger W. Strauss, Dewey's city campaign manager, says Lehman can't carry the upstate vote; they are running better than the polls indicate, according to samples. Dick Pack interviews John McInerney of the Young Voters Democratic League of young voters. Helen Warden (World Telegram) reports on the candidates' wives. Ed Titus (World Telegram) reports on Lehman's campaign. Charles B. Tuttle talks about Mrs. Dewey and the two-party system. Arthur V. McDermott talks about the excitement of the campaign, says Dewey will win. Millard H. Ellison, Dewey's past campaign manager. Commissioner Edward F. Coursey predicts Dewey's victory as well. Mary H. Dunlan reports that the returns look good for Dewey, and the women are pleased. A newly-elected congressman speaks, but the transmission is very bad.

Audio courtesy of the NYC Municipal Archives WNYC Collection
WNYC archives id: 69215
Municipal archives id: LT410