Elected Officials to de Blasio: Stop Hiding Police Misconduct Records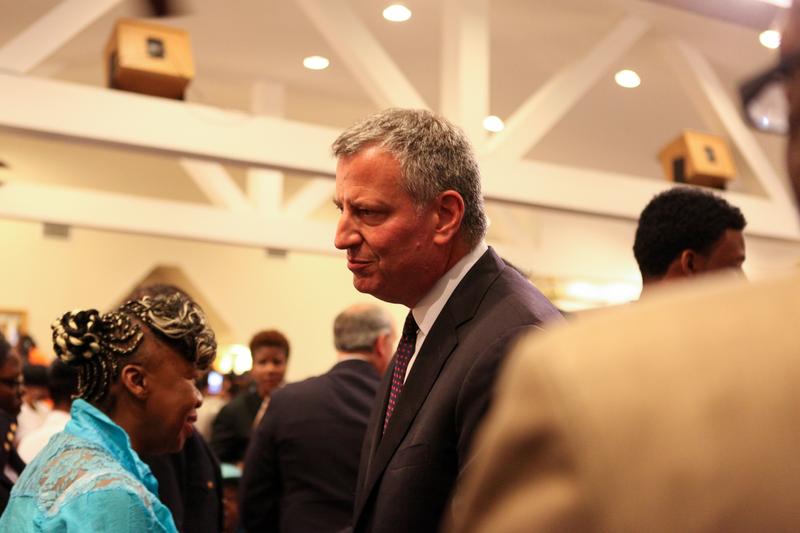 Three dozen elected officials joined advocates Tuesday in calling on the city to reverse its position and release disciplinary information about the cop who killed Eric Garner.
The group — which includes 34 city council members, Manhattan Borough President Gale Brewer, Public Advocate Letitia James and Congressman Hakeem Jeffries — are supporting a lawsuit that seeks basic information on civilian complaints filed against Officer Daniel Pantaleo.
"The standards that apply to every other municipal employee should apply to New York City police officers who have the power to kill," said Councilman Ritchie Torres, a Bronx Democrat, on the steps of City Hall. 
A state supreme court judge ordered the release of the information last July in response to a lawsuit filed by the Legal Aid Society. The suit seeks the number of substantiated complaints and the discipline the Civilian Complaint Review Board had recommended.
The judge decided the release of such information would not violate section 50-a of the state's Civil Rights Law, which prevents the disclosure of police personnel records.
But the De Blasio administration appealed the decision. Mayor de Blasio has said the city has no discretion, and has called on the state legislature to change the law.
Joining the City Hall press conference, City Councilman Robert Cornegy said it's time for the mayor to take a leadership role in transparency and drop the appeal.
"Literally and figuratively this is on the mayor's doorstep, and we're expecting to get a response from the administration very shortly," Cornegy said.
Thee elected officials were set to file a so-called amicus brief late Tuesday afternoon. The city's Law Department released a statement in response:
"We welcome the filing of amicus briefs on the scope of 50-a. The lower courts have issued varying decisions and we seek clarity.  More arguments and views before the court will provide the court with a more thorough view of the interests at stake and help it deliberate and provide thoughtful and clear guidance."