New Sounds
#3591: Ecstatic Music Festival 2014: Buke and Gase, So Percussion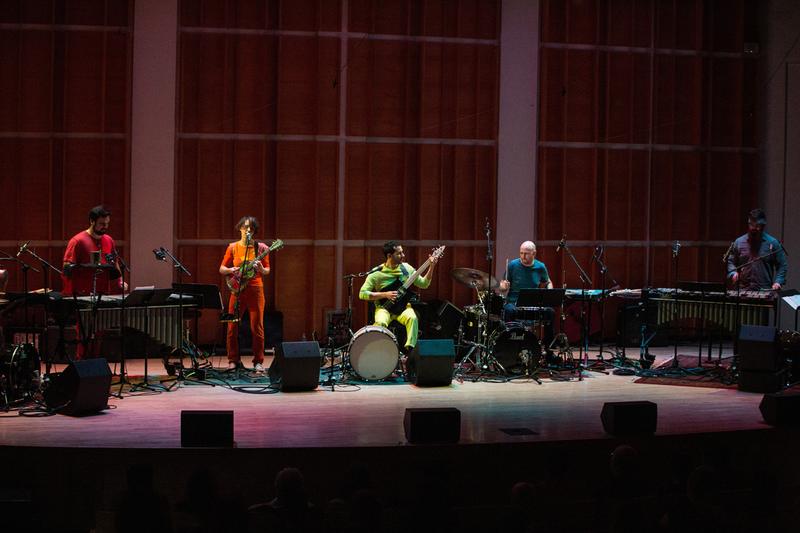 From the New Sounds Live concert series, listen to a 2014 Ecstatic Music Festival collaborative pairing of Buke and Gase, together with So Percussion.  Brooklyn's Buke and Gase, are Arone Dyer on the "buke" (a self-modified six-string former baritone ukulele) and Aron Sanchez on the "gase" (a guitar-bass hybrid of his own creation).  So Percussion is a quartet of instrument builders/finders who beat, shake, bow, and man sometimes multiple percussion stations, up to and including bulbul tarang.  These talented six innovative composers couple the unusual along with supreme joy in their super-group sextet formation on two tunes, "Ancient Tool Gadget," and "Diazepam."  Also, listen to a piece by Bryce Dessner, who worked with Buke and Gase artist Aron Sanchez to design instruments called "chord sticks," as performed by So Percussion. 
The work, "Music for Wood and Strings," is scored for four of these amplified hammer dulcimer-like creations, which are plucked, bowed, strummed, and struck with pencils.  The resulting sound from the chord sticks (alto, bass and two tenor instruments) is in the realm of chiming electric guitars, or even bowed piano strings, alongside woodblocks, snares and bass drums.  Magic.
PROGRAM #3591  from New Sounds Live at Merkin Hall (First aired on 4/17/2014)  
ARTIST(S)

RECORDING

CUT(S)

SOURCE

Buke and Gase & So Percussion

New Sounds Live / Ecstatic Music Festival 2014 at Merkin Hall, 3/26/14

Diazepam [11:17]

This performance not commercially available.
Buke and Gase's site is: bukeandgase.com

So Percussion: sopercussion.com

So Percussion

Bryce Dessner: Music for Wood And Strings [34:43]

Out on Brassland HWY-045
brassland.org

Bryce's site is brycedessner.com
So Percussion: sopercussion.com

Buke and Gase & So Percussion

Ancient Tool Gadget [3:28]

See above.