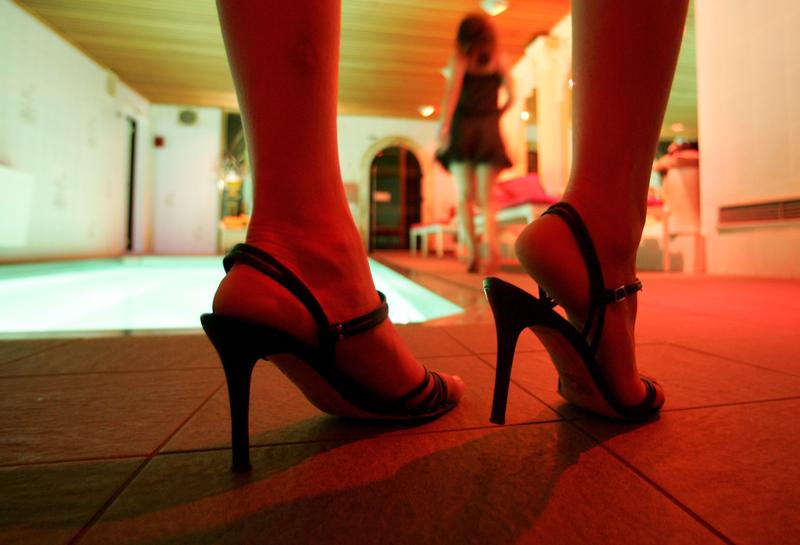 A landmark government study released earlier this week finds that the sex trade can be a very lucrative business. 
The report, commissioned by the Justice Department from the Urban Institute, compiled data from eight cities: Atlanta, Dallas, Denver, Miami, San Diego, Seattle and Washington, D.C. According to the report, the trade is most lucrative in Atlanta, where it rakes in $290 million annually—more than the underground drug and gun trades combined. 
The study also examined the sex trade in the internet age, where advertising sites like BackPage.com have radically changed the business. Robert Kolker, an editor at New York magazine, examined this issue in his book, "Lost Girls: An Unsolved American Mystery." Kolker began his research by exploring a string of prostitution murders on Long Island.
He uncovered a range of economic issues that push many women into the sex trade, topics familiar to Melissa Gira Grant, author of "Playing the Whore: The Work of Sex Work."
Gira Grant and Kolker discuss the challenges facing many women in the industry, and how the economics of sex work have changed since the birth of the internet.
"I think [the sex trade] is fundamentally different—it's as different as the book industry has been over the last 10 years," says Kolker. "The internet has disrupted sex work, in my opinion, almost as substantially. There are a lot of people that aren't working walking the streets anymore, they aren't working with a pimp anymore, they aren't working with an escort service anymore, and they're just using the internet—BackPage or formerly Craigslist—to be solo practitioners or freelancers."
Kolker says while this report sheds light on some aspects of human trafficking, he says this report ignores this substantial change in the sex trade.
"Anyone new who might be getting into the business, if they're not being trafficked or coerced, they're probably doing it on their own," he says. "This study seems to focus more on pimps than the high-end escort services or the freelancers."
Kolker says that the internet as a vehicle for casual sex work has grown since 2007 and believes that the report may have had an heavier emphasis on this if it were commissioned slightly later. 
"This study was commissioned in 2007 and in 2009, something like 30 different attorneys general got together and called Cairgslist the new Times Square," he says. 
Gira Grant says the report focuses more on pimps than on independent sex workers because the DOJ has been more concerned about sex trafficking. According to a 2012 report from the United Nations Office on Drugs and Crime, trafficking for sexual exploitation is more common in Europe, Central Asia and the Americas, while trafficking for forced labor is more frequently detected in Africa and the Middle East, as well as in South and East Asia and the Pacific.
Additionally, the U.N. report shows that trafficking for the purpose of sexual exploitation accounts for 58 percent of all trafficking cases detected globally. 
"They didn't get to talk to the kind of people in the sex trade that work independently and who are unlikely to come in contact with law enforcement," says Gira Grant of the DOJ report. "They're getting a very skewed picture of the business that doesn't even itself fully represent how many more people are working on their own and how many more people are using the internet to take charge of their work."
Gira Grant adds that the reason the sex trade has migrated online is because law enforcement have been and continue to aggressively police the streets.
"That's something that's almost totally absent from the study," she says. "It's not surprising that the study can't report itself on how criminalization actually shapes the sex industry, how where the police are more apt to police shapes the sex industry, and in some ways the total failure of that."
Additionally, Gira Grant says that the report from the DOJ recommends that police crackdowns increase and pursue other parts of the sex trade, a strategy she says misses the larger problem—she says aggressive policing has failed people and driven them to the internet, which can put them at greater risk.
"There's a grey area in commercial sex work—people do it for a lot of different reasons," says Kolker, echoing Gira Grant. "The focus remains on trafficking, even though they can't quantify the problem. Even if they think there are fewer underage workers in it now, they don't seem interested in widening their lens and looking anything beyond the idea of coercion and trafficking."
Since the start of the recession, Gira Grant says the business has changed a great deal.
"Sex work has moved in doors, gentrified and privatized, and that's happened even more over the last few years," she says.
Gira Grant says that in the years after the recession and up until today, more and more people who would never solicit a customer on the street may not have a problem using the internet to freelance as a sex worker as a way to get an additional source of revenue while facing steep economic pressure.
"That's one of the most dramatic changes I've seen—somebody who might not ever intend to do this for a long time can put ad up and do a little bit of work here and there if they need to just make the difference between now and the end of the month to their rent," she says. "That's actually quite a different idea of what sex work looks than most people are used to—this is really something people can do occasionally or casually and it doesn't identify who they are, it doesn't make them a criminal and it doesn't make them a victim. It really is a way to earn an income in a really tough time."