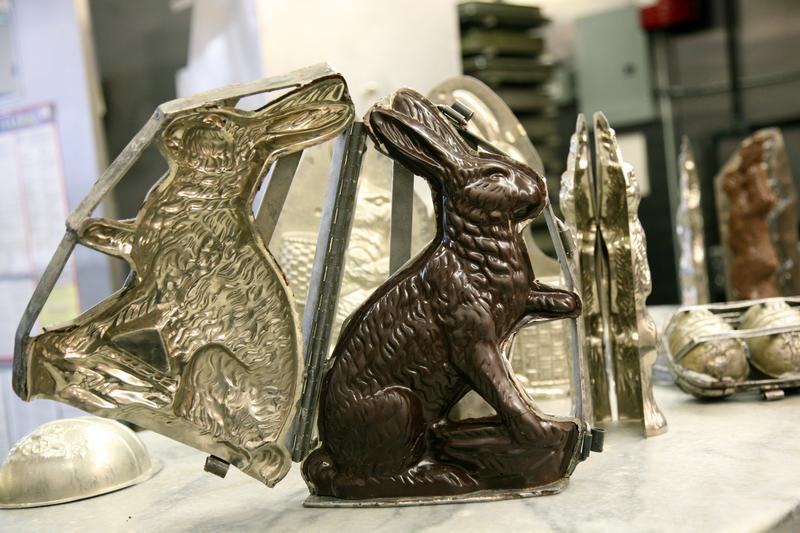 Spring is the season of new life—chicks, lambs, bunnies. In the country, they are everywhere in their abundant downy glory. But in the city they are most easily enjoyed in their delectable chocolate analogs.
So I went in search of the Easter Bunny in two of the city's best-known chocolate shops in my neighborhood—Jacques Torres (on lower Hudson Street), and Li-Lac Chocolates on 8th Avenue. 
Jacques Torres grew up in the South of France, and said he tries to recreate the Easter of his childhood, but "better, more beautiful."  
Chocolate molds are an egalitarian phenomenon. Before they were developed in the 18th century, chocolate was a drink, to be enjoyed "only by the kings and queens and their entourage" said Torres. But the Industrial Revolution brought stamping techniques, mass production, and the ability to create and market solid chocolate.
"Chocolate molds are history," agreed Anthony Cirone, a co-owner of Li-Lac Chocolates, an shop that's been in Greenwich Village for more than a century. And with his purchase from the last owner, came a handful of lively vintage molds, still used to create the dapper, epicene rabbits that crowd the windows at this time of year.
It's hard to imagine eating either Jacques Torres' beaming, Harvey-like big bunny, or Li-Lac's elegant confections, but if you do, the sacrifice comes guilt-free. Except for your waistline.