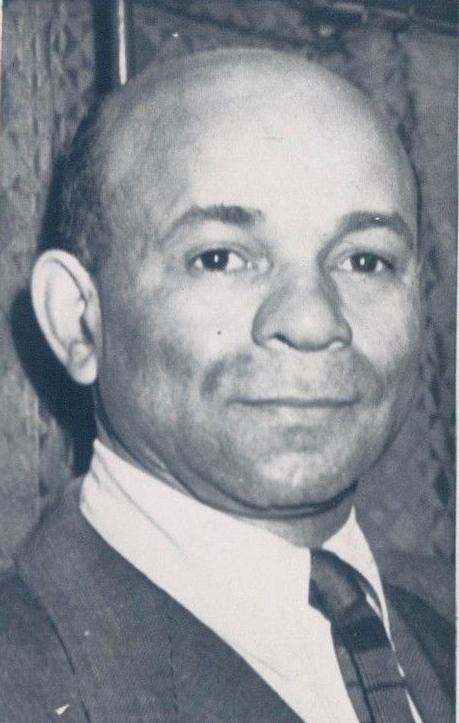 Summary
This episode is from the WNYC archives. It may contain language which is no longer politically or socially appropriate.
City Councilman Brown answers questions about Tammany Hall and the Negro.

Jay Nelson Tuck moderates.

Panelists: Robert Bird and James Farrell

Questions:

Issues in the primary election against Adam Clayton Powell. Powell could be accused of having been guilty of racist tendencies on the streets of Harlem. Eisenhower has vacillated and oscillated on the issue of civil rights. Problems in Little Rock could be blamed on this. It was necessary to send troops to Little Rock. Renomination of Orval Faubus will be psychological lift to the segregationists, but the integrationists will win. The South believes they can win over the integrationists. There are two Democratic parties, the South and the North. Must continue to strive for civil rights even after certain gains have been achieved. Wants an amendment to the civil rights law that guarantees "Part three" of the original bill, personal security. Powell amendment Integration and equality rests with the Federal government, they must insist on equal treatment and opportunities for all citizens. Possibilities of passing an education bill. The Southerners ask for states rights even as they ask for better freight rates. Immigration laws are discriminatory. Would accept an abolition of quota system, which is absolutely discriminatory. Powell was denied the nomination because he has supported the Republican Party. Powell has accepted the endorsement of Tammany Hall 7 times before. Powell has received an "awful hunk of cake" from Tammany Hall. Housing discrimination hits at the core of the lack of equality for many different groups. Housing segregation means school and job segregation. Brown-Sharkey-Isaacson Bill. Passport requirements. Recession. Eisenhower has not demonstrated the leadership to deal with the recession; should have done more for the small businessman. Eisenhower's intervention in Lebanon was called for. House Un American Activities Committee has not done its homework on making sound investigations.
Audio courtesy of the NYC Municipal Archives WNYC Collection
WNYC archives id: 72189
Municipal archives id: LT8240
Transcript
This is a machine-generated transcript. Text is unformatted and may contain errors.
Is Tammany Hall giving New York City Negroes nothing but problems of papering as President Eisenhower vacillated on civil rights for the answers to these and other questions listen out here at city stations captain's press conference each week at this time and this kind of discussion editors of college newspapers question a news where the first analogy. The opinions expressed by the participants on this program do not necessarily reflect those of the station our moderator today and Jay Nelson tough noted newspaper men critic and lecturer now to introduce the panel in today's guest here is Mr Tuck Good afternoon New York sixteenth congressional district covers Harlem one of the most crowded areas of the city and for many reasons one of those with the most lively interest in politics who will be the next member of Congress from the sixteenth District will it be city councilman Earl Brown who is our guest today on campus press conference or will it be his opponent the incumbent Representative Adam Clayton Powell Mr Paul who will be our guest on this program next week was denied renomination by the regular democratic organization which is nominated Mr Brown instead Mr Brown also has the support of the Liberal Party Mr follow however seeks the Democratic nomination as an Independent and The matter will be settled in the primary election Aug twelfth if Mr Brown is finally to win the seat in the house it may be necessary for him to defeat Mr Powell twice once in the primary for the Democratic nomination and again in the regular elections since most of Powell already already has Republican and Boston our guest today Mr Brown has served in the city council since one nine hundred forty nine when he was elected with the support of three parties Democrats Republicans and liberals in the council he has been an outstanding fighter for civil rights. Perhaps his most important work that was his contribution to the famous Brown Shockey Isaacs law it's the first law in the United States to prohibit discrimination in private housing because of race color or national origin all the laws which he sponsored prohibits discrimination in any housing that enjoys public financial support the so-called Stuyvesant Town law and a law prohibiting the city from giving financial support to private charities which discriminate against homeless children because of race or religion Mr Brown led the council fight against the auto use tax he brought about passage of a resolution that resulted in an investigation of charges of police brutality and he has introduced a bill that would legalize both off track betting and the numbers game our policy Mr Brown's a graduate of Harvard and is an assistant editor of Life magazine here today to question him on Robert Byrd of the Columbia Spectator and James Pharo of the Fordham lexigrams and Mr Bright has a first question Councilman Brown what are the issues in the Democratic primary in the sixty's districts the issues in this primary are very simple phrased it is whether or not a man elected from the sixteenth congressional districts if you're the one who talks and never acts one who acts and talks only when it is necessary it's another important issue is whether or not the people of the sixteenth congressional districts should be subjected to oratory and the most elite elites instead of proper sane sound political leadership by this charge of being subjected to a large religious or would you say that Adam Clayton Powell is a racist. Mr Powell has on occasion been most explosive and certainly could be accused of hadn't. Been guilty of racist tendencies in his recent article says on the streets of Harlem Yes I'm sure that is true. So do you feel it President Eisenhower has vacillated on civil rights I think President Eisenhower has both vacillated and isolated on civil rights one never knows where he really is just do you think Governor Faubus conduct is there in your sort of the National Guard to render Gratian in Little Rock was encouraged by President Eisenhower's vacillation I'm sure it was if the president had been resolute For example if he had called together both Negro and white leaders from both the north and the South before the little rock explosion I'm certain that even Governor Faubus would have been reticent to have done what he did not suggest a problem and and Little Rock once Farber's had put the National Guard there if you had been president what would you have done with just sent troops as the President Eisenhower did I was a some better way to handle it and I think it was necessary to send troops because the situation had been permitted to deteriorate by the president until it was mandatory to do so to up hold a lot the United States yes. Well so do you feel that the renomination of overall for this will be a blow to us to integration in the entire south I think at least temporarily it will be a psychological lift to the segregationist. But I'm sure in time drew near a reason then common sense that the integration is well when do you think that Judge Len Lee's decision we will also provide a similar lift to the segregation Yes I'm certain of that it was most unfortunate doesn't that same to you Councilman as though those two things coming fairly close together are telling the south if we resist this violently enough we're going to like it yes both of those. Things have given great encouragement to the bigots of the South in relation to school integration Jim do you think the overwhelming renomination of Governor Faubus in the Democratic primary will affect the Democratic chances here in New York state particularly since we are choosing a senator this fall which will be responsible for maintaining a Democratic majority in the chairmanships I've been through this in the hands of the Southerners and a Democratic Senate No I do not think so. And the voters of the state of New York recognize the fact that there are what amounts to two Democratic parties in this country one party which masquerade under the name of being a Democratic Party when it's really a one party southern party the party of formless and the real Liberal Democratic Party of the north such as represented by the Democrats of the state of New York for doing here the entire Southern Democratic Party of the type of Democrat that all this is you know not the entire Democratic Party of the South at least not the individual Democrats of the south some of them are rational sane men such as the Grapple said to keep off of Tennessee certainly could not be placed in a class of fault. Right or Sir are you satisfied with the present civil rights legislation No I'm not. I'm not as a matter of fact civil rights legislation is an ideological plain which in this nation we must continue to strive for even when and after we have attained certain gate it is something that is never ending because really it is man's aspiration for freedom and equality. Where one of the major gains that can be made now what what proposals would you make for additional civil rights legislation for the next Congress well for the next Congress I certainly would hit hard for an amendment through the civil rights law that was passed in one nine hundred fifty seven which would guarantee to the individual citizen personal security that was the so-called Part three of the Civil Rights Bill of one hundred fifty seven which was the lead it. In that rather from that and I contend that it is really as important or more important than any other part because without personal security almost anything can happen and almost anything does happen to negroes in the south if it were to refresh my memory of what's in that part three Mr Brown one part three guaranteed personal security to the individual and gave the Department of Justice the right to go and investigate in cases where personal security was denied to individuals. One of the most famous of terms of most publicized attempts at civil rights legislation in the last few years where the amendment typed on to the federal aid to education bill called the Powell Amendment do you believe that Congressman power sincere in his efforts to inflict this amendment upon the bill or do you think that it was merely a stunt and that resulted in the ultimate death of the well I believe I know a little bit about the background that I'm in it for that bill was prepared by. The Washington D.C. office of the National Association the Advancement of Colored People and Congressman how introduced it. Certainly if it ended in the death of other school construction belt personally I was and still am in favor of that comment because basically the question of integration and the Question of the equality in this nation rests with the federal government and therefore it cannot be left up to this state and wherever federal money is spent I am convinced that the federal government must insist that by an equal treatment and equal opportunities for all of its citizens what does this do to the chances of a medication bill getting through Congress. Well it seems to me that it is just as important for us in the law to have a say in what should go through Congress and how it should go through Congress as those in the south in other words the Sounders demand for example equal freight rates better freight rates contending that they are being discriminated against in relation to economic measures emanating through kind as a foreign country but when it comes to civil rights they say we are for our state rights Well they can't eat the cake and added to what I was talking about the political chances of getting such a bill through. Many of the liberals who support the education bill oppose the power of that that is truly ground that this would bring. In those who might otherwise support the Build a vote against it and so prevent any education a day education from going through this is the dilemma they faced I realize that fully however I must say that I feel on principle that we cannot. Given. Birth Cert on the question of equality do you feel that our immigration laws are discriminatory I certainly do and you have a lot of adults in that regard that well I would have the point of the just did it in such a way that that it would enable. More people and more people from certain countries in Europe as well as the West Indies who now are severely discriminated against in relation to immigrate to this country to cover you yes German power would you recommend the abolition of the quota system entirely I would be willing to accept that I think the quota system is completely discriminatory in its effect upon people of the world and even of this country. Bob Byrd So it has been charged that the Democratic chieftains denied Powell the nomination because of pressures from so than Democratic leaders who fear that Powell would get the chairmanship of the house labor and Education Committee what do you say to this jury I am sure it is ridiculous. Mr Powers denied the nomination because Mr Powell has supported the Republican Party for a long number of years and I think the four points ample He wrote an article in the Reader's Digest in which each star would present I now I mean a great civil rights president and also predicted the election of a Republican Congress in that year in one nine hundred fifty six he came out for president I've now reelection he went around this country and fought for him and he also came out far now Senator yet it's over. Now Ragnall who ran on the Democratic ticket for the United States Senate and last year he refused to endorse a man when you're for reelection a man and a man the city of New York in the way these series of acts of party disloyalty as a matter of fact Party we've made made Mr Palliser addition in the Democratic Party completely until. Yesterday well beyond the realm of party loyalty and party treason but if you say that these acts constitute in a light of iron hours as you say is failure of aspiration in the field of civil rights and damage his record do you think they constitute a betrayal of the people that Mr Powell claim to represent in Congress and most certainly So I certainly cannot see how a man who is a fighter for ID says he's a fighter or so days he believes it's over I'd put extolled president I would now if I was the right because he certainly would be less lead in his own constituency and I'm certain that Mr Powell has been guilty. Councilman or a brown one of the things most or Powell tries to stick your where there's the label of Tammany Hall. And you said earlier that when he opened his campaign during this past week that electing him would make Tammany Hall more responsive to the needs of the people are what you said a lot. While I would like to. Answer that by saying that Mr Pound accepted enthusiastically the Kaminey of all nomination by seven successive times the Congress. The first time he was given the nomination he accepted it from a boss of Tammany Hall who ignored Mr Powers a negro district leader who customarily recommends candidates for public office on the Democratic ticket and when Mr power's Negro district leader was apprised of the fact that he Mr Powell had been chosen for the office his negro district leader was very angry and said that he what not and could not and he did not file a go wrong yet Mr Powell accepts that designation from this particular family was and did not once open his mouth. That completely has proved Mr Powell position because I would add if he had been given the nomination this time you would not ever had one single word about Tammany bosses. Another criticism leveled against Tammany Hall by Mr Powell with a hand at them on Tuesday this past Tuesday where in town Congressman Powell accused Tammany Hall of giving the people of Harlem nothing but crumbs as political John what is your comment on this charge Well if Tammany gives the people of Harlem nothing with crimes he must be an exception because he has received an awful hunk of cake OK. However Sir do you see the need for a federal law prohibiting discrimination in housing I certainly do because housing discrimination hits right at the core of the lack of opportunities and the lack of equality by many different groups of people in this country not only the neglect for example housing segregation means school segregation to some extent it means job segregation it is impossible for Americans really to know and to respect each other fully unless they are able to live together and they can find a respectable human need. Yeah you know I'm going in the cities I'm afraid of code which bears your name sir took effect this past April first has it had any effect on me housing situation in New York City to pan out but regarding fires and buildings it has had some good effect I would say. I am happy to spend that in the US This is the land large themselves have voluntarily invited Negroes to move into t