Hypothesis
A Rapper Drops It Like It's Getting Hotter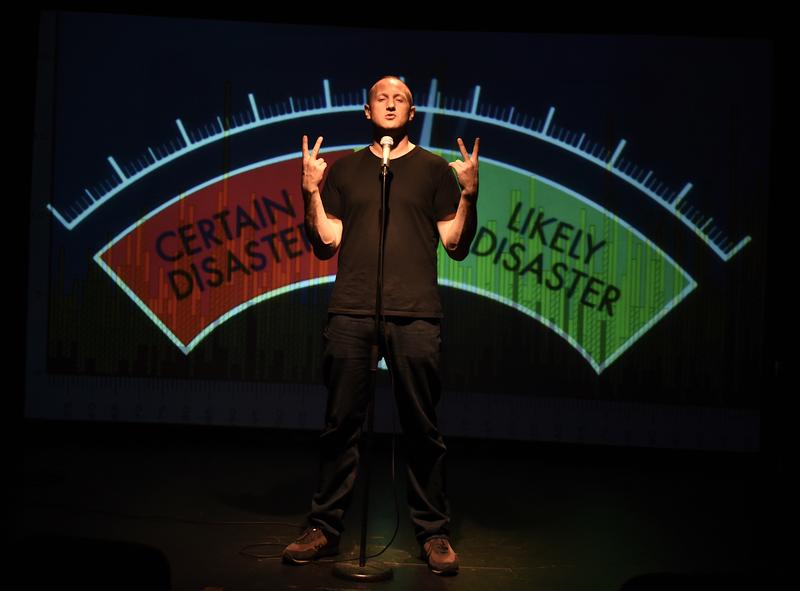 At one point during Dirk "Baba" Brinkman's one-man off-Broadway show on climate change, he turns to the audience and asks for a call and response:
"When I say confirmation," he instructs, "you say bias. Confirmation!"
"Bias?" the audience offers.
Brinkman tries again. "Confirmation!"
This time there's more enthusiasm. "Bias!"
"Confirmation!"
"BIAS!"
"Yeah!' Brinkman nods, squinting a smile. 
This mix of comedy, sincerity and self-consciousness drives "The Rap Guide to Climate Chaos", the latest of this 30-something Canadian's mash-ups of art and science. There's no question which side of the global warming debate he stands on, but at least he can joke about it. At one point, he brags enthusiastically about the solar panels on his Tesla, before admitting that he actually drives a Civic. At another, he raps, "Your momma's carbon footprint is so fat."
Brinkman knows some people might think what he does sounds corny. But he brings an unflagging sincerity to his work, knocking himself out to make sure the audience buys in.
"I put myself in the same category as Bill Nye and Neil deGrasse Tyson," he says, "only I rhyme."
Brinkman studied The Canterbury Tales in school, and premiered a rap version of the medieval epic at the Edinburgh Festival Fringe in 2004. Then he quickly branched out into other disciplines. Previous performances and albums have focused on evolution, medicine, wilderness and human behavior, as well as business and religion. He also performed some of the songs from his current production at the recent COP 21 climate conference in Paris.
"I guess I want to be a bridge builder," he said. "Wherever there's enthusiastic academics with a big frustration like 'No one cares,' I'm like 'I'm your man, and I'll build that bridge.'"
The Rap Guide to Climate Chaos runs at the Soho Playhouse through April 24th.
Hypothesis is written and produced by Alec Hamilton and edited by Matthew Schuerman. Sound design and engineering by Liora Noam-Kravitz and Bill Moss. Original music by Josh Burnett.
Got an interesting science story? Tweet us! @wnyc #hypothesis