Dramatic Agent Audrey Wood on Her Career and Tennessee Williams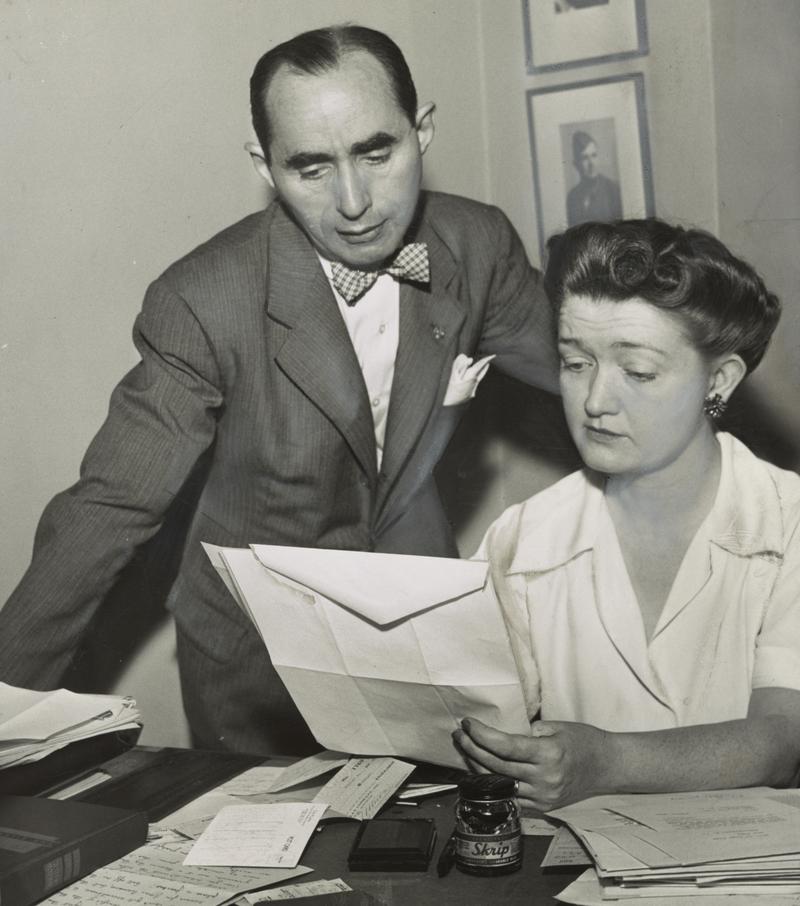 Audrey Wood doesn't just represent, she advocates. In this 1965 talk given at the Rensselaerville Institute, the famous dramatic agent describes the path that led her, in sometimes circuitous, sometimes fortuitous fashion, to becoming the preeminent representative of playwrights in America. Much of the story, naturally, centers on the discovery and subsequent relationship with her most famous client, Tennessee Williams. When she first heard of Williams, then a virtual unknown, he had held a variety of menial jobs, including "plucking feathers from squabs." She wrote him, inquiring in general terms about his plans, and after many weeks received a postcard grandly announcing, "I have decided I like your letter the best." She goes on to describe the well-known debacle of his first play, Battle of Angels, which closed after one performance in Boston, before his legendary success with The Glass Menagerie.
Every playwright, she asserts, is different. Williams never lets her see a script until it is, as he puts it, "a full polished jewel." William Inge, however, gives her scripts that are "like the bud of a flower that hasn't opened up." She describes the sometimes maddening process of "keeping after him" until each scene, in turn, becomes fully realized. Robert Anderson (author of Tea and Sympathy) is more of a pro. He "lays everything out and knows before he begins what he's going to write about." Carson McCullers, who had never written a play before Member of the Wedding, was practically forced into writing drama by Williams, who sat her down at a table and made her adapt the novel.
This talk of relationships, rather than individual plays, makes it clear how intimate and personal Wood regards the agent-playwright bond. She makes this explicit at the end of the talk, proclaiming "there is no greater joy in the world than believing in a writer and seeing him through and knowing that you were right."
Audrey Wood was born in 1905. The daughter of a theater manager, she grew up reading and passing judgment on plays. Early in life she determined her mission was "to find young American playwrights." With her husband William Liebling, who represented actors, she formed the agency Liebling-Wood. But success did not come until her championing of Williams finally bore fruit. As John Lahr wrote in his biography, Tennessee Williams; Mad Pilgrimage of the Flesh (excerpted from the website Chicago Tonight):
Wood fiercely believed in Williams and in her own instincts. On April Fool's Day, 1939, tipped off to his talent, Wood had written the unknown author, "It seems to me, from what I've heard about you, that you may be exactly the kind of author whom I might help." She judged him "not a finished dramatist" but "highly promising." By May of that year, Williams had joined forces with Wood, who promptly sold one of his short stories to Story magazine. "You are playing a very long shot when you take an interest in my work," Williams wrote her. So it had proved. More than anyone in the Broadway audience that opening night [of The Glass Menagerie], Wood understood the precariousness of his situation. "I'd reached the very, very bottom," Williams said, recalling his state of mind. "I couldn't have gone on with these hand-to-mouth jobs, these jobs for which I had no aptitude, like waiting on tables, running elevators, and even being a teletype operator. . . . I couldn't have made it for another year, I don't think."
Wood's success with Williams helped her to then develop an impressive stable of playwrights. One gets the sense she exuded a shrewd mix of maternal nurturing talent and the more conventional hard-boiled persona of a tough negotiator. Herbert Mitgang, writing in the New York Times, lauded how:
…her reputation continued to grow among producers, playwrights and actors; she was open to new ideas and forms on and off Broadway and in the regional theater. It was said that if Miss Wood recommended a play to a producer, half the battle was over. An admiring producer once said, ''Hell, you can't do business with her, she's too honest.'' Among her playwrights, her style was legendary. She called some of them by their last names, as if not wishing to intrude on their privacy. Reporting good news, she would say, ''Are you sitting down, darling?'' But she could also inquire quietly, ''How are you fixed for money?''
Alas, her much-publicized partnership with Williams was not destined to last. Years of drugs and alcohol fueled his paranoia. In 1971, blaming her for the negative critical reception of his recent efforts, he left her. She continued to represent many of the finest American dramatists, including Arthur Kopit and Murray Schisgal. In 1981, though, she suffered a stroke and did not regain consciousness during the last years of her life. It was a particularly bitter ending for a woman who was a vocal advocate for the right to die and a member of the Euthanasia Society. At the time of her memorial service, her biographer recalled a client once saying, "Audrey is small, but you can't knock her down." That is the impression this talk gives, of a gracious, quietly determined woman.
Audrey Wood died in 1985.
Audio courtesy of the NYC Municipal Archives WNYC Collection.
WNYC archives id: 150038
Municipal archives id: T820