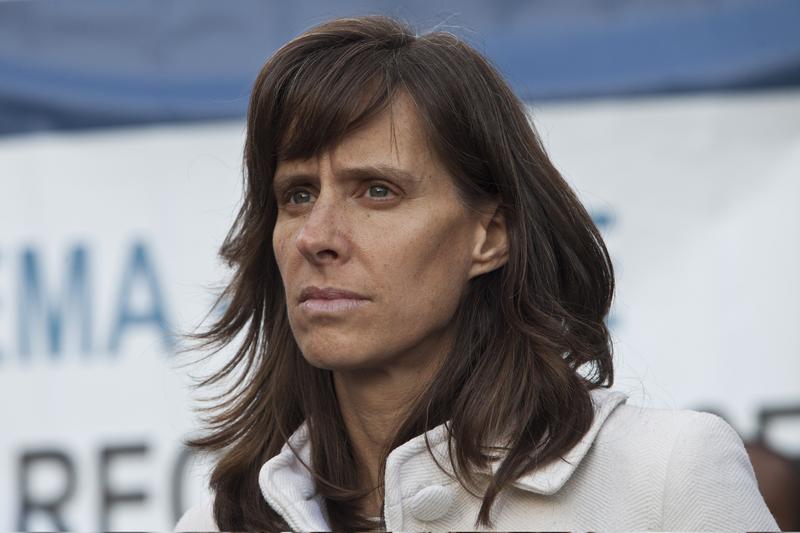 It looks like things may continue to worsen for New Jersey Governor Chris Christie before they improve.
Over the weekend, Hoboken, NJ Mayor Dawn Zimmer revealed on MSNBC that the Christie administration held Hurricane Sandy recovery money hostage, tying the aid funds to her support for a real estate development project—a deal she never delivered.
"The fact is that the Lieutenant Governor came to Hoboken, she pulled me aside in the parking lot, she said, 'I know it's not right. I know these things should not be connected, but they are and if you tell anyone I'll deny it,'" said Mayor Zimmer on MSNBC on Saturday.
The Lieutenant Governor Kim Guadagno has responded accordingly.
"Mayor Zimmer's version of our conversation in May of 2013 is not only false, but is illogical," said Lt. Governor Guadagno in remarks to reporters Monday.
All of this comes in the wake of another Christie crisis. It was recently revealed that Governor Christie's aides played a large role in closing lanes on the George Washington Bridge back in September, which caused mass traffic delays on the nation's busiest roadway and was viewed as an act of political retaliation.
The scandal has already taken a toll on the governor's image. A national survey taken in January by the Pew Research Center and USA Today found that unfavorable views of Christie have doubled since last January.
Joining The Takeaway now for an update on the Bridgegate scandal is reporter Matt Katz, who covers the Christie administration for WNYC and New Jersey Public Radio.
"Unlike the bridge scandal that Christie has been embroiled in for the last couple of weeks, which involves accusations of political retribution against an official who didn't support him, there is no smoking gun in this case," says Katz. "We don't have any document that indicates a close Christie aide threatened to take away Sandy money if the mayor didn't support a certain project. We just have the mayor saying it."
While the claim so far remains unsubstantiated, Katz says that it could be even more detrimental than the recent Bridgegate scandal for the Christie administration and his 2016 dreams .
"Sandy and the recovery from that super storm has been Christie's greatest political strength—this is what he rode to reelection on. People loved the way he handled the storm immediately thereafter," says Katz, who adds that there are still thousands of New Jerseyans suffering from the impacts of the storm 14 months later.
"As far as New Jerseyans are concerned, you don't mess with Sandy aid, particularly money they fought so hard to get," he says. "If the revelations indicate that there's any further truth to them then it could be a major problem for him."
But could this really threaten Christie's presidential ambitions? Katz thinks it is possible.
"If he is seen as messing with federal funds, you could see some conservatives in a Republican presidential primary, for example, accusing him of wasting government resources," says Katz. "But as long as no other major shoe drops, the plan within the Christie camp is still to try to prepare for a presidential run in 2016—I don't think that's changed. The best thing the governor has going for him right now is this scandal broke with more than 700 days until the Iowa caucus."