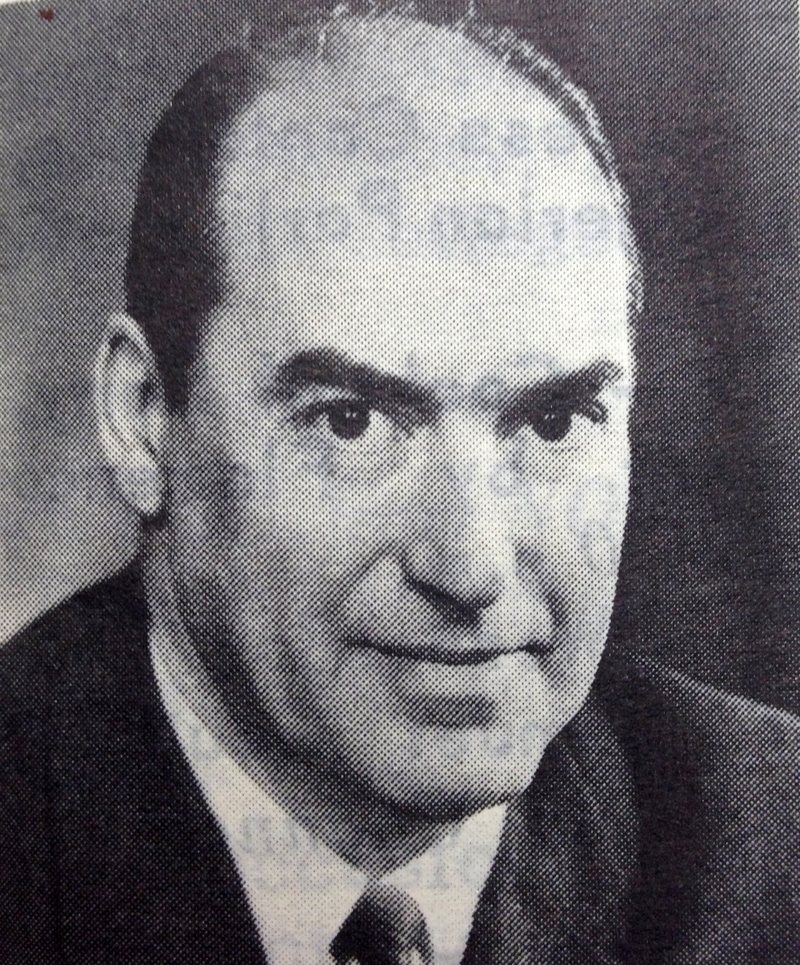 Summary
This episode is from the WNYC archives. It may contain language which is no longer politically or socially appropriate.
From Municipal catalog: "Samuel B. Gould, President Educational Broadcasting Corp. Channel 13 speaks about the TV station and educational TV in general."

McGurn introduces the head table. Gould describes educational television as "a great and largely unused instrument for the solution of community problems and ills," rather than as a means of broadcasting community problems. Channel 13 is doing well fiscally, but it will always need money. Briefly mentions popular shows "The City, "The Comers," and "Pleased to Meet You." Plans to obtain a high frequency channel. A survey of viewers. Educational television has not devoted any substantial energies, talents, and resources, to the solution of community problems through its ability to reach large numbers of people. The community has not turned to educational broadcasting as much as it should.

E-TV can solve problems of the aged: bring in to their homes the information and counsel of volunteer work, social activities, medical and legal counsel. Laborers in need of job retraining: E-TV programming can perform this task. Unemployed: how to find jobs, how to apply for jobs, how to dress and act in interviews. Lip reading lessons for "deaf and dumb." Low-income housewives: information on budgeting, furnishing a home inexpensively, caring for a baby, adding to the family income; should run in English and Spanish. Job guidance for teenagers. Services and rights for recent immigrants. Typing courses.

Operation Alphabet for illiterate people, courses in English for Spanish-speakers.

Q&A: Led by Joe Newman. Do newspapers already serve this purpose? E-TV can help. Where will the money come from? Legislation to tax television for E-TV? Would probably never be accepted by the American people; we've come to accept free television. Jack White (?) weighs in as well: it is anti-tradition. A government grant? Gould describes current offers, doesn't want government control.

Unused portions: Begins with club matters. Several questions relate to a questionnaire that revealed the large viewership of the station (over 1 million viewers) and the types of programs that have the greatest appeal among viewers. Channel 14.

Gould fields questions about pay television options - such as a "scrambled system" that could provide educational options to professionals such as doctors or dentists.


Audio courtesy of the NYC Municipal Archives WNYC Collection
WNYC archives id: 70499
Municipal archives id: T1569
Transcript
This is a machine-generated transcript. Text is unformatted and may contain errors.
It's a very great pleasure for all of us here at the O.P.C. to welcome ducted gold before presenting him to this audience I would like to introduce those who are here at the head table. First I'd like to introduce the executive producer of Channel thirteen Frank light. You all know our program chairman Joe Norman. It's a great pleasure for us to have with us the president of the National Educational T.V. John F. White. Starting from the other end of the dance it's a pleasure to introduce the vice president and station manager of W O L O W O R T V Robert Smith. And it's a very special privilege to introduce our member who I'd like to see here much more often though she tells me that she is so busy with the with her writing which occupies so many hours of each day that the temptation to be with us more often is very often thwarted funny her first. Regular luncheon guest a week from today will be Bill had to add who has just taken a leave from The Herald Tribune to run for Congress here in Manhattan and the following Wednesday are lunch and guest will be Mayor Wagner all of us who work in communications have been fascinated during the course of the ten years because of the past ten years with the efforts to establish educational television across the United States the. The potentiality is of educational television both as a an instrument for education and also looking at it selfishly from the point of view of us who work in the communications medium as an outlet for the the unique pool of talents which is available here in New York City and let me insert a commercial here in the Overseas Press Club and our fascination with the with the the efforts of educational television have in these recent months been paralleled by our satisfaction in the way in which duck to Gold the former president of Antioch College the former chancellor of the University of California at Santa Barbara has been able to tackle the important financial problems which are involved and to meet the enormous challenge the challenge which educational T.V. represents ducted gold and has prepared for us a statement on some of the most interesting problems that educational T.V. now presents at this moment it's a great pleasure to introduce Dr Gold. Thank you Mr McGowan and good afternoon to all of you I'd like to begin by saying that I'm deeply grateful to the Overseas Press Club for this opportunity to meet with so many distinguished members of the press and the communications industry it's most encouraging to see so many of you here today and I'm hopeful that through your good offices what I have to say may lead to some public discussions and automatically some programs an action that could bring major benefits to the entire metropolitan area. As I came in I noticed that copies of the my remarks are already on the table and I can't help but feel like the man who was the ultimate in laziness and he had on the wall of his bedroom the Lord's Prayer tacked up and every night as he jumped into bed he simply pointed to it and said Lord Them's my sentiments. I could probably save you all a great deal of time if you just picked up a copy of the remarks right now. Seriously what I would like to explore with you today and I'm sure this isn't going to surprise you is educational television. But not what it is or has been or should be but specifically Educational Television is a great and largely on used instrument for the solution of community problems and ills I want to make clear that I'm not talking about broadcasting information about community problems I'm talking about educational television as an instrument to help solve community problems and I was interesting as I feel this to be it occurs to me first of all that a number of you may be wondering just how Channel thirteen is getting along as it approaches the end of its second fiscal year and so before touching on my major topic I'd like to take just a few minutes to tell you what we've been doing I'm very happy to say that channel thirteen is getting along well we were able to meet our budget last year and we will be able to meet it again this year and this is not an inconsiderable achievement when you realize that our budget is far and away the highest of any educational television station in the country and when you further realize that a number of such stations normally do not make ends meet. Let me add hastily however that nothing I've just said should be construed to mean the channel thirteen does not need money and from every conceivable source in the community today and tomorrow and for as far ahead as I can peer into the future a need for money is always going to be with us and if you interpret this as a plea for contributions you are precisely on the mark however despite the fact that our resources have been somewhat limited we believe Channel thirteen has made considerable progress during the past year in terms of the content and quality of its programming and that the technical quality of its broadcasting has shown a marked improvement this is not entirely our own view it's supported by hundreds upon hundreds of comments letters and phone calls that we receive from viewers. Moreover since Channel thirteen is a community station we have made consistent efforts during this past year to have the station increasingly reflect community attitudes and issues and this new policy has been extremely fruitful has resulted in three of our most popular programs the series called The City the teenage discussion program titled The comers about which you've probably been reading a great deal recently and will read more and then of course Miss Fannie Hurst's show pleased to meet you which I hope to evolve been watching regularly. During the past year we also have been making vigorous efforts to acquire an ultra high frequency channel to be used initial aid to any of the unemployed the undereducated the technologically displaced and other disadvantaged people throughout our viewing area. At the same time and at the opposite end of the spectrum a foundation is now being laid for a more formal and systematic relationship between Channel thirteen and the cultural and educational institutions throughout this region and if this effort succeeds it will tremendously enrich our programming and very substantially improve the quality of the service that we're able to provide to the community I might also add that to the ANA Lloyd joy of the entire staff myself included we will soon be moving our offices to much better and more efficient quarters in a new building on Columbus Circle Finally and most important of all we've learned during this past year that channel thirteen has an enthusiastic audience and a large one as some of you know we recently had a survey made to determine the nature and composition of our audience for whatever guidance this might provide in terms of programming and other station policy in the process we learned that people in one million two hundred sixty thousand homes regular channel thirteen viewers and that the station is watched occasionally in two million four hundred fifty thousand homes now this is considerably higher in absolute numbers and as a percentage of total viewing audience than any other educational television station in the country this is good news to everyone at the station as I'm sure it is to the many thousands of individuals into the business firms foundations and organizations that help support channel thirteen so having said all this by way of summary report let me now move along to the subject that I really came here to talk about today as you may know educational television is now just a little more than a decade old. During these past ten years it has done in my opinion a better and better job bringing into people's homes some of the finest of our arts sciences humanities and public affairs and it is brought in to watch schools instructional programs of the highest quality this is all to the good and I can't conceive of any responsible person in an educational television who would want to alter this however I feel strongly that there's something of vital importance in educational television that is lacking and what is missing is simply this with rare exceptions Educational Television has not devoted and is not devoting any really substantial portion of its energies talents and resources to the solution of a great range of community problems where its unique ability to reach large numbers of people would be of tremendous value it has shown I think an unfortunate lack of interest in such problems by the same token and I feel this can't be emphasized too strongly I believe that the community at large has not turned often enough to educational television for whatever aid the latter might be able to provide in this connection this should be a two way street and I'm firmly convinced that the community and educational television working together can help solve a great many community problems now then I'm sure you're wondering just what kinds of problems I'm talking about and how educational television and the community working jointly can help solve them let me suggest very briefly a range of such problems and in a few cases indicate some of the ways in which educational television may be able to help. I'm sure you understand that I'm not proposing a program of any kind I'm merely trying to clarify a role which educational television has not played but in my view should be planned let's begin with the problem of the agent I can easily imagine a program jointly designed by Channel thirteen and the organizations and experts concerned with these problems that regularly and systematically would bring into the homes of the aged the kinds of information and counsel that they need in order to make their lives fuller and more rewarding This might include information on the availability of interesting volunteer work special facilities and services available to the aged where to find social activities and friends medical and legal counsel and so on I'm certain that a series of this sort could be a tremendous service or let's take a problem a problem of an entirely different kind of a few days ago I read that a number of experienced and highly trained engineers who skills had become obsolete were being sent by their companies to a job retraining center the retraining of highly motivated people such as this is a job that could be done by television and I suspect that it could be done at less cost and with less personal anguish involved and by anguish I mean the separation of these men who are in mid career from their wives and families Here's another possibility and this one was suggested to us by Ray male the commissioner of labor in front of Jews in Jersey the New Jersey Labor Department offers a thirteen hour course that teaches small groups of the unemployed how to find a job they're taught where to look for jobs the kinds of jobs that are available how to arrange for appointments how to dress for and how to act during an interview how to fill out an application form and so on. You would be amazed at the number of people who can't complete an application form because they don't know what a reference is the happy ending to this story is that over sixty percent of the people who take the course are able to go out and actually find jobs this is a tremendous achievement but I suggest that this is a job for Educational Television and the Department of Labor jointly for then instead of reaching a few hundred people this program could be brought to thousands even hundreds of thousands of the unemployed and I should add that if we can find the money for this program we fully intend to undertake it and it will be one of exactly the kinds of joint E.T.V. community projects that we need to see multiply You might also be interested to know that the deaf and dumb can be taught lip reading by television I hope that the groups concerned with the problems of the Deaf and Dumb might wish to explore this program opportunity with us some tremendously exciting things are being done in this area in Japan at the present time and to my knowledge very little of anything is being done in our own country still another possibility is a series aimed at the great numbers of housewives who are struggling to maintain a home and properly rear a family on incomes of five thousand dollars or less such a series might include advice on budgeting how to furnish a home inexpensively how to care for a baby perhaps even ways of adding to the family income if there's any way of making this last practical and this series probably should be run in English and Spanish. Another area might be a job guidance series for teenagers where to look for after school work and for temporary summer jobs or we might consider a series for recent immigrants and even those who have lived here for some time on the services and facilities available to them through governmental and private agencies and the rights to which they are entitled again a program that should be offered in English and Spanish. I could also suggest a course in typing to relieve the current shortage of type this educational television can provide the teaching for such a course and the other component a place to set up T.V. monitors and typewriters for students to practice on can also be provided after hours by government offices and business firms This is another example of the sort of E.T.V. and community cooperation that I'm suggesting today still again if a number of business firms find they have certain employee training problems in common perhaps they any T.V. can jointly and inexpensively solve this problem and I could go on and on but this is enough I think to illustrate the kinds of ways in which I think educational television can play what I consider to be its proper role in assisting with community problems and I want to make it perfectly clear that I'm not suggesting that channel thirteen or any other any T.V. channel diminish its cultural and informational programming or its in school tele courses these fill an important and acknowledged need we can't for example a channel thirteen possibly do all the things that I've just listed and still do the things that we're now doing. On the other hand we can do some we can replace some of our repeat programs in many instances for example with programs of the sort that I've just mentioned and if we were to acquire channel fourteen as we still develop we hope we well here again provides an opportunity for us what I am suggesting is that within our broadcasting schedule and that of the T.V. stations throughout the country there is room and this room should be fully utilized for programs that address themselves to the kinds of community problems such as I've mentioned here today and I also want to say that channel thirteen is fully prepared to do its part and that in fact we've already begun