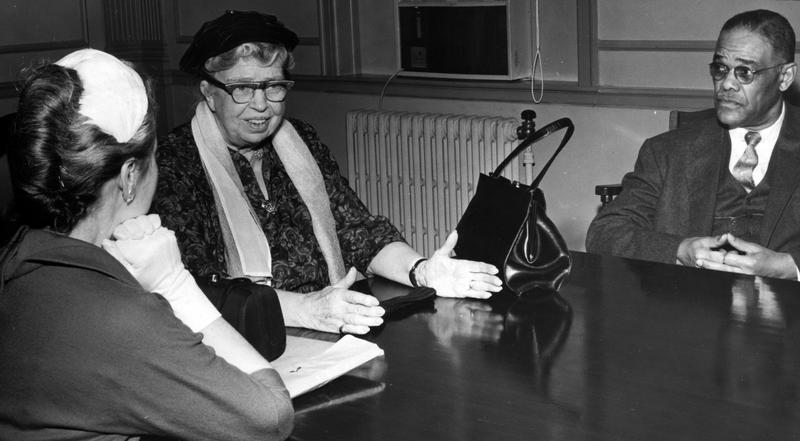 Summary
This episode is from the WNYC archives. It may contain language which is no longer politically or socially appropriate.
Jay Nelson Tuck moderates.

Guest is Dr. Rufus E. Clement, President of Atlanta University, and the only Negro member of the Atlanta School Board. He discusses the school system in Atlanta, and school segregation.

Panelists include Bernie Lufkowitz, Chris McGrath, and Jerry Ferraro.

Clement speaks about the differences between white and negro schools in Atlanta. Though they are similar in terms of buildings and curriculum, the teachers at white schools are more schooled.

Atlanta University does not take all applicants, it is selective and produces successful teachers, social workers, and librarians, among other professional fields - the highest degree is the Masters degree. Placement for graduates from the university is very high.

Clement speaks about his election to the school board in Atlanta. He ran on his background as an educator, not on his race. He won 5-3 against a white man who ran on his race and his beliefs in segregation. He mentions that there is currently a case in court against the school board by the NAACP and parents of negro school children. Clement is a member of the NAACP.

He thinks the NAACP must pick his battles and admits he wouldn't want to attempt to integrate Mississippi.

Regarding the United Negro College Fund, he mentions that the "Negro" schools are in fact integrated. There is also one "white" school in Georgia that is integrated.

Audio courtesy of the NYC Municipal Archives WNYC Collection
WNYC archives id: 72101
Municipal archives id: LT8364
Transcript
This is a machine-generated transcript. Text is unformatted and may contain errors.
I The New York City school. Integration is educating Kuligin What is the role of Atlanta University in today's turbulent Southern Society for the answers to these and other questions listen all to your city station's campus press conference each week at this time in this transcribed discussion editors of college newspapers question a news newsworthy personality Jenelle's and talk noted editor and newspaper man is moderator of the series now to introduce the panel and tonight's guest here is Mr Tucker Good evening often on this program we have talked about the problems of race relations as we are in an off season but it is possible that none of us has seen them quite the same deal quite as our guest tonight on campus press conference is a distinguished educator Dr Rufus Clement who's been president of Atlanta University Georgia since one nine hundred thirty seven He is unusual in another respect he has been a member of the Atlanta board of education since one thousand nine hundred fifty three when he was elected by a wide majority that victory made him the first Negro to win a Major elective office in the Georgia city since the days of civil war reconstruction was marred Dr Clement was re-elected in one nine hundred fifty seven dark climate is also actively associated with some twenty different civic and social welfare organizations. Among these is the United Negro College fund from which is known Atlantic University benefits as do thirty two other institutions of higher learning the United Negro College Fund is soon to open its annual campaign on April first as a matter of fact and Dr comment is currently working to make that campaign and success. Yeah tonight to question Dr climate are brainy Lefkowitz of the City College observation post and Gerry Ferraro and press McGrath all of the Fordham student bar association Gerry and the first question Dr Klein's are talking topic education in the future of the free society necessarily involves the education of our young people in the United States and that of course brings us to the problem of discrimination by the status of a negro student in Georgia we have no integration in public education enjoyed it a day we still have a rigidly separate racial public education system different from many of the Southern states there have been no negroes admitted to the institutions of higher education in Georgia and in that same category I believe there are possibly four other southern states South Carolina Alabama Mississippi and south and Georgia University of Florida has recently admitted. The negro student or two of them rather than Louisiana has had the good students in the State University and the others have all the others have but Georgia is still a part of the hard core what I like to call the reluctant self the Klan or you mentioned one or two in Florida you made me think of how often when integration is purely token and a gracious deal thanked us for a chance for it's becoming much more than that in the near future I think there us but. I would confess that. The situation would differ from institution to institution and from state to state certainly. Florida I think world actually go forward in higher education with more than just talk an integration it just happened that when Governor Collins fled the state and I think he's lived there responsible for what is happening there now. They finally the University of Florida finally admitted one negro to the law school later on another negro qualified and asked to be admitted to one of the graduate schools in the universe and that person was admitted but that was a break in the whole pattern and I think that this wasn't done as a token this was done as an actual policy a matter of opening the university to qualified students I think it really wouldn't talk and certainly in Florida greatest data Clement are you as an elected official of the land or one of education able to influence integration and bringing along the hard road to successful completion Well that remains to be seen since we have not integrated and so that question has not finally come to the point where a decision has to be made Actually I think that my presence on the board is helpful and a great many layers and it's by no other reason that whenever we begin to discuss school matters we have to think of the whole picture rather than just the welfare or just one part of the school population. I think everybody on the board knows how I feel and stand and I should hope that my presence there and what I have done and said would influence something people to feel that after all integration isn't the worst thing in the world and possibly there may be some other negroes who do not have horns ourselves. But you mind if I ask you questions are How did you come to be elected to the board or you're opposed by a white candidate well I don't see the white candidate I am seated a man who's been on the work for twenty odd years. Wrong time some of us in the south have felt that qualified Negroes should offer for public office. The Atlanta Nigro was a pretty intelligent group of people while it latter itself is a very thin I think good city I I would say they remind us what's happened but about nine hundred fifty three they said let's run some people for public public office and one group that is not a nigger voted League came to me through its representatives and said look we can we can all agree on you as a candidate we don't think you can be elected but we think it will do two things it will begin doing move people in the south the Frink of running good people for public office but it will also mean that we can get one Negroes registered and interested in this voting. Because that is the focus of our effort now that we get people to vote so that we can elect good officers and good people and many negroes are not registered and do not vote because a lot what does it mean to us nothing is just a choice between one person on of and neither one is particularly interested in our welfare I agree it we had a pretty hard campaign very few people thought that I could be elected I got very good support from the white community and by got them probably more white votes and I did Negroes because they were more of them but I beat my opponent by about two to one and surprised everybody was running on wasn't us from not the least that in the world that was going to gratify it was very gratifying to me in fact when the election was over that night because if we count our balances immediately we had a voting machine I got a telegram from the loser congratulating me and wishing me the good term of service on the board just in the traditional American political way. Burning Dr Clement in your campaign need to actively support integration in Georgia and. In my campaign and your moment out of this was mighty thirty three in my campaign for the school but I argued two things one that I was qualified for a post on the school board a position on the board and two I thought I had proven myself as a citizen I lived in Atlanta again something I seventeen or eighteen years but I thought the other the third argument and three are necessary on that was that the Negro population in Atlanta both School wise and general was approximately one third of the general population and that one third of the population certainly ought to have some place in policy making boards in a city government and evidently the argument was successful was a successful well and they do need well it's had an important policy making or if you are it is your place on the boy just as some parts gesture of compromise is not a gesture at all the Atlanta Board of Education is an independent group we have we run the public schools we can set the tax rate for the public schools in Atlanta we run. We are course we have to run within the framework of the state of Georgia and that has given us some trouble because Georgia has made certain laws that make it impossible for us to do some things we like to do or some of us would like to do I could say but at the same time we have a school budget an annual budget of around twenty five million dollars we spend much more than that because we've got capital farms for new building program and we employ I suppose ten twelve thousand people and I'm the chairman of the projects in committee and the city. Board of Education and it isn't just a gesture I mean the person on the school board is on a policy making board and it is a powerful I'm bored. Gerry Ferraro has a question on datacom and from what you said I was in the I separate schools for the new grandchild a separate school for their white how to be Negro schools measure up to the light or things like. Not you want to enjoy your in Atlanta I think right and left the line and I know more vital. Physical a now all the schools for niggers are just about as good as the schools for other children or white children because in the last two or three Bondy's years we have made a major effort to bring the Negro schools up to the level physically of the white schools now so far as teachers well correct correct is grossly the same except. There are richer programs and a good number of the white schools. With these extra are things like two or three modern languages Modern from languages. With certain music. To not to want to see but other than that the curriculum is standard actually in teaching personnel from tests which we have recently had made of teachers in the two groups the average of the team and I've shown by these tests. Of the white group is higher than that of the Negro teachers though it isn't the same time true that some Negro teachers write right alongside the highest group of teachers in the city and some white teachers right right along with the lowest group that is the spread is about the same with both groups but the average or achievement of the white teacher is higher than the average achievement of any good teacher and there are certain reasons for that which I don't need to go under now I might before the problem is over but. Ordinarily I would say roughly I would say in conclusion not the negro child. Does not have quite the same equal opportunity that the white John has in Atlanta in spite of the fact that we've done a lot to try to equalize the opportunity to get out of the state of Georgia you have a very different picture that is to say that Georgia has a home the white child has a much greater opportunity and the negro child it is more nearly equal I'd say you know where I would be probably in any other section any other city in Georgia. There's just one thing I know that brings to mind my recent controversy I believe it was September of this year in the New York City system where several mothers were starting an action because they wanted their children sent to white schools outside of a certain way in which the children were then attending school and of course is our school system and I'm just excited turned on by the population and point to where the children. Between school and the city brought in actually have the parents make their children go to school and they patently parents of course said that the city was discriminating against me because the children's children only go to school they weren't being afforded equal opportunities with the white children now do you think that up north we are discriminating against the new By having an attend. School. Well I think you put your finger on another aspect of this whole segregation or integration problem and that is segregation by housing and wherever you have school districts and you can very easily draw a school district line in such a way as to include in that district people of a certain race or religion as you to lose if you're if you have a housing plan in which Does that original and I was talking yesterday to a. Nearby very large northern city and you said well the school which I saw in my son is just too segregated so far as Jordan are concerned there's any high school and I said What do you mean you tell us the single white child in it and I said why isn't there and he said because it is you know an old negro just pick a new growth can not get housing in certain of the surrounding areas so that when he does hires do is put very good for a forced surge on the entire Negro personnel and I know that same thing happens in New York I would find in Boston you know wherever you have large racial or religious groups that you like to find some school made up completely you know students from just that a single religious or racial group and sometimes arrive I'm afraid that don't you know. With malice aforethought Well actually there's going to be no way to rectify the situation so if you know yeah and I call and there's no such a high percentage of them and yet there are so many schools where do you think I'll do my call to have two children take buses or no children. Go to schools in other areas when I say there's a school right next door I don't know I don't but I think girl. When you see of the trouble is that the other direction. The remedy for it is in another direction I happen to have a. Right to your life hour ago I found. Myself. This past summer in Europe and who at the time was quite disturbed because he was not able to find housing in New York City area which he wanted to open which. You certainly would have been. At the cultural level of the people who lived in the financial. As long as you. Do any area why not for living. From your. Characteristics and. Suggest that you look at this question. They are. Making up all. This. Great doctor before you spoke the varying capabilities of the two groups of teachers that are employed in Atlanta. And I presume that the purpose of your university Atlanta University is to minimize any difference in capabilities of teachers how do you feel that Atlanta University itself has succeeded in placing qualified Negro teachers in a public school education system. As a private military here where you have no obligation to admit these students to fly therefore to begin with we have rather high mission requirements we select students we believe I kept. And then we see that they do not graduate or they do not remain in school unless they can do work of an equally high quality So when we graduate a student and we recommend the young no matter what his training may be going job for which is training is spent in the end we feel confident of that price and will make more than an average contribution now we train more than just teachers we train people for other professions marketplace ins and or some of the people right here in New York City some of your best people are graduates of Atlanta University and some of your students from Hunter College and other places come down to us but this provides none of the training we have right now I suppose half dozen hundred college girls. An