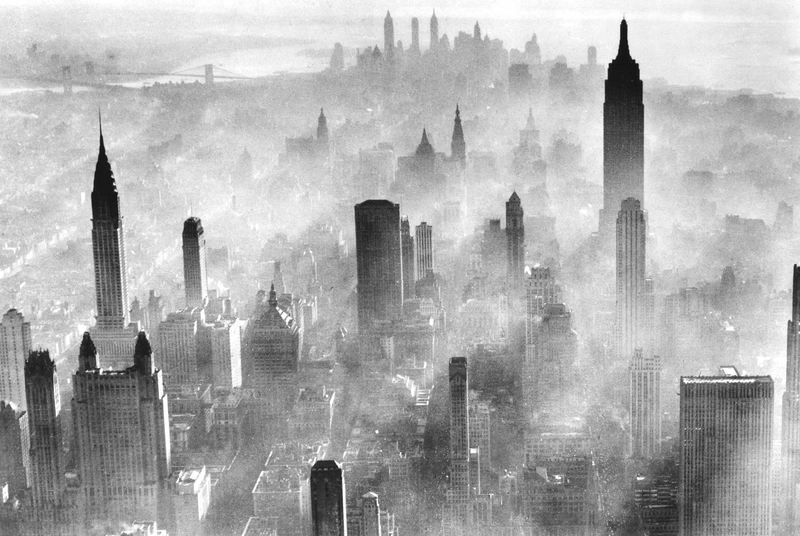 Summary
This episode is from the WNYC archives. It may contain language which is no longer politically or socially appropriate.
Greenberg, City Commissioner of Air Pollution control, answers questions about pollution in the city.

Jay Nelson Tuck moderates.

Panelists: Peter Franklin, Robert Bird, Henry Kurtz, Ed Stover and Jim Farrell

Questions:

Air pollution comes from people living closely together and from industrialization.

If the intensity of automobile traffic increases and we have adverse weather conditions, New York's air pollution levels could rival Los Angeles's. "Smaze" was caused by a temperature invasion (a lack of diffusion of contaminates). This happens in LA frequently, but not often in NYC. It's a high concentration kept in place by a high level of warm air.

Controlling air pollution requires applying means to every source of pollution, like automobiles, buses, broilers, incinerators, etc. We attempt to determine the source and then decide the best technique for control.

We know which sources are the most important. We know who uses most coal and who blows most coal out of the stack. One of the worst sources is the 59th St Power Plant, owned by NYC.

When a source of pollution is small (an apartment house), we can remedy that condition in a short time. When the source is a huge power plant, it's more difficult. You can go for speed or accuracy.

Surveying the air for pollutants.

One of the most difficult parts of controlling air pollution is that we don't have the techniques. Apartment house incinerators are bad in design, but they have not come up with a design that is capable of doing the job they need it to do. Once we have a solution, we can put it in to effect, and people won't complain about the soot on the window sill.

Public awareness is important. It's illegal to burn an apartment house incinerator after 5pm, but if a citizen lets the Department know, they can do something about it.

A great deal of research is being done today, more than was being done 5 years ago. The Federal government is spending about $3 million a year. The industry is doing a good job of going along with us. Renovation of con ed plants.

There appears to be a relationship between cigarette smoking and lung cancer, but there is good data to indicate that air pollution plays a part as well.

Controlling air pollution is not like purifying water. Influence of New Jersey on New York City air quality.
Audio courtesy of the NYC Municipal Archives WNYC Collection
WNYC archives id: 72275
Municipal archives id: LT8234
Transcript
This is a machine-generated transcript. Text is unformatted and may contain errors.
Are New Yorkers endangered by the air they breathe is air pollution a necessary evil of continued industrialization in New York City might New York become so large now how can an pollution be controlled How does New Jersey air pollution affect New York City. The answers to these and other questions listen now to your city stations campus press conference each week at this time in this transcribed discussion editors of college newspapers question and here's where they personality moderator is the noted editor and US paper and then Jay Nelson tough now to introduce the panel and tonight's guest here is Mr Tucker Good evening every New Yorker who looks at the sky sees all around him small stacks blowing black felt out into our atmosphere. And surely there was no one in the city who was not often held as no pile of us Rod passed and hit him in the face with a noxious exhaust the man who was most concerned with these problems and who is working to do something about them is our guest this evening on campus press conference here's Dr Leonard Greenberg city commissioner of absolution control Dr Greenberg began his career as an industrial engineer and then moved to the United States Public Health Service where he specialized in problems of air control and dust Diseases at the same time he took a free H.D. and Yale and still later went to the Yale Medical School and became a doctor of medicine the service health commissioner of the city of New Haven and director of industrial hygiene and the New York State Department of Labor before he came to his present post in one nine hundred fifty two here today to question Dr Greenberg got five collegiate editors they are Peter Franklin of the City College observation post. Robert Byrd and Henry Kurtz both of the Columbia Spectator and Ed Starr and Jim Pharrell both of before them like cigarettes and stuff like Dr Greenberg is our pollution a necessary evil of continued industrialization in New York City well our promotion comes from people living in close I Greg ations in cities and from industrialization but we hope that in the future as numerous plants are established the new factories set up that and pollution will be brought under control when the factories organize and pollution will not of necessity originate in these new instance. Jim Carroll one of the cities in this country that's going to be eating with us for becoming the largest city in the world population life is Los Angeles which is proud of its weather yet imposed upon that weather right is a very serious smog problem is New York City in danger of falling Los Angeles down a spike alley. Well this is certainly a possibility if the intensity of automobile traffic increases sufficiently and we have some adverse weather conditions this is perfectly possible. Watching me that has not occurred to any serious extent up to this time sir back in November one thousand nine hundred fifty three we had a a phenomenon which I believe your department or some journalists labeled as some A's which is a rather serious certain odd combination is there a danger of this happening again and what precisely was the ultimate cause of that was this way you know caused by temperature information in there which is a media logic condition. Characterized by a lack of diffusion of the contaminants from the area above the city this is caused in turn by a heavy layer of warm air lying since this happens in Los Angeles on the average of about two hundred fifty times. In New York City it only happens occasionally in one thousand and fifty three it happened for a period of eight or nine days and this was the basis for what reason cause me whatever you call it it makes no difference the fact is it's a high concentration of pollutants kept in place by an order. Of warm air which does not permit the winds to move from the ocean All right. Dr Greenberg What methods are currently being employed to curb or control the pollution of our air and this is a question which it demands a lengthy answer to too lengthy to bring out here. For control of air pollution means must be applied and techniques must be applied to every type of source of their pollution let me amplify to control the pollution from all it will be older buses requires one place to control the pollution from boilers coal burning boilers requires a different way to control the pollution from incinerators requires a different take. So on each case why we attempt to do is to determine the soul eyes and then find out what technique is applicable do that source for the control of the pollution sometimes a very difficult problem and the drive to Florida. Frankly commissioner Greenberg is it possible the pinpoint who are the biggest offenders in New York City who we can look forward to the final responsibility for the air pollution Oh yes we know all rich saucers constitute the most important ones from the point of view of air pollution and our problems we know who are users of coal and who blows most coal out of the stack you know which pollutes of the Senate. For example one of the waste sources of pollution at the present time is a fifty ninth Street power play out there which is owned and operated by the city of New York you know this is well known. You know we know you know the contribution that comes from incinerators we know the contribution that comes from oil burning equipment and we know the contribution of comes from one can ever since power plants fall off either yes or Well Commissioner if you say that the city itself is one of the biggest offenders how can you possibly hope for the average apartment house to possibly be able to combat the pollution Well this this with again raises another interesting point you say you know one that when the source of pollution is small are relatively small and such for example as an ordinary apartment house we get a whole. To remedy that condition in a relatively short time when the source of pollution is a huge power plant which may for example of cost of thirty or forty million dollars to build and which might cost six or seven million dollars to correct and remedy and which might take two or three years in in N. correcting and then the problem is entirely different in one case you're getting more for fast results and in a lot of the case you have to program a media development control techniques you know which might take two or three years still in store test and fact and this is the problem and I think Bob Byrd has been waiting all this time to follow up his first question well. How many air pollution specifically be detected what are some of the techniques used well. We have a laboratory situated east of hundred twenty five straight. Which is. What your question and your initial laboratory we sample the atmosphere for all kinds of different polar carbon monoxide aldehyde hire a car and all of the various pollutants that exist in the atmosphere and leave and also I should add solids Dustin's And so that and it we could have a continuous check only needs pollutants in the atmosphere in many places all over the city for example there are solids sampled in twenty two places sampling points all over the city and analyze each month and you can sample among most anybody's wonder cells Yes we have a sample and we have sampled it on Windows and we've sampled up against that kind of store and brought it into the laboratory for another's. I'm I dared that one thing perhaps to clarify the problem one of the most difficult parts of being in the field of control of their pollution comes about because in many cases we do not have that technique at hand to bring about control to take for example the apartment house in center a. We have approximately eleven thousand apartment house and senate races in New York City and leaves in center a nose are very bad in design and in spite of the fact that we have worked for well over a year almost two years in making a detailed study or bench problem in cooperation with New York University we have not yet come up with a design which we feel is competent and capable of doing the job that we are interested in obtaining in other ways so far we just do it scratched the surface and we just have to devote more money time and study in this aspect of the problem now once we have a solution of this problem that technical solution we can put into effect in these eleven thousand apartment houses and then you and your families will not complain of the sun on the window sill like to do for you to what extent would increase public awareness control air pollution Well public awareness is important we like the people of the city to let us know where they have been legitimate complaints of the pollution This makes it possible for us to get our novel and to get inspectors out and see just what the source may be for example it's against a lot of burn an apartment house and center a door after the after five o'clock at night. Now if somebody is venting one of these in center it is seven o'clock at night and sound so to us and lets us know about this weekend catch them at it and immediately give them a summons and discontinue this practice. The point of the commission would you like to give your phone number at this point I suspect some of our listeners what I like are your phone number is a form of the Department of their pollution control which is why a four or four and ninety five of my own personal account number I don't write well imagine is unless they're well good for part of the world. I just like this as a follow up to Bob's question what is being done in the area of public relations to help inform people of the dangers of air pollution and of the existing laws all we have we have been very much interested in a public relations programme for example whenever a radio station asked me to appear I appear on many radio stations in accordance with these requests and I've been on television with many of the important do television stations and then we have a man who takes care of our public relations we publish pamphlets we feed the newspaper stories on what is being done one is not being done and we tried to inform them the status of our problem and then the addition of this we publish a little leaflet and call it only flew a few sheets which we call the air pollution control no this is published every month and has wide circulation I think our mailing list now is about eleven hundred copies and we are. Well aware of the importance of public information and we try and every way possible to keep the public informed as to what we're doing and what progress we're making at Starbucks. We have discussed the role of the city and come batting air pollution do you feel that private industry is contributing enough time money and research to eliminating this problem yes private industry has been spending money for research. And a great deal of research is being done in the field of air pollution today here it's a great deal more for example than was done five years ago the federal government for example is spending about three million dollars a year now in research in educational way going training right industry is spending a great deal of money in industry has a very big problems which require the expenditure of a great deal of money. And industry so I must say doing a very fair job in going along with us in control take me with a sign that's true of Consolidated Edison the most now and I look at their power plants and see that black smoke just pouring out I don't they claim to be working on it but do you see results the casual I doubt it well this is a thing that the casual like and well Mitch. McConnell person has spent about thirty six million dollars on our pollution control in the last six or seven years it's not casual sun it's the Friday sale let me just point out one example to you which I think is a very interesting one the Hudson ave a plant which at one time was the biggest power plant in the United States and still ranks among the big players is situated over in Brooklyn near the Navy Yard. Now this plan was a quip with poor quality under fire and strong feelings which were just adequate. In during the last few years we've had a program of rehabilitation of this plant with a Con Edison Company and by the end of nineteen fifty eight the schedule calls for the complete conversion of this plant from coal or wood or. And when this is done that seems to me an important contributor to way on to the air pollution of the city. In fact I would venture a little point. Let me also point out Mr Tucker that Condit was one aware as we. Contribution plans here not make. Going. To work two and a half months ago I'm going to look for the federal park and then you have to get Con Edison some gas they could you use that plant for history where also you spread a plant to plant East River and we want you know if I. Presume the coal consumption to plant. A Federal Power Commission has yet given up smiling. And I have hopes that Federal Power Commission will grant you natural gas and these two sources will be great for your future right there yes there are other Western for you was there an answer feedback on the last question you pointed out there was a difference between any problem faced by private small part health center and the problem faced by a more expensive city plant which takes years correct is there any is anything being done to correct the city but at the present time well so far as apartment is concerned the fifty ninth Street plant if you mean that course that's one of the plants that now the city now has on the consideration about selling to call yes we're going down a problem to Connecticut. Actually I'll see more of the city the city only really thought. One can get you in Brooklyn one seventy fourth Street from an account from. And in the morning we call the fifty ninth Street and it's really you know. Really fifty eight to fifty ninth Street on the Hudson River. There's been great talk about selling planes for medicine and. We know the answer. In the next. Five or six months if these plants are so the kind that it won't let me do it leaving possibly once the like Rick Tyler lines are completed for Con Edison to cut down the load on his fifty ninth Street. And instead of running it Piccolo if they are going to get sixty you know seventy percent of this should decrease the amount of pollution coming from this plant but this is only a start in fact we hope that they might take the one you know to save. The I mean answer that until such a sale or the lack of such a sale is finally resolve the problem of solving the air pollution contributed by the plant is into space and that's all right yes and here is a good example of these high big charges that I spoke about. To me about to take effect plant which at the present time is roughly fifty years of age. With the exception of one small f