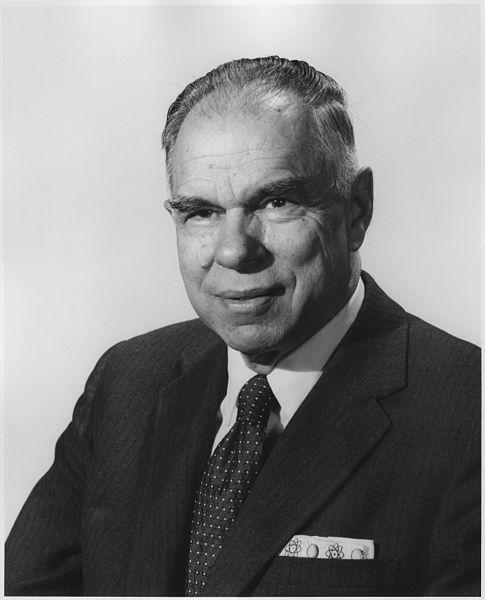 Summary
This episode is from the WNYC archives. It may contain language which is no longer politically or socially appropriate.
Seaborg, head of Nuclear Chemical Research at the University of California, answers questions about nuclear energy and scientific advancement in the US and Soviet Union.

Marvin Sleeper moderates.

Panelists: Paulette Singer, Penny Fox, Bruno Wassathiel, Murray Frost

Russia is not ahead of us in quantity of scientists, but they are turning out scientists at twice the rate of the US. They are expected to catch up with the US by 1960. Turning out scientists at about 1/2 the rate that we need them in industries.

The main problem is inspiriting the youth of America to pursue science. The new frontier. The high schools are the main way of achieving this. They're doing the best they can, but a large number of high schools don't have teachers trained to teach science. Recommends monetary inducements for high school teachers of science.

Shies away from talking directly about his current weapons work.

Consequences of an atom bomb have been inflated by reporting.

Peace time research in to nuclear energy.

Educational radio and television programs can help communicate with people.

More can be done with audio-visual aids and closed circuit television in elementary schools. Meet the crisis in education that will happen in a few years when children reach high school. Scientists of Tomorrow, on the west coast, begins in the first grade with science competitions and science fairs in junior and high schools.

Government is putting in to research 3 - 4 million dollars per year. That should be doubled in the next 5 - 10 years.

Liberal arts educations should require a sprinkling of science education.

Doesn't answer questions about disarmament and Cold War.
Audio courtesy of the NYC Municipal Archives WNYC Collection
WNYC archives id: 72302
Municipal archives id: LT7579
Transcript
This is a machine-generated transcript. Text is unformatted and may contain errors.
Dr Sebald What can government do to alleviate the shortage of scientists is Soviet Russia really ahead of us in training scientists are we close to developing a bomb even more powerful than a hydrogen bomb how can science be made more appealing to the youth of today for the answers to these and other questions listen now to your city stations campus press conference in which the editors of college newspapers interview prominent personalities in the news are moderator for this transcribed program is Martin sleeper award winning reporter for The New York Journal American here now to introduce our panel on tonight's guest is Mr sleeper Good evening and welcome to another edition of campus press conference this afternoon the American Association for the Advancement of Science and of their annual meeting at the hotel Statler we have with us tonight one of the world's really distinguished scientists who attended that meeting is Dr Glenn T.C. board director of nuclear chemical research at the University of California where he also serves as the associate director of the university's radiation laboratory. It would take most of this half hour program to tell you all of the accomplishments Dr Sieberg has made in the nuclear energy field Suffice to say he is the co-discoverer of plutonium gear any M two thirty three and at least a half a dozen other Ilands that have been put the United States in the vanguard in the nuclear physics field although Dr Sieberg is just forty four years old he has written one hundred fifty papers on the subject in the past twenty years in one nine hundred fifty one he was the Cohen of the Nobel Prize in Chemistry and lastly Dr Seeburg work from the very start on the development of the atom bomb and after the interview here's a question Dr Sieberg our campus press conference report is quite singer of the N.Y.U. square Journal plenty facts about a college arrow Bernal was a silent C.C.N.Y. observation post and Mary frost of the Brooklyn College research review and how about the first question from you Paul at the dock to see Brock for a long time now we've been hearing that Soviet Russia is much ahead of us in training its scientists but is it possible that while quantity may be greater in Russia that the quality of the scientists trained there is not as good. Well of course it depends on how what proportion of the scientists you're talking about Paulette Russia is actually not ahead of us in growth quantity of scientists and if I may had engineers at the present time but Russia is turning out scientists and engineers at about twice the rate that the United States is so that Russia is expected to catch up with the United States by one hundred sixty or so and after that if the rate is still faster. Continues to be faster then of course Russia will forge ahead but these students are being trained now are they also better than American students as far as technical competence is concerned I would just say that they're comparable they are competent and probably are comparable in quality with the American students in science and engineering that this point then be the only real difference is a matter of corn to do that just say in ten years the Soviet Union will have more trained scientists and we will that is if we don't remedy our own situation and increase the rate of production in this country any fox back to sea world how serious is Shaw to do scientists would you say we now have and what may we anticipate for ten years from now well it's difficult to estimate in overall numbers this would mean one would have to go around and pull all of the major industrial concerns government laboratories universities and so forth in this country it has been estimated that we're turning out engineers for example at about one half of the rate that industry in government and the universities need them at the present time. And how do you propose or have you one of the ideas on how this can be accelerated Is that a matter of educating the public to put pressure on the government to give. The colleges some help in training scientists and engineers Well Mr sleeper I think that the main problem here is that of inspiring the youth of America to go into science and engineering the problem of getting the message to them of how interesting science can be. Science in my mind is the new frontier we used to have geographical front tears in our front here is the scientific front here and the main place that we can. Get this message across I believe is in the high schools do you feel at the high schools of doing a job and preparing students so that they feel that they're capable of going on to scientific and engineering studies well they're doing the best they can but a large number of our high schools. Now no longer have teachers trained in science to teach science it's a vicious circle that shortage is science of scientists has led to a shortage of scientists going into high school teaching which in turn has led to less inspiration by high school teachers of students to go into science and hence a greater shortage of scientists fall I've seen in our last week the suggestion was made as follows that qualified college graduates teach science courses in high schools and a substitute for military service what would you think of this suggestion Paul that I think that would be a very reasonable thing for them to do that is if you have scientists who have been drafted into the army. Who might be transferred to teach in the high schools yes that sounds reasonable to me would these college graduates in your opinion be as qualified or perhaps better qualified than today's science to. Within the high schools and in most instances they would be as well qualified or perhaps better qualified in my opinion Bruno was a file not the savior you mentioned as an inducement for more people to enter science an explanation of the field and its romance but do you think further inducements would be needed to attract a sufficient number such as monetary or other to do Smiths are not are given a say in the Soviet Union which have built this up to an elite crime definitely brutal and I'm glad you reminded me to add that I meant to add that monetary inducements. Not only in the general salaries of practicing scientists but more particularly for the high school teachers of science the reason that we have the shortage of high school teachers and particularly of high school teachers trained in science is that the rate of pay in the high schools is. So low compared to the rate of pay in any other job that the man trained in science might undertake Murray Frost back with the board full the emphasis on science and engineering will high school graduates be persuaded to enter it to feel even though they are not qualified for well Mary I suppose there is a possibility that they would be filtered out in the colleges and universities however so I don't think lead there would be any great danger twenty bucks out to see but what is the vocational high school fit into this time or doesn't it. Well I don't know if it fits in to some extent then I suppose in that. Such a such an institution might help train the the aid the technicians the supporting help for the scientists not to say broad you think this would be any good or it would be seasonable to have some of our outstanding scientists today visit high school classes high school science classes perhaps once twice a year to speak to students directly and perhaps the students could get some inspiration from these people. You have definitely pallette As a matter of fact a lot of this is taking place throughout our country a number of the scientific societies the American Association for the Advancement of Science that just finished meeting here in New York City for example has advocated this the American Chemical Society through its local sections spread throughout the country have sent chemists into the high school classrooms for this purpose a great deal of this is going on it has been effective I mean can you notice any specific trend when these people go into the high school you think that the sum total of all the things that are being done. Is producing results we don't know where there are any and of where that we can point pinpoint any individual action of that sort but the sum total seems to be producing results. And obviously vocab necessary a women in the field of science Well I think very necessary there are very many positions that women can hold in the field to the various areas of science such as. In the biological sciences and the medical sciences laboratory technicians of course you're familiar with and also in the. Development fields and in the research fields there are a number quite a number of research scientists women scientists with B.S. degrees in our country market for I might add Mr sleeper not as many or as large a proportion as there is in the Soviet Union Oliver I'm already broke what can industry do to alleviate the shortage of scientists well of Maria I think. Do what they can to help in the inspiration of the young people who go into science I mentioned what organizations like the American Chemical Society. Are doing also they can help financially. They can add to the budgets of the private colleges and universities in the country making it possible to strengthen their science departments and perhaps raise the salary of the science professors in such institutions and and many ways like this monetary help is of use now in. Is there any way that you can emphasize that a career in science and engineering is a career that's well worth while monetarily that they can earn as much money in this field as they can and others are even more I think Mr sleeper that industrial scientists and engineers are beginning to do very well they shortage of scientists the demand is so great that the law of supply and demand is taken over and the science and the salaries there are definitely going up and other words one. Boy or girl gets out of college with an engineering degree or a science degree that he can go into the industrial field and yet I don't with a real good with a bachelor's degree in chemical engineering for example starting salaries as high as four hundred to five hundred dollars a month common now and with a Ph D. degree. Particularly And they feel that like physics where the supply is very short starting salaries as much as a thousand dollars a month. Now a days. Which type of scientists both times the scientists are most needed at this time. Well. The shortage is greatest in the physical sciences in physics and in chemistry and. In engineering especially in electronics. Solid state physics the physical sciences and many areas of engineering in general and that the CBOE of these fields which you mention are require a great deal of technical competence and a great ability to learn is that all possible but all students are just not able to take in these studies or not and would not be competent to take them well pallette a certain. Proportion of them of course are not qualified however and have been estimated that. Old something up to twice as many people are qualified. To undertake a college education. Is. The actual case in our country also to take an example of the proportional proportion of our students that go into science something like two percent of our colleges people who obtain bachelor's degrees obtain these degrees in chemistry so there certainly is a large margin there. In order to raise that above the two percent what about planned science programs for children in the lower grades is much being done along this line well Mr sleep around very enthusiastic about the possibilities here. And not nearly enough is being done along this line I also feel that in addition to losing our scientists due to lack of inspiration in the high school we could. Add to or materially alleviate the situation by inspiring the kids even lower down I think that some instruction in elementary science as first as early as the first grade is called for in other words do you think our whole educational system has been remiss in developing scientists and engineers Yes up until the present time this is a whatever easy to understand this is sort of crept up on us and our culture has changed I believe that no. One can go so far as to say that some knowledge of science is part of the repertoire of a cultured man how about getting through some of the work you've been doing our. What's been happening out in California are you getting on to developing a bomb that's more powerful than we have right now in the hydrogen field Well I don't feel it Mr sleeper that I'm that I should try to answer that obviously due to security reasons we have the radiation laboratory out at the University of California in addition you know we do have the Livermore Laboratory that does work on that where the people who work on weapons and the University of California also operate the Los Alamos Laboratory in the Mexico where work on weapons is carried out well I like to say something all about the radiation laboratory where most of the work carried on is basic in character that is we carry on basic research there well what about Suppose something general such as this it's been said that eventually a bomb could be developed that would be detonated and set off a chain reaction that could practically demolish the universe do you agree with that no I know I don't think this is possible but what about a section of the country or a section of the world No I think Mr sleeper you're probably thinking about. Some of the statements that made that were made some years ago about the possibility of igniting the atmosphere and I think this is been shown to be impossible for essentially impossible no scientists I suppose. Ever says anything is. Completely impossible but this is essentially completely impossible Dr Steve what do you think that will ever be able to set up some sort of system to control Adam production. Throughout the whole world. I hope so I haven't I haven't given up hope I hope so. Now what about the peaceful uses of of atomic energy do you work on any of those projects out there. At the radiation laboratory our present research program is more on the what we might call basic research the new strange particle the new the trench uranium elements the synthetic elements recently you may have heard of the discovery of the negative Proton by some is a Great Chamberlain and coworkers in the anti neutron and so forth to answer your question we are not one of the laboratories that is specializing in the development of industrial uses of nuclear power for example there is a lot of work done however on the use of tracers at the University of California the use of these radioactive tracers to trace the course of substances these are very useful in all fields of science in agriculture in industry