Dozens Rally at GOP Congressman's Office Over Healthcare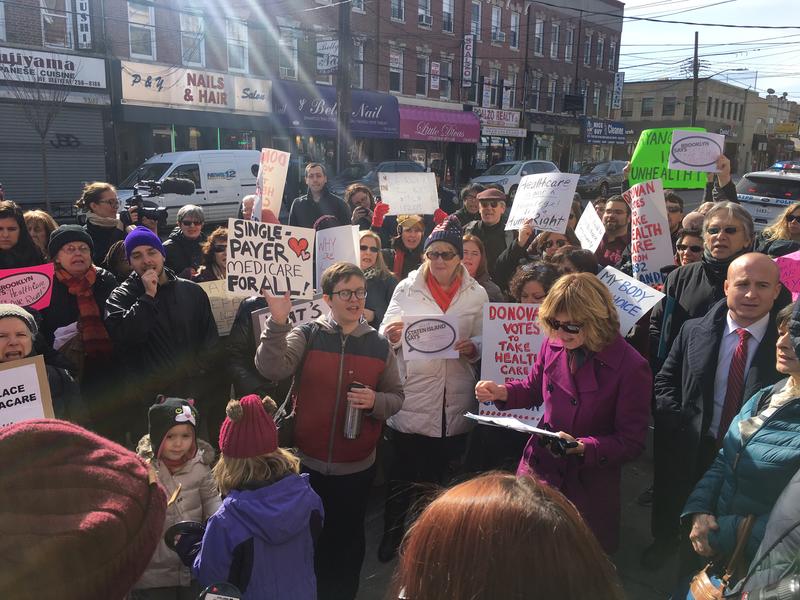 Wielding signs reading slogans like "Heal Don't Repeal the ACA" and "We Want a Town Hall," dozens of Brooklyn and Staten Island residents took their message to Rep. Dan Donovan's Bay Ridge office Tuesday. They're fighting back against Republican efforts to repeal the Affordable Care Act, and are calling on the Congressman to hold an in-person town hall to address their concerns.
Several speakers shared stories about how they've benefited from Obamacare. Sarah Zorn said the ACA has covered medical treatments for her husband's ulcerative colitis, which cost $28,000 a month. 
"He is in an entirely remissive state, he was able to start up his own business, which has been really successful, he operates like a healthy person," she said. "We have been married 13 years, and save for the last few years, I never really knew what my husband looked like healthy."
But now, she said, they're concerned about the future. 
Registered nurse Patricia Kane said she's worried a repeal of the ACA would leave patients like hers behind. And she said she doesn't buy arguments that government shouldn't be involved in healthcare, especially as insurance companies continue to consolidate.
"When you're up against these healthcare giants...when an individual is fighting that kind of power, yes, they do need their government to step in and protect them," she said. 
Donovan was not present at his Bay Ridge office on Tuesday. In a statement, his office said the Affordable Care Act has driven up consumer costs and limited health care choices. He also promised not to "pull the rug out from millions of people," as lawmakers work on reforms.