Crime By The Dots: NYPD Commissioner's Legacy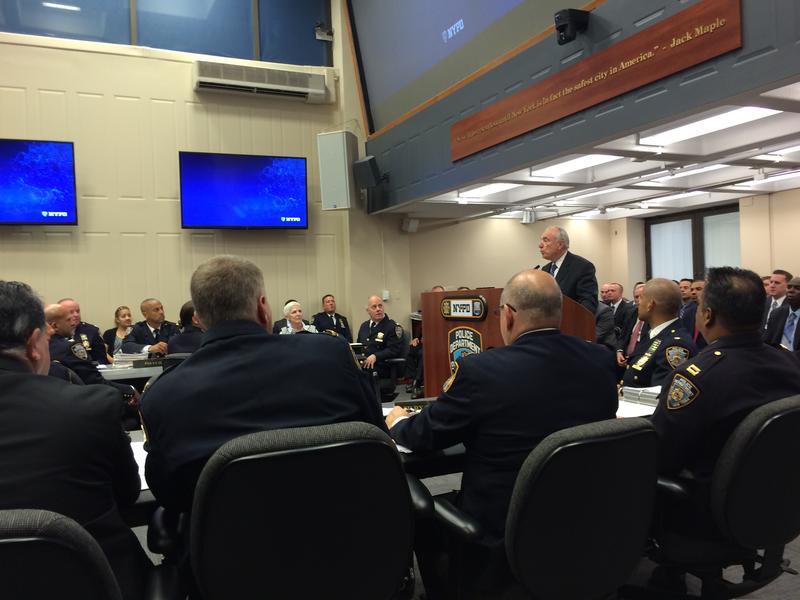 It sounds obvious now – police departments using computer statistics to help fight crime. The idea conjures an image of precinct commanders in a large room sweating through an explanation of numbers under the withering gaze of higher-ups.
But it wasn't that long ago when police didn't even bother to track neighborhood crime. NYPD Commissioner William Bratton is widely recognized as the man who changed that and forever changed policing nationwide.
And so it was that a generation of police brass — a hundred chiefs, inspectors, deputy commissioners and others — crammed into a conference room at NYPD headquarters Thursday morning, on Bratton's last full day running the department.
Some clutched giant binders with color coded tabs. Flat screens hung from the ceiling for digital presentations. Such meeting stretch on for hours with police leaders going through crime data block by block.
It was the weekly CompStat meeting, named after the computerized system for spotting crime trends that Bratton and his command staff — including the legendary deputy commissioner Jack Maple — pioneered at the NYPD starting in 1994.  But Bratton said the roots go deeper.
"The process of CompStat was actually created back in the 1970's with mapping that I did as a young lieutenant in the Boston police department — huge maps with little dots put on those maps every night by a clerk from the crime reports of that day," Bratton told the room.
He said when he became NYPD Commissioner for the first time in 1994, it could take six months to get data. So he and his command staff set about changing that, getting daily updates. The early system was low-tech by today's standards.
"Flip-chart maps with plastic acetate and paper dots to track crime. Additionally there was a purchase of a small computer to begin tracking the crime information that was now required to come in each day from the precincts," Bratton said.
The NYPD's embrace of CompStat, combined with a large increase in the number of officers on the street, coincided with a staggering drop in crime. There were more than 2,200 murders in New York City in 1990, and half that in 1995. The trend has continued to this day.
While there were a number of factors, Bratton deserves a lot of credit for the deep and sustained drop in crime, said Lawrence Sherman, director of the Institute of Criminology at the University of Cambridge, in England.
"Focusing police in hot spots of crime is effective in reducing crime," Sherman said. "I think that he is the police executive who made that happen on a scale that was never achieved in the past —   the first policing strategy of the digital age that turned out to have a massive success because of its precision."
In recent years, however, advocates have accused Bratton of ushering in an era where the focus on numbers has led to aggressive over-policing in communities of color nationwide.
"In some places and under some administrations, the system metastasized and was turned on its head," said Eli Silverman, professor emeritus at the John Jay College of Criminal Justice. "The numbers-driven activities in many cases became ends in themselves."
But he says it's wrong to blame Bratton for the unrest in New York City and the rest of the country in recent years.
"He planted the seeds true. But they were valuable seeds," Silverman said. "Any innovation has the potential for disuse."
Nowadays, Bratton talks about precision policing — the ability to use data and analyze trends to decide not just where enforcement is appropriate but also the level of enforcement. Since his return, the department has continued to slash the use of stop-and-frisk, and has garnered headlines for a number of high-profile gang takedowns.
At his final CompStat meeting, the commissioner also mentioned new challenges facing the department.
"I leave with the great satisfaction of knowing as I continue to live in this city I will be living in the safest large city in America — not only from crime and disorder but also the issue of terrorism," Bratton said.
He urged commanders to keep driving crime down, and he left to a standing ovation. As he walked out, Deputy Commissioner Dermot Shea barked for a Bronx precinct commander.
"Forty-four, get ready," Shea called out.
CompStat data shows there were 12 robberies in the 44th precinct last week, up one from the same time last year. There were five alone last Wednesday. The bosses had some things to talk about.