Local Rep. Donovan Backs Trump Immigration Ban, Despite Worried Constituents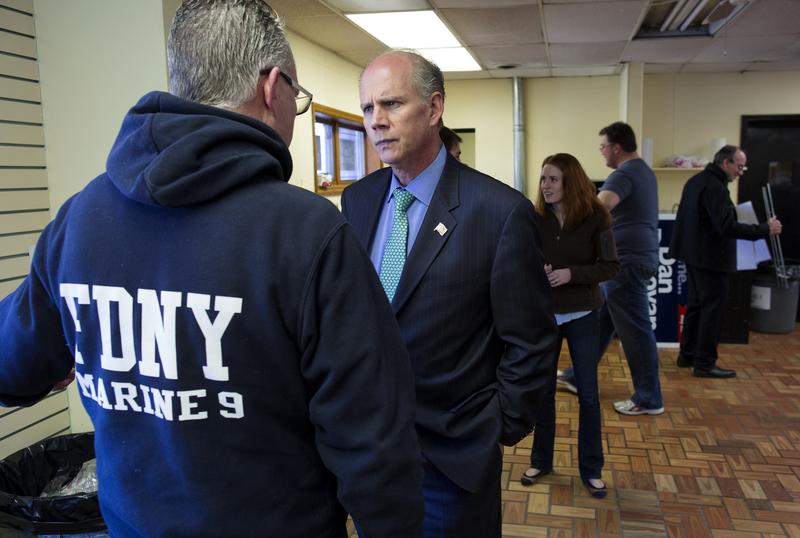 New York City's lone Republican Congressman, Rep. Dan Donovan, says President Donald Trump's immigration ban on seven predominately Muslim countries is "in America's best interest." Donovan says the public and media reaction to Trump's travel ban is misguided.
"I think there's a lot of hysteria, there's a lot of confusion about what the order actually says," Donovan said Tuesday. "It's a pause. It's a time out."
Trump's order halts all refugee resettlement for 120 days and resettlement of Syrian refugees indefinitely. The order also puts a 90-day hold on citizens of seven predominately Muslim countries — Iran, Iraq, Libya, Somalia, Sudan, Syria and Yemen — from visiting the U.S.
Donovan's Brooklyn and Staten Island district includes many Syrian immigrants worried about whether friends and family will be able to visit the U.S.  But Donovan says Trump and his new cabinet deserve time to find a long-term solution to prevent terrorists from posing as refugees – as Trump promised during the campaign.
"Be patient," said Donovan, who initially did not support Trump during the Republican presidential primary. "Allow the president and his advisors to come up with a system that will take care of their relatives and friends and at the same take care of the American people as well.
A handful of New Jersey Republicans have criticized Trump's immigration order this week. Rep. Leonard Lance, of Clinton, said the order was "rushed and poorly implemented." Rep. Rodney Frelinghuysen said the order was "not properly scrutinized" and urged Trump to reconsider aspects of the order.
Donovan said he would not support a religion-based immigration ban and expected the ban would be temporary. But Homeland Security Secretary John Kelly said Tuesday that the immigration ban may be extended.
"Some of those countries that are currently on the list may not be taken off the list anytime soon," Kelly said, according to the Los Angeles Times. 
Meanwhile, New York City Democrats uniformly oppose the execitive order, are supporting a bill to defund enforcement of the order and attending protests in New York and Washington.