The Donald Trump New Yorkers Know Best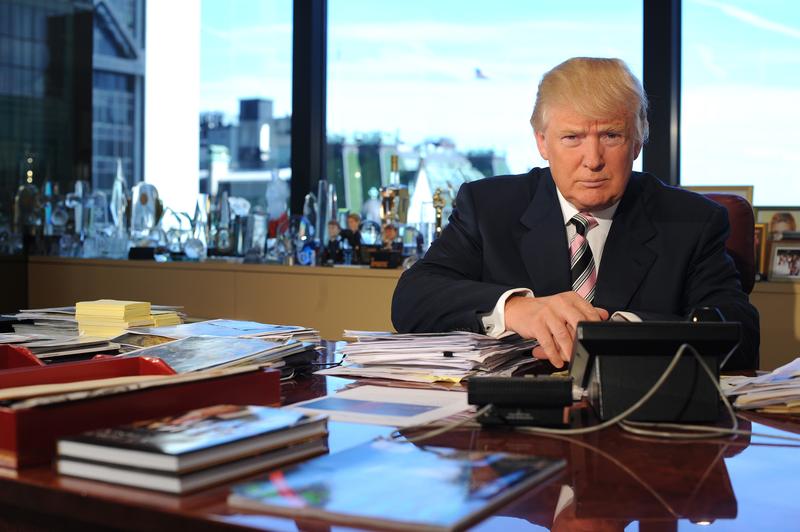 Donald Trump has been a known quantity in New York for decades.
He grew up in Queens, and got his first job after Wharton Business School with his father, who built low and middle income housing. His name is on lots of New York buildings, but as WNYC has reported, he only owns a minority share in many of them, often just licensing the use of his now-famous name to other building owners.
Trump writes in his book, The Art of the Deal, that he started looking for buildings to buy in Manhattan soon after he took an apartment on the Upper East Side.
He got involved with some waterfront projects on the West Side, but one of the first deals to gel was his purchase of the Commodore Hotel near Grand Central. Owned at the time by the Penn Central Transportation Company, it had revamped the hotel but was still struggling to turn a profit. Trump took an option to purchase the hotel, then later partnered with Hyatt.
It was the first time the city got to see Trump pull off what he's called a juggling act — that is, buying and transforming buildings with little money down, help from the right partner, financing from the banks and lots of tax incentives from the city. It came down to the wire, but Trump played one entity off the other until he got his financing and an unprecedented 40-year tax abatement on what's now The Grand Hyatt hotel.
Another quintessentially "Trump" deal was his purchase of the former Bonwit Teller department store on Fifth Avenue between 56th and 57th Streets. The art deco structure was on a large piece of property, so it could reasonably be rezoned by city officials to accommodate many more floors.
Trump eventually transformed it into his gleaming Trump Tower, but not without creating a few enemies first.
The department store featured elaborate grillwork and two limestone sculptures on its façade. Trump had promised to donate them to the Metropolitan Museum of Art, before razing the building. But instead, the grilling disappeared and the sculptures were surreptitiously destroyed.
"The city was furious," said writer Marie Brenner. She wrote about Trump for New York Magazine, and later for Vanity Fair. She had interviewed Trump about the demolished sculptures.
"He said, 'Who cares? Let's say that I had given that junk to the Met; they would have just put them in their basement. I'll never have the good will of the establishment, the tastemakers of New York. Do you think if I failed, these guys in New York would be unhappy? They would be thrilled.'"
Trump admitted to the sculpture fiasco in his book, writing that to save the sculptures would have taken too much time and cost too much money. He'd also written that the deed had made him a symbol of "everything evil about modern developers."
And yet he rebounded just a few years later. Trump was labeled a hero for fixing up a dilapidated city ice skating rink at his own expense.
The city had spent several years and millions of dollars trying to fix Wollman Rink in Central Park, but couldn't get the job done. Trump got it done under budget, in three and a half months.
Maybe Trump fixed the ice rink to try to shake the nasty developer persona. Or maybe it was just a way for him to annoy his nemesis: Mayor Ed Koch. The two repeatedly bickered in court over tax abatements. But by winter of 1986, the rink was opened, and turned a profit its first year, with all proceeds going to charity.
Trump went on to do dozens of other deals, too many to detail, and enough to fill more than a dozen books.
Over the years, at least four of his companies had to declare bankruptcy. He was divorced twice. He and one of his ventures, Trump University, are being sued by the New York Attorney General. Yet, Trump has always had a way of being the comeback kid.
"He's like a clown bounce. You knock him over and he comes back up," said Brenner. "No one can stop his onward belief in himself."