Donald Trump's Mysterious Personal Debt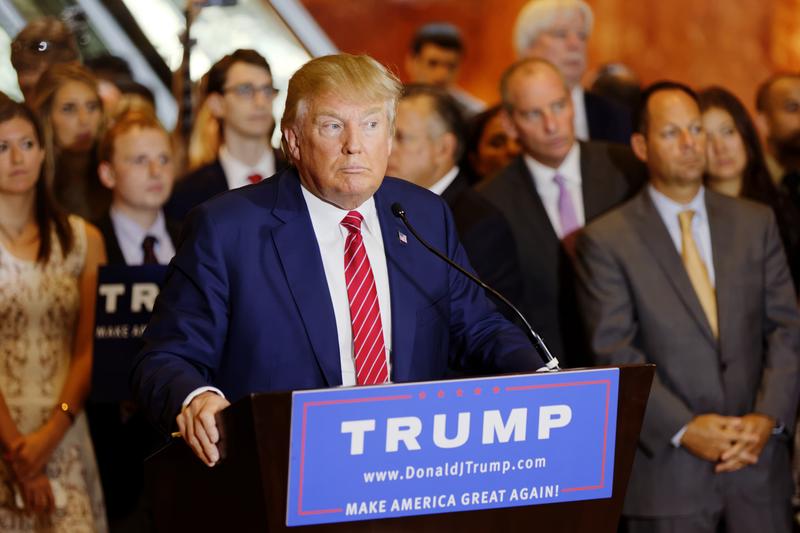 With just about eight weeks left until the presidential election, Donald Trump is fast becoming the first candidate in modern election history to keep his tax returns secret.
Without those returns, voters are left to glean financial information about Trump from his Federal Election Commission filings. They include a page full of Trump's personal liabilities that may be as much as $500 million, though the way the debt is reported makes it impossible to be precise. 
The election commission doesn't require candidates to release the actual amount of what they owe. Five of Trump's debts are in the biggest category the FEC has created, for loans more than $50 million.
The FEC only requires that a candidate reveal their personal debts, but most of the loans Trump lists on his form are for his businesses. For example, there is a mortgage for the Trump office building at 40 Wall Street, and a loan for a golf club, Trump National Doral Miami.
That's an indication that Trump probably had to personally guarantee the loans; it's almost always required by community banks. And most of the creditors Trump lists are smaller private institutions or obscure hedge funds.
"Where are JPMorgan Chase, where are Bank of America, where are Citigroup? These are aggressive lenders to the real estate sector. In most instances, they are leaders in lending to this sector, so where are they?" asked Roy Smith, a professor of finance at NYU's Stern School of Business.
It could be that Trump has created a comfortable niche for himself, borrowing money from smaller local institutions instead of bigger banks, said Smith.
Or it could be that Trump had no choice but to turn to smaller lenders after his businesses declared bankruptcy six times. 
WNYC reached out to the Trump campaign to ask about this issue, but did not receive a response.
"I don't know of too many larger, more sophisticated domestic U.S. banks that have any desire to lend money to Trump or his entities," said Ben Berzin, a former senior vice president with Midlantic Bank, which loaned Trump over $100 million in the late 1980s to renovate one of his Atlantic City casinos.
Berzin personally negotiated with Trump when his casinos defaulted on its loans. Trump sent a letter to Midlantic and eight other major banks in 1991, asking Berzin and the other creditors to accept less money than he owed on the debts. Trump also asked Berzin and the other bankers to release him from the personal guarantees he'd made on the loans, which in the end didn't help the banks to get repaid.
"Sometimes we can be pretty dense as bankers, but eventually we get it, and I think most of the banks have gotten it when it comes to Trump," said Berzin.
Yet Trump was able to keep borrowing money from smaller banks, including Royal Bank America. Trump personally knew the founder of that suburban Philadelphia bank, Daniel Tabas, and even let his grandson Fitz Tabas-Tepper put on a magic act at his Taj Mahal casino. These kinds of personal relationships may have been key to getting the financing Trump needed.
"Maybe some of smaller banks, perhaps they feel they can get a certain level of prestige by lending to [Trump]. Maybe that was the case with Midlantic at that time. I can't speak for the bank when they lent him money, but in looking back, sometimes you shake your head and say, 'OK, how did we get into this loan?'" said Berzin.
New Jersey-based Amboy Bank provided Trump with $16 million for his Colts Neck Golf Club. The bank's founder is George Scharpf. His son Eric denies any personal relationship with Trump and said such a relationship would not have sweetened the deal anyway.
Amboy is the same bank that loaned Solomon Dwek $13 million a few years ago. He used the loan for a Ponzi scheme that led to his arrest.
The case was infamous in New Jersey politics. After Dwek was found out, he became a federal informant and operated a sting operation that launched Chris Christie's political career.
Additionally, Amboy was reprimanded by the Federal Reserve in 2009 – regulators required the bank to shore up its assets and strengthen oversight of its operations.
If Trump wins the presidency, he'll be the one appointing bank regulators. That could present sticky conflict-of-interest questions, especially because bank loans appear to be integral to some of Trump's business interests.
"The banks have a lot of control over how much money someone can make in the real estate business," said Richard Painter, professor at the University of Minnesota Law School.
"If the banks are liberal and loose with their credit, a real estate person can make an enormous amount of money," Painter said. "If the banks start tightening up, the real estate market can get very difficult."