The One Thing Donald Trump Didn't Inherit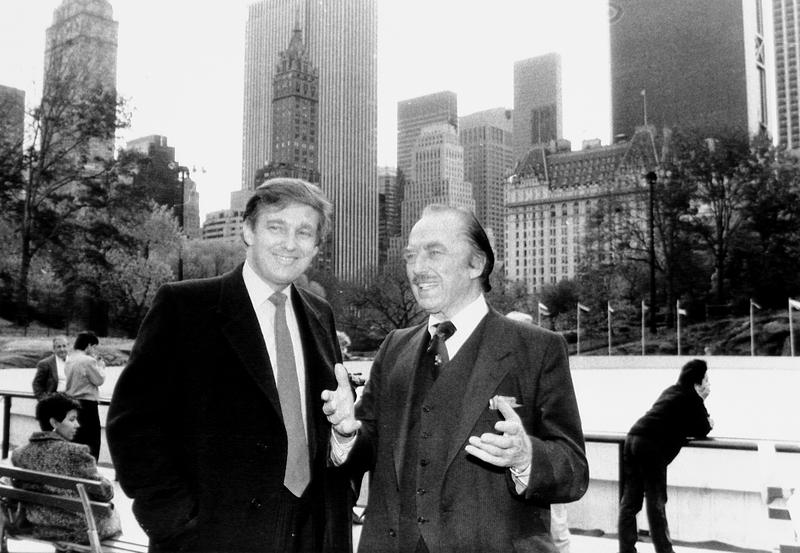 If you want to understand the roots of Donald Trump the businessman, the personality, the candidate for president, start with a trip to Trump Village in Coney Island. This 40-acre housing complex, made up of 3,800 apartments, has a red-brick facade and uniform balconies that give it the institutional look of much public housing. It's here that Donald Trump learned about development and construction from his father, Fred Trump.
On a recent morning, dozen of retirees are out front waiting to board a bus to Staten Island for a day of shopping. They're old friends who've lived in this development since it opened in 1964. They describe Fred Trump as a visionary. "He did pick a neighborhood up from garbage," said one woman, Lenore, who declined to give her last name because of disputes with the current owner, who is not a Trump. She described Coney Island as "nothing" at the time.
Fred Trump used eminent domain to clear the area, although it's unclear how many of the 900 evictions were for Trump's complex and how many were for the Warbasse Houses next door.
Lenore remembered paying $2,000 to buy her two-bedroom apartment when she moved in. "It was a haven for middle-income people," she said.
Fred described Trump Village as "the Taj Mahal of aesthetically appealing apartment houses," according to Gwenda Blair, author of "The Trumps Three Generations That Built an Empire." The ability to put something in grandiose terms is a talent his son would later use himself.
Trump Village was Fred Trump's largest project. It was also the last major project in a career that dated back to the 1920s, and the only one that bears the family name. Another thing that set Fred Trump apart from other developers of his time, and today, was that he built and managed buildings.
"One could profit, often handsomely, by building and selling immediately before you even got a tenant in and (Fred) Trump did not operate that way," said Matthew Lasner, an associate professor of Urban Studies and planning at Hunter College.  "He was interested in the well-being of the neighborhoods in which he invested."
Along the way, Fred instilled a strong work ethic in his five kids. He didn't believe in taking time off; there were no weekends in the Trump family. When he wasn't working on and maintaining his real estate developments, he was cultivating his local political connections. And it was at Trump Village where Donald, the fourth of the five children, learned all aspects of the business, including hands-on construction.
Fred Trump grew up in Woodhaven, Queens, and bought a home in Jamaica Estates, Queens, to raise his family — not in Manhattan, though it did have 23 rooms and six white columns at the entrance. Fred Trump did indulge in one show of wealth: two blue Cadillacs with the license plates FT1 and FT2. But he wasn't ostentatious and was described as "elegant."
"It's a funny thing, he tended to disapprove of flamboyance. Generally, developers try to be judicious publicly," said Julia Vitullo Martin with the Regional Plan Association, who interviewed Fred in the 1970s about how to revive the city's floundering real estate market. 
Donald attended military school at 13, and then went on to study at Fordham University for two years before graduating from the University of Pennsylvania. Donald took to the family business early and inherited his father's political connections, and a good amount of money. But when it came to style and strategy, the two Trumps parted ways.
According to Donald, the turning point in his life came when he was 18 years old. He recalled standing in the rain, watching politicians give speech after speech at the opening ceremonies for the Verrazano-Narrows Bridge while the bridge's engineer stood to the side, ignored. Trump told The New York Times in 1980: "I realized then and there that if you let people treat you how they want, you'll be made a fool." He told the reporter it was something he never forgot. "I don't want to be made anybody's sucker," he said.
And yet the engineer, Othmar Ammann, was praised that day. In fact, after the opening music it was one of Robert Moses' first order of business.
"My friends, I ask that you now look upon the greatest living bridge engineer, perhaps the greatest of all time," Moses said.
And, according to Gay Talese, who covered the opening for the Times, there was no rain: "The sun shone, the sky was cloudless."
Whether he was paying attention to that speech or not, he wouldn't have been standing on that bridge at all if it weren't for his father.
In New York, New Jersey, and well beyond, Donald Trump is perhaps best known for his brand. It's emblazoned across buildings, casinos, golf courses. So, in a sentence, how would you describe that brand? Leave your comment below.