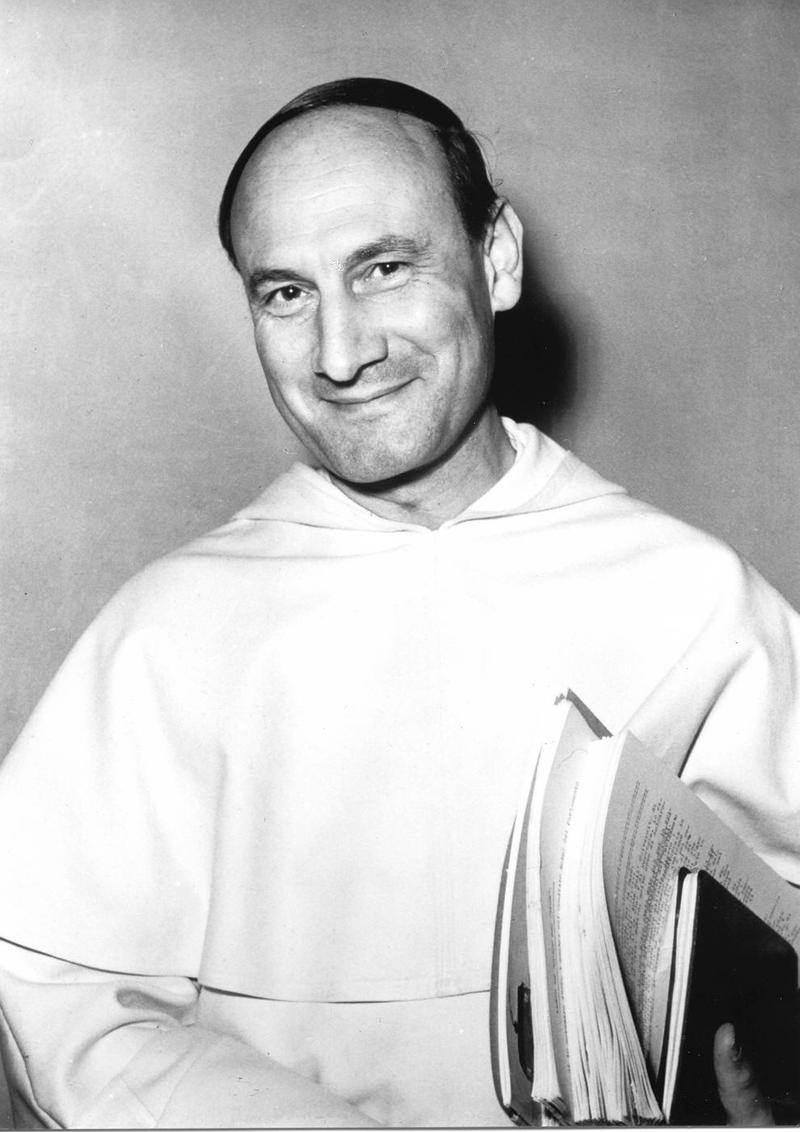 Summary
This episode is from the WNYC archives. It may contain language which is no longer politically or socially appropriate.
From card catalog: Rev. Dominique Georves Henri Pire [sic], founder of a University of Peace in Belgium, and Nobel Prize winner, argues for his beliefs on the equality of men and the intrinsic goodness of men as common to all. Discusses how his fraternal dialogue can lead to peace. The Reverence reads a statement for Negro equality. Questions and answers.
This recording contains only the end of the question and answer session that usually follows a presentation by the speaker.
Audio courtesy of the NYC Municipal Archives WNYC Collection
WNYC archives id: 70500
Municipal archives id: T601
Transcript
NOTE: This appears to be the speech given at this date. The transcript was included in the tape box.
CITIZENS OF THE WORLD
Conference given by Rev. Fr. Pire,
Nobel Peace Prize winner.
(AUTUMN - 1963)
1. THE WORLD
"If you do not have a wide vision you
cannot have a big heart",
(Chinese proverb)
Ӣ
"If I differ from you, instead of causing
you harm I augment you".
(Saint Exupery).
"The World becomes smaller and smaller".
It has always been difficult to understand and express the
changes in the world when they occurred. How much more difficult
to understand and express the changes in our day and age when
these are so drastic and so rapid. Only a few years ago one spoke
of the "immense world". Now people say "the world becomes smaller
smaller". If some speak of the "unification of our planet"' and
others of "planetarisation", would it not be more exact to describe
it as a universalisation in human relations. The multiplication
and speed of means of communication is one of the main contributing
factors to the present unification of the human race. The era when
that pioneer Christopher Columbus slowly discovered the American
continent is passed.
Create world citizens.
The progressive unification of our planet entails for us, its
inhabitants, some duties. We cannot live today as we lived in passed
centuries, in a closed and limited community, whether it be a question
of village life, nationalism, or the nostalgic contemplation of passed
- 2 -
splendour. The time has come when one must educate human beings as
world citizens, and give men a planetary civic spirit.
How far removed we are from this! And how useful and urgent
it is to examine the obstacles and the difficulties! Indeed, as a
friend said, 'on a world-wide scale, feelings lag behind facts.
Planetarisation is not, achieved as quickly in men's hearts as in
life.' (1) And world history has reached the stage when each human
being must feel personally concerned in the welfare of all other
human beings.
Everyone feels, if only in a confused way, that the unity of
the human race to which one must tend, consists not merely in reducing
the distances. It is a question of moulding a community, a community
spirit. Personally I have no difficulty in concretely feeling I am
a brother to all men and I know many young people, some of whom have
attended our University of Peace, who easily and sincerely feel they
are world citizens with all the obligations this entails. But how
can one spread this spirit, of universal citizenship?
And first of all what is the position at the start?
Human beings are still villagers.
Perhaps it is an illusion to believe that because air communications-
between- countries multiply at ever increasing speeds, at almost
inhuman speeds, all human beings are automatically close to each other
and interested in their respective problems. In general a human being
remains a villager, home-loving, limited inwardly to a very small
horizon, even if several supersonic planes pass several times a day
over his head.
Sports articles are a good example of the chauvinism which is
still characteristic of many of us. Whereas in true sportsmanship the
best side should win to the general satisfaction of all, broadcasters
and reporters, as well as their listeners and readers, are, on the
contrary, only interested in the victory of the team representing
their country, A defeat by the latter must always be explained away
by a thousand reasons other than those dictated by sportsmanship.
Many other examples show that the human being rarely places
his spirit on a world wave length. How many Americans have a real
knowledge of the world-wide repercussions of their negro problem?
That in Belgium there are sad linguistic conflicts, that in France
there exists a certain chauvinism, that in South Vietnam they too
readily confuse communists with buddhists, that trials and executions
are held too rapidly in Spain, that Portugal and South Africa do not
feel that the freedom of the blacks is inevitable, that the Great
Powers sign a treaty whilst still retaining the power to overkill,
that is to say sufficient bombs to destroy the planet 80 times over;
whether the protaggnists like it or not, all this forms part of that
which affects all human beings on the planet and consequently which
must interest them.
When I intervened in favour of Grimau or in favour of the
respect of religious freedom and human dignity of Buddhists, some
_ 3 -
interested people always replied: "There is no need for you to
interfere in something which concerns the internal policy of a
country". On the other hand a French broadcaster will say about
a hurricane which struck Martinique: 'Let us now speak of something;
which concerns us directly", and this because Martinique is a French
possession overseas. Would this speaker have used the same expression
in May 1963, when a hurricane killed 20,000 people in East Pakistan.
These are replies and reactions which lag behind the facts,
because the era when citizens only worried about, the people of their
city is now passed.
Why does the heart of so many human beings lag_behind the facts?
If, together with those who are preoccupied with molding a
planetary civic spirit, we try and discover why the heart of so many
human beings lags behind the facts, we come to the following conclusions.
First of all man has a slow intelligence, which prompts him
to think and act as he has always thought and acted. That is why,
as we said earlier on, feelings lag behind facts, "One can", as the
above mentioned friend said, "take an old spirit for a walk on new
beaches".(1) How many listeners and viewers are barely affected,
feel little concerned by sounds and pictures which reach them from
all over the world? This is an urgent and difficult problem dealing
with the education of masses. Doctor Schweitzer said to me when I
last visited him, hew necessary it appeared, to him to mould opinion.
Let us not say that it is impossible, Utopian, to think of
giving a world conscience to innumerable human beings. Our regretted
friend, Robert Schuman, wrote in a small posthumous book: "Thousands
of years ago, the first human communities took shape by going beyond
the family and talcing example from the family in the primitive tribes.
These were followed by parishes and later more and more developed
cities. No one would dream of accusing this evolution of having
thwarted the role of the family, The same goes for any supranational
organisation which goes beyond the nation".
To quote an example, if we compare the civic spirit of the
middle ages with that of modern times, we realise, together with our
friend, that for the great majority of French people "it is obvious
that the national community must guarantee certain living conditions for
the population as a whole, to see that order reigns, etc. If, in a
town, the inhabitants began killing each other, troops would be sent
to restore order, the whole community -would have to bear the expenses,
and no one would protest. One must try and mould a similar point of
view on the international level. When this point of view will have
reached a certain intensity, many positive measures, one would not
dare suggest new, would be considered as "a matter of course". (1)
We are far removed from this. "Whan one attends international
meetings", the same author continues, "one realises the difficulty
there is in establishing real contacts between men. The languages
are different, the same words, the same attitudes have a different
meaning, according to the environment in which one lives, a certain
problem is of paramount importance to some and of no importance to
others. None of this is due to unwillingness but merely to the limits
of the human mind. Each individual is walled UP in his habits of mind
and of action. He does not even try and understand the other, he only
tries to reaffirm and impose what appears to him to be important and
- 4 -
necessary. The whole of history proves this, all the conflicts
between peoples. And today they must be encouraged to live and
work together. It is absolutely vital. The future of the human
race depends on this; civilisation will be unable to continue its
path if we do not achieve this; and if civilisation does not continue
its progress, it will crumble". (1)
Egoism and disinterested co-operation,
Besides the clumsiness and slowness of man's mind, there are
other obstacles: namely that man, who is very calculating and very
proud, is faced with problems which, on the contrary, necessitate
humility and disinterested co-operation. "How", our author writes, of it?" Whereas, the reducing of distances throughout the world
generates, among populations we so glibly call under-developed, a
realisation of the rights each man has to a respectable life and,
consequently, a wish to build a more humane world. What opposition
one must foresee between the proud and calculating aspect, of man,
sure of his rights and very preoccupied with his immediate interests,
and the aspirations of populations undergoing development.
Let us study very carefully the words the philosopher Jean
Lacroix wrote to me: "As for me, I maintain that the challenge,
according to Toynbee's words, handed out to our civilisation (and
the "our" includes communism as well as capitalism) is that of the
so-called under-developed countries: either our civilisation (as a
whole) will solve this problem or else it will perish. If our
civilisation solves this problem, it will be transformed as a result
of this effort; if it does not solve this problem, it will disappear
and be replaced by another, emerging from the struggle of these
so-called under-developed populations. To me this seems far more
important than the East-West conflict. I personally know of only
one man who has realised and said this clearly: he is François
Perroux. And it is his three point slogan which must be adopted:
a) feed men, b) nurse men, c) free the slaves."
"Developed" countries and young countries,
As you see, the planetary civic spirit must be moulded urgently,
even from a purely economic point of view, This education of the
world citizen can only be achieved with great patience and real
sacrifices. The so-called developed country will, for many years
to come, have to invest without hope of immediate returns, whereas
the so-called under-developed countries will have to-accept great
efforts in discipline, austerity and labour. The latter will be
tempted to elaborate a programme of planification, of socialisation,
and will have to see that the human person is always respected, which
is difficult and often not the case, notably in white and black Africa.
The former will have to avoid proclaiming as marxist communism every
attempt made by the other at planification and very progressive
centralisation.
No doubt it will be difficult among States_ to go beyond the
stage of uniting interests. An intimate friendi economist of
undeniable merit who died recently, said In a lecture at the
University of Peace: "I tell you quite frankly that I do not believe
in philanthropy on behalf of States, and I consider it as pure
hypocrisy when a State calls itself philanthropic in carrying out an
international action. Indeed developed nations have a personal
- 5 -
interest in encouraging those countries which are not developed to do
so, and moreover they have often admitted this. They have often said
that their action was not disinterested. And it is desirable that
every man, if he is rich, should be surrounded not only by poor people,
because if he has only poor people around him he is unable to enrich
himself. Whereas if he is surrounded by people who are also rich, he
is able to continue exchanging with them and so enrich himself whilst
enriching others. The same goes for States. Their economic progress
is in part related to the possibilities of other countries of exchanging
with them, and in this case industrialised countries have advantage in
developing the non-industrialised countries, and this advantage
corresponds to that of the country not yet developed.
On a short term basis, the existing antagonisms between
States can and must be used in such a way that they contribute to the
solution of the problem of hunger in a peaceful and positive competition.
On a long term basis, it is essential that the solution of the
problem of hunger be studied outside all political or prestige affairs
and with a view to creating a world-wide economy.
Whilst listening to me, perhaps you have the impression that
the problem is above all merely one of instilling a planetary mentality
into States. In fact this is not the case. This problem faces acutely
each individual of the "immense" world. Fortunately, some human
beings have already grasped the idea of a world community and are the
honour and hope of our present humanity, and in the States themselves.
the presence of real world citizens will always be essential.
Thus we can conclude the first part of this lecture, by stating
with our friend that "particularism gives an aspect of human underdevelopment,
rather different from that shown by U.N.O. statistics.
According to customary classifications, an under-developed population
can be defined by material considerations: illiteracy, under-nourishment,
low incomes, mortality. But would it not be more exact to say
that an under-developed person is one whose preoccupations do not
embrace the limits of the plant? This is a mental definition".
"Judging from this point of view, I do not think we can say that
any population at the moment is 'developed'. The state of being
'developed' would depend on men and not on populations; on men who
work to achieve the psychological and moral unity of the human race.
And a population would be developed according to the great number of
men who are planetarists at heart, and according to the capability of
these men to influence the mass of their fellow-citizens." (1)
II. TOGETHER TOWARDS THE MOON?
"War is caused by the intolerance of
differences".
(Cornelis)
"Dialogue is neither the suppression,
of the other nor the submission to
the other".
(Cornelis)
We are therefore faced on the one hand with the urgent
necessity of educating the mass of humanity to their world-wide
responsibilities and on the other hand with the stupidity, egoism
and pride which anchor men in their habits of thought and action,
Where does the path to the right solution lie? Logic will dictate:
destroy the walls which separate human beings.
Theoretically three paths could lead to this solution;-
the steam-roller, the renouncing of oneself, or the true dialogue.
One of my great friends said: "Dialogue is neither the suppression
of the other, nor the submission to the other".
No steam-roller.
One must for ever exclude the steam-roller used, by the person
who,"by artfulness or power, would force the other to think and act
like him". Let us examine a few examples.
When a 'developed' person, speaks of an 'under-developed' person
in general he characterises the position of the latter by what one call
physical hunger. Whereas, besides this hunger of the stomach, there is
the hunger of the heart, much less known, and of which one rarely or
never speaks, but which nevertheless is the more important. Indeed
the problem of physical hunger, which is the object of so many
preoccupations and declarations, is only the visible aspect of a much
more serious problem: these people who are hungry aspire to being men
like any others and want us to consider them as such which is far from
being the case, whatever people say. Perhaps you have heard this
sentence from President Bourguiba: "It is not so much, freedom we are
after but dignity". And these words from the Abbe Pierre: "One can
more easily put up; with hunger than with being humiliated".
And so for many populations physical hunger is the translation
of a moral illness to be found in industrialised populations. But to
have wanted colonised populations and now to want populations undergoing
development to organise themselves like us. for our motives and with
our ideas, and to make this a condition" is not "solving their problem
but ours. "We should not lay down as a condition of our help that the
other should live as_we do. But our means of satisfaction are not
necessarily those of others. And, note this carefully, even our
surpluses are not necessarily suitable for them.
Our brothers, the American Negroes.
Here is another example - that of the American Negroes, Here
again, the steam-roller is not the solution. Listen to the cry of a
Negro leader, James Baldwin, who writes, in his Pamphlet "The fire
- 7 -
next time": "The White Americans have difficulty, as have all Whites,
in ridding themselves of the idea that they possess a certain intrinsic
value of which the Negro is deprived and which he would like to acquire.
This assumption - which means that the solution of the Negro problem
depends on the rapidity with which the Negroes accept and adopt the
White's standards - appears in a thousand ways in the behaviour of the
Whites, from Bobby Kennedy's declaration in which he states a Negro
could become President of the United States In 40 years time, to the
regrettable tone of 'congratulation' taken by so many liberals when
addressing their Negro equals. It is admitted, of course, that it is
the Negro who has become their equal - a performance which not only
proves the comforting fact that perseverance has no colour, but
confirms splendidly the feeling that the White has his own value.
This value, unfortunately, is confirmed by nothing else; there are
very few things, in the private or public life of the White man, that
one wishes to imitate. The Whites, deep in their hearts know this..."
Thus, the age of the steam-roller seems to be nearing its end,
at least let us hope so. Neither your religion, nor the colour of
your skin, nor your riches, nor your so-called" culture, nor your
political, social or economic system authorises you to force the
others to resemble you.
No submission to the 'other'.
On the other hand, the path to the world-wide unification of
minds and hearts cannot be achieved by the renouncing of oneself.
The aim of true dialogue is to try and understand and appreciate
positively the "other's" point of view, but not necessarily sharing
it, and finally to live in peace together, An orchestra does not
include the same instruments giving the same sound, but it is the
harmony of different instruments, The cacophony must be transformed
into harmony, which does not suppress but tunes the individual voice
of each instrument. This is true dialogue.
True dialogue.
The adjective 'true' suggests that there can be false
dialogues, which to my mind seem even more dangerous than the absence
of dialogue.
It is to a French specialist on the matter of Dialogue to whom
we will refer to find out what it is. On page 127 of his book entitled:
"Le Sens du Dialogue" (The meaning of Dialogue) and published by the
Editions de la Baconniere, Neuchatel (Switzerland), Jean Lacroix writes:
"The distinguishing characteristic of a man of dialogue, is that he
listens as well as speaks, and sometimes better". He also writes on
page 125: "According to Hegel, man starts off with a personal
opinion this is the monologue stage. But soon opinions clash
monologues come into opposition. Under one form or another, it is the
triumph of violence. But it also happens that instead of imposing
their opinions by force, men compare and discuss them, This is the
transition..... from monologue "to Dialogue. The discussion forms
the transition from the barbarian to the philosopher, from pre-man to
a being properly human, One no longer forces the other to think as
we do, but one tries to convince him and hopes for his free adherence.
Whilst at the same time it is the transition from the individual to
the universal, dialogue is also the recognition of freedom. By treating
the other as a 'partner' one abandons the struggle precisely for the
re-cognition".
a -
It is also Lacroix who wrote: "The man who does nob practise
dialogue is a fanatic - he misunderstands himself as completely as
he misunderstands others". (Page 125). It is again Lacroix who
defines dialogue in this way: "opening oneseIf to the other". That
is to say opening one's mind to the understanding of those who are
different from us.
Professor Dondeyne of Louvain University, defines Dialogue:
"A common effort to enter into the thoughts and feelings of the
other". And he adds: "to speak before one has listened is a
monologue".
The counterfeits of Dialogue.
There are, therefore, false dialogues. Let us return to
Jean Lacroix who says: "Monologues oppose each other". Real
dialogue _ exists bewteen two people when ons opens himself to, the
other and vice-versa,
But there can exist between two people, two races, two
factions, two religious groups? something other than dialogue.
There can, for example, exist one monologue, if one listens and
the other speaks. There can also take place a double, monologue,
if both express their ideas without worrying about understanding
the other. It seems that in many misunderstandings between
individuals, and in many political, national and International
discussions there are a great deal of those double monologues.
This is the case when the delegate speaking does not try and
understand the "other's" point of view, but only comes to expose
the point of view of his group or country. It would be_even more
serious to want to make the others believe, and even to believe
oneself, that such a double monologue is a true dialogue. In
reality, this is a false dialogue, that is to say a double monologue
masquerading as a dialogue. It is therefore not only a false
dialogue but also a lie.
Finally we have the dialogue of the deaf. Indeed, the
first preamble to a true dialogue between men must consist in
achieving a common language. By this one must understand giving
to the same words the same meaning everywhere, or at least to
arrive at an agreement by all, of the different meanings given to
words by different people or groups. The dialogue of the deaf
exists when the so-called dialogue consists of words having a
different meaning for the speakers.
Peaceful co-existence, and ideological co-existence.
In reality false dialogues abound. I give you two examples,
which some people would be quite willing to qualify as true dialogues.
They are peaceful co-existence and ideological co-existence.
To understand clearly this important clarification, it is
wise to distinguish between cold war, peaceful co-existence, ideological Cold_ war uses all weapons except those which cause bloodshed, (economic disturbances for the opponent, leading maybe to revolution and
civil war).
- 9 -
Peaceful co-existence foregoes the acts of cold war, except
on one point - the war of ideologies. One no longer seeks to prejudice
directly the welfare of the other, but one seeks to persuade him that
he will achieve his object more quickly by other means, that he is
guided by bad shepherds, of whom he must rid himself.
Ideological co-existence simply means, that having realised
I cannot silence the other unless I use means which can very well be
used against me, I resign myself to letting him be heard; but this
also means that I resign myself to cacophony.
Whereas Fraternal Dialogue implies the active search for
harmony and a belief that it can be achieved. The concept of
co-existence, is by its very nature, a 'cold' concept, unengaged
or disengaged. Fraternal Dialogue is a mobilisation of consciences.
How to achieve Dialogue.
As we have seen the mass of humanity must grasp this idea of
a world community. And Dialogue is the path to achieve this. But
how can one put dialogue into practise. Some attempts are being mads
In particular by educational organisations, by International meetings,
by the pairing up of towns, by the exchange of children and also by
the University of Peace which I created in I960 and which is
developing satisfactorily. This University of Peace is situated in
my country, not because of chauvinism on my part, because I am more
a citizen of the world than a citizen of my country, but so that I
can work there. Its financial survival is guaranteed 100% by private
subscriptions, the construction of the University of Peace is slowly
nearing completion, already 8 sessions have been held grouping young
men and women from approximately 50 countries representing the most
varied political and religious horizons. For 1964 we have foreseen
a more or less permanent functioning. This "Peace Centre" welcomes
human beings of all ages, each sex and all positions, who want to
destroy the walls which separate men, by using the path of Fraternal
Dialogue. Perhaps as a result of my visit here, you will bring me
your personal 'brick' for the financial completion of this University
of Peace, or obtain the help of generous people who will have grasped
its extreme usefulness.
But it is not enough to teach Fraternal Dialogue --one must
also practise it concretely, because the world could perish whilst
peace conferences are held. Peace is something which has to be
created, said Doctor Schweitzer. Each one of you can achieve it
where your everyday duty calls you. Personally I achieve it through
more or less permanent fraternal contacts with friends having
differing ideas from mine (and more particularly with atheist friends).
I have also tried to embody it in an 'Island of Peace" in East
Pakistan, for which your help and that of your acquaintances would
be welcome, but whose history would take far too long to relate. It
is enough to say that the team working over there Includes Europeans
and Asians, Muslims and people from a christian world, working
together to relieve the tragedy of hunger.
The great Utopia.
I would ask you to remember a principle of paramount importance
when embodying Fraternal Dialogue. "Men know and understand each
other by working together at something useful". And what can be more
useful to suggest as common work, to different people wishing to
- 10 -
practise Fraternal Dialogue, than the relief brought by them, united
in their diversities, to any form of human suffering.
On the level of world peace, it would be necessary to place
face to face the two greatest scourges of the world, disunity and
hunger, and try and make each of them be solved by the other, all
men and all groups uniting to fight together against hunger and
this fight in common resulting in the disappearance of disunity
among men.
Would it not be wonderful to see disunity and hunger being
solved one by the other. At the moment this is merely Utopian.
But I would like to insist on the fact that, on the level of
relations between individuals and even much further, work in common
bv different people united to relieve the suffering of others already
bears abundant fruits. "One is therefore lead to believe that help
in common to relieve misery affords a providential opportunity for
realising the first stages of Fraternal Dialogue.
Together towards the moon?
What must the inhabitants of new countries, of poor countries
think, because they are more and more inclined to think, these
millions of people who have "too little to live and too much to die"
when they learn of the projects, whether unilateral or bi-lateral,
of the two Great Powers, to send a few men on the moon at great
expense, astronomically great, whilst 80% of humanity has only 20%
of the world resources?
I will not say as de Castro did when speaking of poor
countries: "give them to eat, or else they will eat you", because
I firmly believe that fear is not a sufficient motivation for a
dialogue between brothers. This_ motivation can be neither fear nor
profit, nor conversion (whether political, religious or any other),
nor even the desire to arouse gratitude. This motivation must resemble
as far as possible disinterested love. And therefore it is a source
of great joy for me to have read these words regarding my "Island of
Peace" in East Pakistan, written by a Pakistani muslim friend: "The
greatness of your work in Pakistan lies in its purity".
Let us return to earth, or rather remain on earth, where we
find everywhere pluralism of races, philosophical opinions, political
options, pluralism in religious or social matters, pluralism of
cultures, characters, sexes, years, etc., where we also find so
much misunderstanding: misunderstanding between groups, blocks,
parties, denominations, sects, but where so many human beings live,
strangely similar and yet strangely different. Saint Exupery wrote
in his book "Citadelle": "I have never met the person who desired
either disorder, baseness or ruin. The picture which torments them
and which they would like to realise is similar from one end of the
world to the other, but the paths they follow to try and achieve it
differ. One believes that freedom will enable man to reach his
full greatness, whereas the other that constraint will make him
great, and both of them desire his greatness. One believes that
charity will unite them, the ether despises goodness which is merely
respecting the ulcer and he forces man to build a tower in which
they dissolve one in the other. And both are working through love.
- 11 -
Now they take up arms because of inefficient words in the name of
the same love.
How I would like to have before me, to speak to them as I
have spoken to you, the two leaders of the blocks separated by the
iron curtain; the leaders in Moscow and Pekin; General Franco and
the Spanish exiles; the Whites and Negroes of America; the French
and their European partners; the catholics and buddhists of South
Vietnam; the Whites and Blacks in Africa; the leaders of the great
religions in the world; and also all those who, without my knowing,
live in disunity. Rather than see them live in the mutual lack of
respect, I would offer them a challenge, which would consist in
putting their consciences-to the test.
To question, to put to the test, is quite compatible, when
adults deal with adults, and with respect of conscience of the other.
Not to question would be considering the other not as an adult.
The confrontation of consciences is inevitable and proves, when done
sincerely, that the one respects the other's conscience. The one who
wins is the one who shows the other he is more faithful than the other
to the other's highest imperative. For example the christian who
can show a muslim that, in a specific situation he responds better,
from a christian moral point of view, to the fundamental moral
intuition of the muslim, than the muslim does himself, when judging
from the traditional rules of his muslim morals. To proceed even
further; the christian who can show the muslim that the latter's
attitude regarding his wife conforms less with the fundamental
intuition of monotheist morals, than the attitude of the christian
regarding his wife. The confronting of consciences without violence
will always be achieved by a concrete action having an 'ad hominem'
repercussion. If the other is sincere, this compels him to review
his hierarchy of values.
Conclusion.
I wrote this speech under the worse possible physical
conditions, the after-effects of an illness having made me rather
groggy. The clarity of my lecture will have suffered - I ask you to
excuse me. Before leaving you I would like to give you a piece of
advice which an old Austrian friend gave me one day: "Bitte, nicht
zweifeln". "I beg you, do not doubt, do not be sceptical." An Irish
student who attended a session at the University of Peace this
summer wrote to me, that on his return he had been called "a dreamer
of Utopia". Warily men search for their unity, their unity in their
diversity, similar to the harmony of different tuned instruments.
Whilst I shall always remain the friend of each one of you, I leave
you with another passage from the book "Citadelle" written by that
marvellous author Saint Exupery, which I would ask you to meditate on:
"To build peace is to build the stable sufficiently large for
the entire flock to sleep. It is to build a palace sufficiently
vast for all men to meet there, without abandoning any of their
luggage. They must not be amputated to make them all enter.
To build peace is to obtain from God that He lends His shepherd's
cloak to receive men with the whole range of their desires."
(1) Jacques Leclerc: "Le chrétien devant la planétarisation du monde"
Ed. Arthème Fayard, Paris, 1958.
All those who wish, can contact Rev. Fr. Pire (in English, French,
German, Italian), at the following address: 35} rue du Marché,
Huy, Belgium. Tel, N°: 134.81.