On The Media
Does It Matter What You Think About Gun Policy?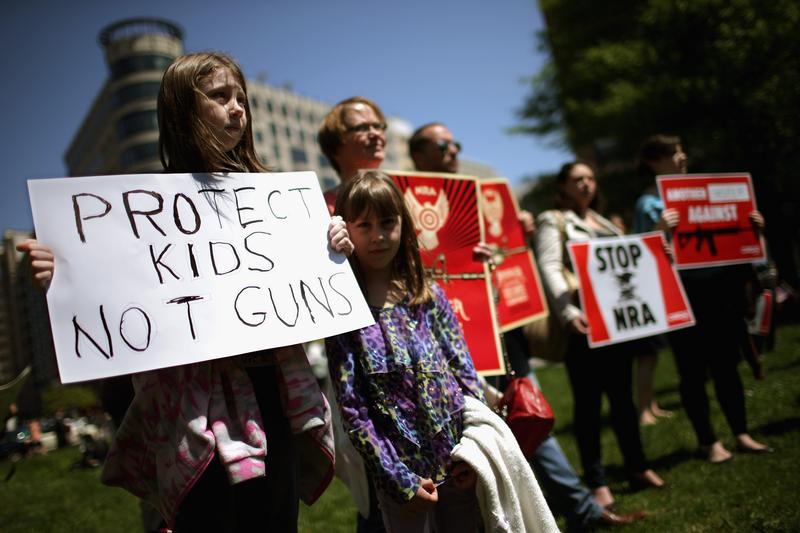 Transcript
BOB: This is On the Media, I'm Bob Garfield.
BROOKE: And I'm Brooke Gladstone. So a few minutes ago we learned that in fact, when asked about specifics, most people support basic gun control -- whether or not they own a gun. So now we know. But, does it matter? Does an overwhelming consensus on an issue translate into policy? Guess.
In 2014, Martin Gilens of Princeton and Benjamin Page of Northwestern University published a study looking at exactly that question. Who rules?, they asked. The answer: not you, unless you're economically in the America's top ten percent. Really, they proved what we already suspected, the majority simply can't move the needle on policy, without that sweet elite cash on their side.
Interest groups, as you could have guessed, also out-influence average people, and interest groups representing rich people, are bigger influencers than than most.
Except… and here's where it get interesting...there's an outlier: The National Rifle Association. Benjamin Page, welcome to the show.
PAGE: Thank you.
BROOKE: You graph the likelihood that a policy would be adopted based on how many average citizens wanted it, and it seemed that whether it was 10% or 90% of them the result was a flat line. What did that flat line represent?
PAGE: It does not mean that average people never get what they want, because if they happen to agree with interest groups or the affluent, they do tend to get what they want, and that's actually fairly common. That's one of the reasons you don't see people screaming in the streets.
BROOKE: You also found in your study interest groups that represent financial elites like bankers, say, they're more effective in influencing policy than groups that represent regular folk, right? Is that just because elite special interests have more money?
PAGE: They have more groups and more money. Business groups have about twice as much influence as other interest groups. And that includes big mass membership groups: groups of senior, labor unions, women's groups. All of them fade to almost nothing compared to the power of business groups.
BROOKE: So that brings us to the NRA. I described it in the intro as an outlier. Why?
PAGE: The NRA is one of the most effective interest groups that's not primarily a business group. It's actually unusual to have such overwhelming public majorities for policies like registration, licensing, no assault rifles that sort of thing. And yet have essentially no policy response. So that's one respect in which it's an outlier.
BROOKE: And correct me if I'm wrong here, part of the reason the NRA is an outlier is because it's members are not generally speaking particularly affluent, and yet it wields this enormous influence.
PAGE: That's right. It's a little bit tricky because it's hard to tell how important gun manufacturers are in the financing of the NRA. A lot of that is just difficult to know. I suspec that the makers of guns and ammunition spend a fair amount of money helping the NRA have gun friendly policies.
BROOKE: Do we have any data that suggests the NRA doesn't particularly represent the majority of its membership when it comes to policy issues?
PAGE: I'm not sure about its membership, but what we do know is gun owners. Gun owners are perfectly happy with background checks, they don't want criminals having guns.
BROOKE: But I still don't understand why the NRA wields so much influence.
PAGE: What the NRA has is very unusual is they have both money and troops on the ground. The last few times we've had gun legislation, politicians noticed that fairly small numbers of people can dominate results, especially in primaries. A lot of public officials who voted for gun control got kicked out of office. Not because most of their consitutents opposed it, but rather because a small group of people could have a loto f the influence. That kind of takes us to the larger picture, it seems to me, that guns rae just one example of a number of problems with democracy in the united states.
BROOKE: So how does one change this kind of dynamic?
PAGE: There's a whole big menu of things we can do. Some are easy, if people pester public officials enough we can get them done pretty easily. Others are very hard. Things like disclosure. When people know that candidates are being funded by big money, they can retaliate, but that takes a lot of public information.
BROOKE: Do we need the rich people to stand with the not rich people?
PAGE: You really need a broad coalition. And the last time there were major political reforms, the last two times would be in the New Deal and back in the populist and progressive period.
BROOKE: The beginning of the last century.
PAGE: That's right. In both cases, there were some very wealthy people who were helpful in reforms.
BROOKE: Like the Roosevelts!
PAGE: But in fact they worked closely with some major business people executives of General Electric, Standard Oil and so forth, to develop a lot of policies that were actually quite beneficial to average people, but prevented revolution, that was one motive.
BROOKE: So, if we've got pester your congressman, disclosure, getting rich people involved..
PAGE: My candidate for your number 4 strategy would be get organized. And there's really a lot of grassroots organizations that are stirring.
BROOKE: Paul Krugman of the New York Times wrote that there's a danger to your study, there's a risk of concluding that electoral politics is irrelevant because the economic elite get their way either way. So, how can we consider this study and not feel just entirely hopeless about democracy?
PAGE: That was a wake up call for us, when he said that we started being more clear, I think, first of all that elections do make an enormous difference. But secondly we need to improve the way they're run.
BROOKE: But is it because Americans that may feel very differently from the people that they've put in office have dropped the ball on their own democracy?
PAGE: No, I quite strongly disagree with that.
BROOKE: They don't vote in primaries, where's the outrage?
PAGE: Well, the outrage is pretty hard to muster over things that are made as invisible as possible and that includes a lot of lobbying activity in Washington.
BROOKE: Fair enough, but there's nothing more visible than a bunch of kids being mowed down in a Connecticut suburb.
PAGE: That's true, but think about primary elections. And how our officials are nominated especially for the House of Representatives. It's very common to have a party primary in which only 15 or 20% of the people vote. Now you could say "ohh they're apathetic," but these elections are held at strange times, a lot of people have no clue they're coming along. The whole system is arranged so that a small number of activists like gun activists can actually sway the outcome of elections.
BROOKE: And why is it so hard to muster a small group of people on the other side?
PAGE: If you look around the world. there are plenty of places that don't have this problem. And the big difference is the way the electoral system works.
BROOKE: True. In Australia they fine you, just an inexpensive little fine, if you don't vote. And that seems to create a social norm where voting is expected.
PAGE: That's right. And of course having a holiday for elections, that's true almost everywhere except the United States. Having automatic registration instead of forcing people to go through a song and dance to prove who they are and where they live and so forth. In most countries the government organizes that. We make it hard for people to vote.
BROOKE: Based on your study, if you were going to respond to Paul Krugman, say, or to the listeners of this interview, who have just learned if they didn't already know, that unless they happen to agree with the top 10% earners in the country, it doesn't matter how many of them feel strongly about an issue, they're only gonna get a .3% opportunity to move the needle on policy. What would you say to stave off despair?
PAGE: What we've done is help people see how bad things are. And the next thing to do is to fix them. I firmly believe that Americans are capable of doing that. And it's gonna take a big movement of people working hard, it's gonna take both Republicans and Democrats --
BROOKE: And rich people.
PAGE: And rich people, as well as poor people. But if poor people get really organized they can give a bit of a scare to the rich people and that's all to the good.
BROOKE: Benjamin, thank you very much.
PAGE: Thank you.

BROOKE:Benjamin Page is a political scientist professor at Northwestern and co-author, with Martin Gilens, of the study "Testing Theories of American Politics: Elites, Interest Groups, and Average Citizens", published in the journal "Perspectives on Politics" in 2014.