The Takeaway
Indigenous People Fight Back with #NativeLivesMatter Movement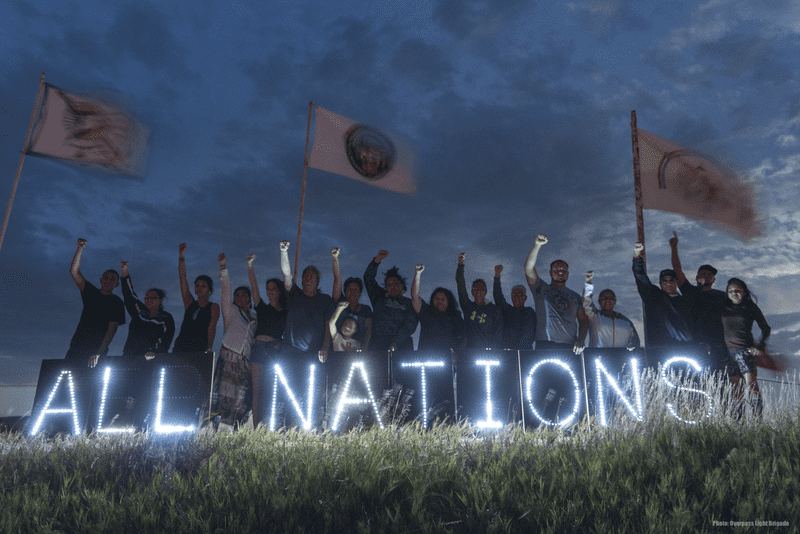 Click on the 'Listen' button above to hear this segment.
It's been over two months since protestors began demonstrating against the construction of the Dakota Access Pipeline. Members of the Standing Rock Sioux Tribe say the pipeline would cut through sacred ancestral lands, and they worry about the environmental damage that could occur if the pipeline were to rupture.
This past weekend, tensions over the construction continued to escalate as 127 protestors were arrested on rioting charges. Though protestors argue that their demonstrations have been peaceful, police said that they trespassed on private land and created illegal roadblocks on a highway.
The chairman of the Standing Rock Sioux is now calling on the Justice Department to investigate civil rights violations on the part of law enforcement.
But the Dakota Access Pipeline isn't the only issue facing indigenous people. Per capita, Native Americans are more likely to be killed by police than any other group, including African Americans. Taken together, these issues are driving the #NativeLivesMatter movement.
Just last week, Renee Davis, a pregnant 23-year-old Native American women and a mother of three, was shot and killed by police last week.
Davis had been struggling with depression, and had informed a friend that she was not doing well. Her friend responded by asking police to do a "wellness check" on her friend. When police arrived at Davis's home, which sits on Muckleshoot tribal land in Washington State, about 50 miles from Seattle, no one answered the door.
After seeing two young children running around, officers entered the home, and reportedly found Davis armed with a handgun and shot her. Family and friends are now working to bring attention to the case, using the hashtag 
Davis's death and the Dakota Access Pipeline have sparked renewed conversation about the treatment of Native American people. Amy Sisk, a reporter with the Inside Energy Public Media collaboration and Prairie Public Radio, and Simon Moya Smith, an activist, citizen of the Oglala Lakota Nation, and culture editor for Indian Country Today, discuss the Dakota Access Pipeline and the #NativeLivesMatter movement.