The Takeaway
Ferguson: How America's Past Haunts the Nation's Present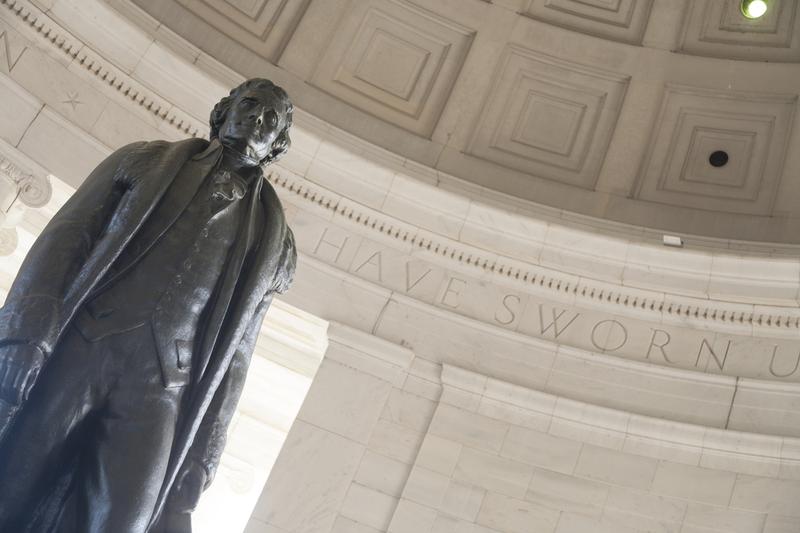 Join Takeaway Host John Hockenberry today at 6:00 PM Eastern/3:00 PM Pacific for a Twitter chat on Ferguson, race, justice, and America. Follow @TheTakeaway and use the hashtag #BeyondFerguson.
What continues to complicate and embroil the situation in Ferguson, Missouri is the fact that unanswered questions and ambiguities still surround the death of 18-year-old Michael Brown. Are police shootings like this an unfortunate accident, or the playing out of a grim script of racial division? 
Annette Gordon-Reed is a professor at Harvard University and the author of "The Hemingses of Monticello: An American Family," an award winning book about the hidden history of Thomas Jefferson's slave family.
Gordon-Reed says Thomas Jefferson voiced concerns that African-Americans would never be fully integrated into the republic. Jefferson, she writes, thought African-Americans "would never forget the wrongs done to them in slavery and the white majority would never overcome its 'deep rooted prejudices.'" The founding father believed racism would ultimately undermine American democracy.
The post-slavery experiences of African-Americans that Jefferson predicted are what Professor Gordon-Reed believes are integral problems within America's present, and need to be a part of a national discourse.
"The purpose of being a free person in a republic is you can move about without official harassment," she states. 
Today on The Takeaway, she reflects on the ways the wrongdoings of America's past continue to haunt the nation's present.
"What happens in many, many communities across the United States is that there is a lack of respect or a sense that black people are presumptively guilty," says Professor Gordon-Reed. "That leads to a number of horrible situations, from deaths to everyday harassment, which is a problem—it's demoralizing."
The situation in Ferguson is representative of an ingrained racial divide in America, Gordon-Reed says.
"There is a greater fear, I believe, of black people," she says. "A number of people have pointed out situations where whites have gotten into altercations with cops—have hit cops, have shot cops, have done all kinds of things—and they don't get killed. It's almost as if there's a sense of a black person, black power, that is menacing. There's also the realization that killing black people is allowable in ways that it's not allowable to kill whites. So black lives are less than white lives."
Fear of African-Americans was one essential premise of slavery, and a notion that has been carried on throughout the decades, says Gordon-Reed. 
"This is a historical thing," she says. "This comes from slavery, it comes from Jim Crow and the aftermath of slavery and reconstruction—the idea that black lives are worth less. If they're worth less, period, they are certainly not to be accorded the full panel of rights of citizenship. The question is how do we live together as equal citizens, and we haven't resolved that."
Gordon-Reed, who is African-American, has seen this first hand. She says her brother's friend was killed in police custody when she was growing up.
"In this instance the officer was put on trial, but he was acquitted of self defense," she says. "It was pretty clear that nothing was going to happen to him." 
Many people in minority communities are afraid to even call the police, says Gordon-Reed. 
"A lot of times, people in my community who are victims would not want to call the police because what could happen would be far worse than the thing they would be complaining about," she says. "This was always a fear. I grew up in a small community where we had one black police officer, and he was not allowed to arrest white people—he could only arrest black people. There was this notion that whites were above blacks, and that played itself out in law enforcement everyday."
Even today, Gordon-Reed says she is sometimes hesitant of contacting law enforcement officials. 
"The fact that runs through my mind is problematic," she says.
In many ways, the circumstances surrounding police and and young black males need to be re-examined, Gordon-Reed says.
"It's a perfect storm," she says. "You have young males, who are young, and by definition impulsive, who have a keen sense of fairness in not wanting to be mistreated. There's a lack of communication and a lack of, I think, empathy on the part of officers who don't see these young people as young people, don't see black people as people in the same way, and it gets out of hand. This happens over and over again, and old habits die hard."
Better training and diversifying police forces could be a starting point to solving this problem, says Gordon-Reed. 
"I have hope that it will change—I'm not hopeful that it's going to be quick and it's not something that I think will be in my lifetime," she says. "But we have to start working on it. Obviously we've come a long way, and a lot has happened that Jefferson could never have envisioned. But it's not going to be easy."