Diana Richardson Goes to Albany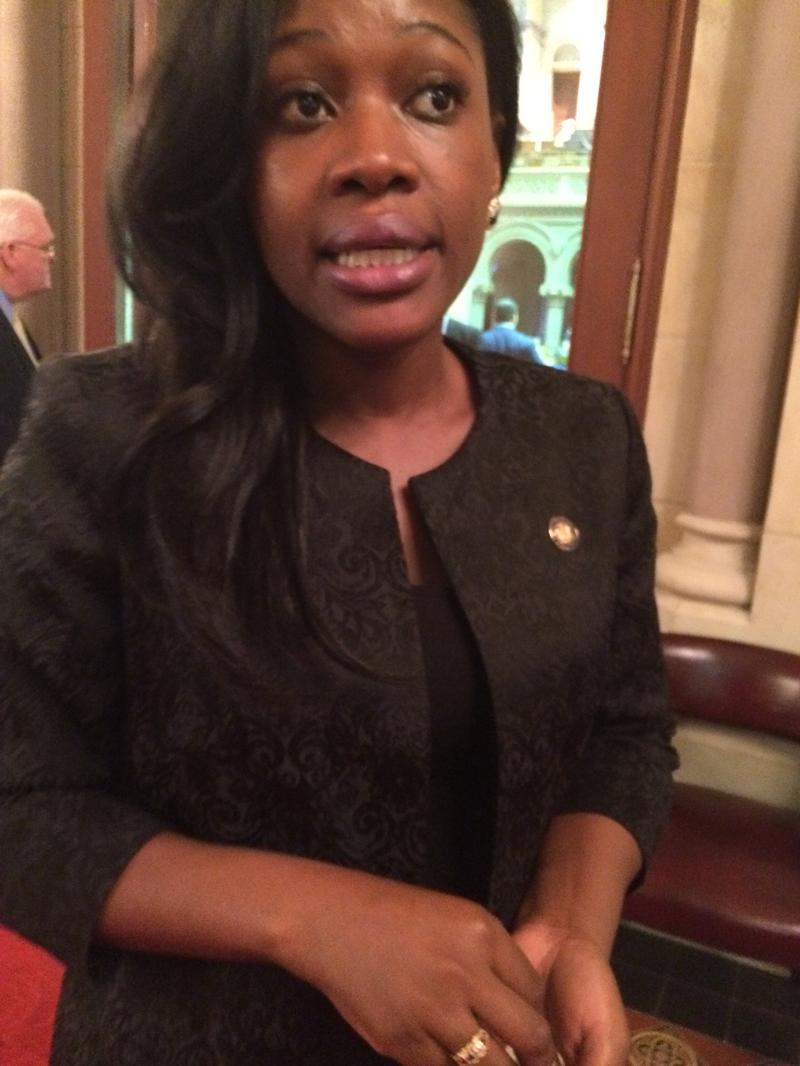 Brooklyn Assemblywoman Diana Richardson stands on the floor of the New York State Assembly, watching intently as her fellow legislators debate the state budget — a staggering $150-billion spending plan.
Her focus is on $4 million.
"It's anti-gun violence money," she says, her eyes scanning the room, occasionally glancing up at an electronic board where votes are posted. It's money that can pay for existing anti-gun-violence programs in Crown Heights, a section of Brooklyn she represents that has been plagued with shootings. "There's gang feuds going on," Richardson adds definitively, "and it's real."
Here in Albany, the grandeur of political office surrounds the 33-year-old — deep red carpeting, marble pillars, Gothic-style architecture, aides who await her direction. It's a dramatic change for the one-time teen rebel who spent September 11, 2001 huddled in a Manhattan homeless shelter — her first introduction to the juvenile justice system, at a time when her own life was on an erratic trajectory. 
She is barely a year into her term and this is her first budget vote. Intimidated? Hardly.
On this particular afternoon in March, she is owning every bit of her role as a legislator, cornering Assembly Speaker Carl Heastie, who was in the midst of budget negotiations with the governor and senate majority leader, to demand Brooklyn's fair share of that funding when it appeared to be in jeopardy.
"I almost hit the roof," she says of her reaction to an early budget draft. "I got into an argument with some key head people."
Typically in Albany, newly elected legislators "go along to get along," but Richardson has been outspoken to the point that "people have questions about her," says Assemblyman Joseph Lentol, who heads the Brooklyn delegation.
He was there when she confronted Heastie.
"She kind of, I'm not going to say ambushed — but confronted the Speaker," he recalled. "He said, 'I'm working on it.' "
For Richardson, securing that funding isn't just a means to provide much-needed programs for her district. It's also a measure of proof that she can deliver for the constituents who put her in office. She wants to make sure they're not short-changed by a legislature and governor that appeared more focused on funding recovery programs for heroin addicts in New York's suburbs.
"When crack hit African-American communities, we weren't looked at as victims addicted to drugs," Richardson. "We were looked at as criminals." 
"I have an epidemic, and it's called violence," she said.
She opens her hand. "You see what I'm holding right now," she adds. In her palm is a clear paperweight that has a cross inside, inscribed with the word, "faith."
Her personal slogan is, "Now is the time," a phrase she pulled from speeches by Martin Luther King Jr. Richardson, a Christian, says she believes God opened the door for her to be in Albany at this time.
Her proof: She is a Democrat who won her seat without the help of Brooklyn's powerful Democratic political machine.
"There was a series of events that just never happen, ever in any election," she said. "The perfect storm."
Andrew Sloat is a leader with the New Kings Democrats, a reform club of young progressives trying to wrestle candidates out of the hands of the political bosses, and into the hands of voters.
"Through a fluke, the community was able to elect someone who was not in the pocket of the Democratic party players," he said.
The District 43 seat opened up in 2015 after incumbent Karim Camara decided to join Gov. Andrew Cuomo's administration.
Normally, in a special election, the county party nominates a candidate to run. In Brooklyn, the Democratic candidate is a shoe-in; voters are overwhelmingly Democratic.
But as Sloat tells it, the party was disorganized. A party gadfly stepped in and managed to rally enough support to get his name on the ballot.
"The hilarious thing was that he then didn't turn in the paperwork on time," Sloat said. In the end, the Democratic line was empty. All the candidates for the seat had to pick other party lines. With strong grassroots and union support, Richardson ran on the Working Families Party line, and campaigned on the promise she would fight for affordable housing in Brooklyn.
She got 50 percent of the vote, and became the first state legislator elected on the Working Families Party line.
At the tail end of the 2015 legislature, she was sworn in as a member of the state Assembly. And though she is a Democrat, one of her first actions was to vote against the final session bill that had been backed by Speaker Carl Heastie and the Assembly's Democratic majority.
Richardson said she supports Heastie as a leader, but that his bill failed to address the loss of rent-regulated apartments in New York.
Lentol says Richardson isn't afraid to stand up for what she believes in — "standing up to power." But he says she also doesn't understand "the nuances of what the protocol is and what the establishment expects of you when you come to Albany.
"She has a way that charms people," he said, "and sometimes rubs them the wrong way."
Like the time she pulled up a chair at the conference table when Assembly Democrats were meeting in private to discuss legislation. The table, she later learned, "is only for leadership. If you sit at the table, it's deemed to be disrespectful."
Richardson says she is learning how to negotiate relationships in Albany, where not just legislators, but lobbyists and other elected officials all have expectations. "You gotta find that balance of not trying to step on the toes of those who've been here, but still figuring out a way to create your own name," she said.
In Brooklyn, she is mending strained relationships with the Democratic establishment, some of whom have described her as a difficult personality. State Sen. Jesse Hamilton, whose district include's Richardson's, recently downplayed any tensions. He says Brooklyn Democrats are prepared to support Richardson in November, when she runs on the Working Families Party and Democratic lines — and the rest of the Democratic party's ticket. "We're one big happy family," he joked.
Richardson says she doesn't plan to change who she is to satisfy the expectations of the old guard. Her allegiance, she says, is to her constituents and her supporters. She has mostly grassroots support from community members, and strong support from the unions — including teachers and healthcare workers.
She says she also is in Albany to fight for those gang members who perpetrate gun violence.
"They're not bad people," she said. "They're just making bad choices."
She knows what she's talking about. As a teenager, Richardson said she went from being an honor roll student to a rebel who refused to go to class. Her mother, a West Indian immigrant, put her out, and Richardson ended up at Covenant House, a shelter in Manhattan. She witnessed youth strung out on drugs, and kids who'd aged out of the foster care system.
That experience marked a turning point for Richardson.
"It was there that I watched so many youth get tied up, in the prostitution arena ... so many youth get tied up in the juvenile justice arena. It was then in that experience that I said okay, something has got to change."
She got her GED, then a master's from Baruch Collage. Eventually, she got her first taste of political office when she joined the staff of state Sen. Kevin Parker. He recalls Richardson as outspoken and connected to her community. Parker says her success as a legislator will be determined by what she is able to accomplish over the years, working with other leaders.
She appears to be off to a good start. That $4 million she demanded to combat gun violence? When the budget was done, the legislature and governor approved $5 million.
Lentol credited Richardson's willingness to press Heastie.
"She was able to demand that of the Speaker in sort of a rough, edgy way, but it worked," he said. "I think she had something to do with it."