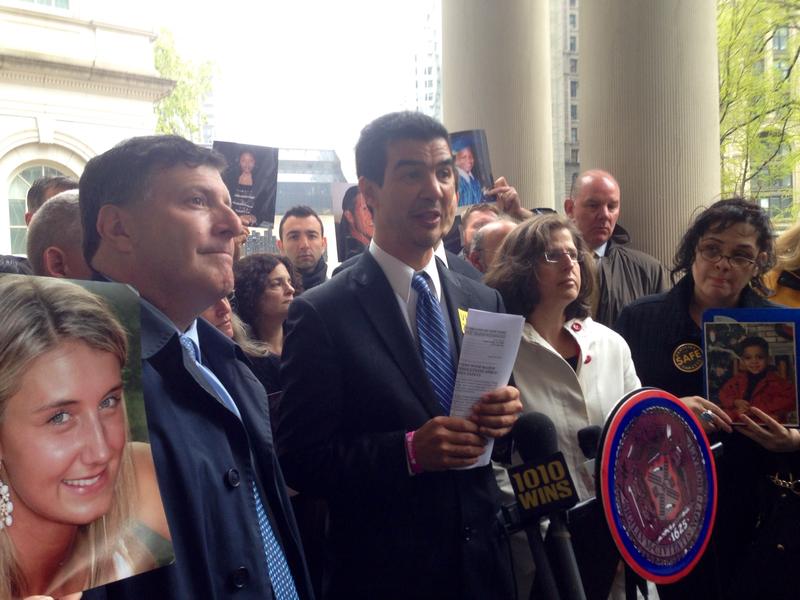 With Vision Zero, the fight will be over the details. From families of crash victims to the Teamsters, almost every speaker at yesterday's marathon City Council hearing expressed strong support for the multi-pronged plan to reduce traffic deaths. But with 22 pieces of legislation on the table, almost every speaker also wanted some changes.
One bill would make it a misdemeanor to injure or kill pedestrians in the crosswalk or on sidewalks - an infraction that currently often doesn't yield a summons. Advocates called the increased penalty, of a fine and up to 30 days in jail, long overdue.
"If I go out and drink a beer while I sit on my stoop this weekend, I can get a misdemeanor charge. Shouldn't I get the same thing if I run you over while you sit on yours?" asked Steve Vaccaro, an attorney who represents the Liao family, whose daughter Alison was killed by a car in October.
But the council should go further, Vaccaro said, by making it a misdemeanor to hit a cyclist in a bike lane, and raising the fine far above the proposed $250 level.
A proposal to make it easier to suspend and revoke the license of drivers involved in crashes was lauded by Dana Lerner, mother of 9-year-old Cooper Stock, who died after being hit by a taxi in January, and Donald Gordon, whose 22-year-old daughter Kelly Gordon was hit and killed by two cabs three weeks ago.
None of the drivers involved in those crashes were given summonses, Lerner and Stock said. "For all we know, these guys could have driven a block away, picked someone up and drove them home," Gordon said.  
Drivers involved in crashes don't get back on the road because they lack respect for people injured or killed, said Asim Akhtar, with the Taxi Workers Alliance. "They're on the street to work, to provide for their families," he said, and suspending a driver's license before he is convicted of a traffic infraction could cause significant economic hardship. Taxi and livery drivers are, statistically, the safest drivers in the city, said Carolyn Castro, executive director of the Livery Roundtable. She urged the council to consider expanding the penalties to all drivers who cause critical injury or death, not just for-hire cars.
Other speakers proposed tweaks to bills governing data sharing and wheel guards for trucks. One suggested improvements to a bill authorizing a study of left turns: add right turns.
Any tweaks will have to be made fast.
"We expect this to move very quick," said Councilman Ydanis Rodriguez, who chairs the Transportation Committee. Many of the bills have the support of the de Blasio administration, he said.
But the broader changes sought by the Vision Zero plan depend on action in Albany, including lowering the speed limit and installing more traffic cameras. During the hearing, Polly Trottenberg, head of the Department of Transportation, announced that the state Senate had passed legislation authorizing 120 new speed cameras for New York City, to applause from the chamber. Those cameras can only operate during school hours, and expanding the program to nights and weekends - when many speeding deaths occur - would require approval from state legislators.