Despite New Laws, Delivery Cyclists Continue to Take Risks and Get Hurt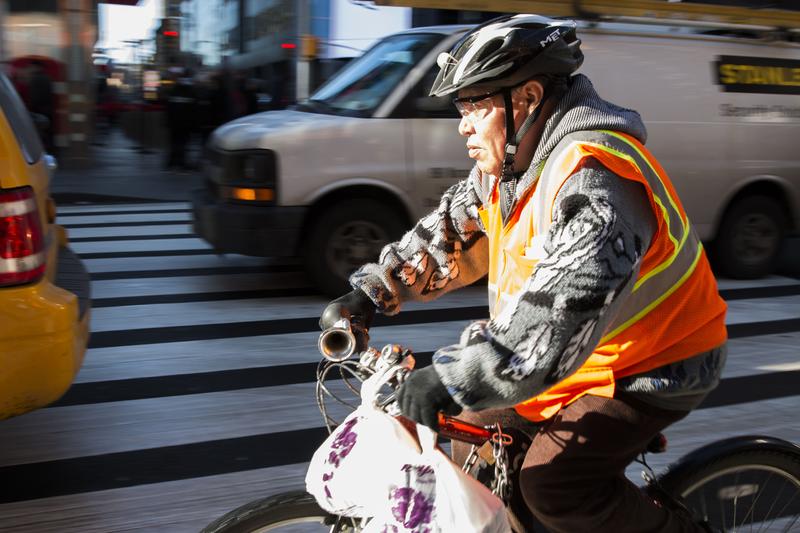 In a city that's always moving, working as a food delivery cyclist in New York is not only demanding, but incredibly risky: they are four to seven times more likely to be injured in a motor vehicle collision than non-commercial cyclists, according to a paper by researchers at Bellevue Hospital who have studied their behavior. And that's even given the fact working bicyclists tend to ride more than commuters or recreation cyclists. 
In recent years, attempts have been made to stem delivery cyclists' sometimes reckless and unpredictable riding patterns. Safety equipment became compulsory. Traffic tickets escalated. But delivery workers say these measures have failed to change their behavior substantially due to the economic pressures they work under. 
The regulation of commercial cyclists dates back to at least 2007, when helmets became mandatory. But it gained momentum following the death of Stuart Gruskin, a pedestrian who was struck and killed by a commercial cyclist. In 2012, the City Council passed a new set of laws to require delivery cyclists to take a safety course and wear vests identifying themselves and their employers.
"We understand why people with a bicycle go quickly," said City Councilman Jimmy Vacca of the Bronx, who was chairman of the Transportation Committee at the time. "We understand it's to make the buck. But it doesn't mean that you can jeopardize the public safety in the process of doing that." 
The city Department of Transportation has issued over 8,700 fines to restaurants since the laws went into effect, according to data supplied to WNYC. Some of them are as high as $250. The police department, meanwhile, regularly hands out tickets for violations such as running through a stop signal and riding on the sidewalk.
"Of course we want to obey the rules, but it's because we have a lot of pressure," said Carlos Rodriguez Herrera, a delivery cyclist from Mexico who works in Manhattan. "They don't pay minimum wage, and also we have to make some tips to survive." 
Herrera says he's gotten so many tickets that he once spent three days in jail for being unable to pay them. Running a red light is a $190 infraction, for example.
His boss? 
"He find out, but he don't care," Herrera said. Instead, Herrera was told to keep making deliveries at a rate he thought was impossible. On top of that, Herrera was getting paid less than minimum wage.
Wage theft is common in New York City; nearly 14,000 workers in the city were reimbursed unpaid wages in 2014, totaling $18.8 million, according to state Department of Labor data.
Herrera is organizing with other delivery workers through the National Mobilization Against Sweatshops, which is advocating for a bill before the New York State Assembly, nicknamed SWEAT (Securing Wages Earned Against Theft). The legislation would make it more difficult for employers to avoid paying legal judgments for wage theft.