Democrats Unveil a Trillion-Dollar Infrastructure Plan of Their Own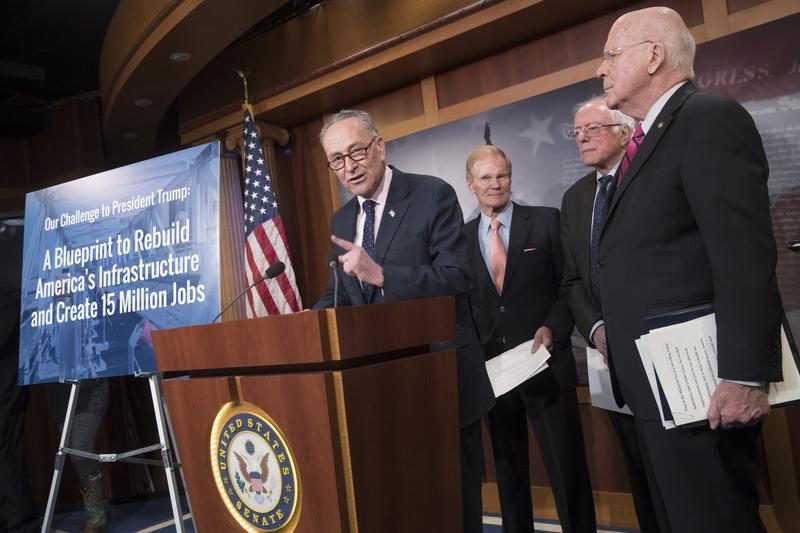 Senate Democrats released a trillion-dollar plan Tuesday to build roads, schools and maybe even a new train tunnel between New York and New Jersey.
Sen. Chuck Schumer said the plan is a marker as they negotiate a bill with President Donald Trump and others in Congress.
"We're challenging him to join us even if his Republican colleagues in the House and Senate aren't for it," Schumer said. Democrats have proposed similar plans in the past, but Republicans have shut them down over concerns about ballooning the federal debt.
Trump promised a trillion-dollar infrastructure plan during his Election Night victory speech, but the administration hasn't released any details yet. So Democrats beat Trump to the punch. 
The Democratic blueprint sets aside $210 billion to fix roads and bridges; $200 billion for "vital" projects — which could include Amtrak's $20 billion Hudson River tunnel; $180 billion to replace and expand train and bus systems; $110 billion to upgrade water and sewer systems; and $75 billion to fix up schools. Democrats estimate the package would create 15 million jobs during the 10-year plan, and a "made in the U.S.A." requirement would boost steel mills and other industries.
"This bill would mean three things for this country," Schumer said. "Jobs, jobs and more jobs. And good-paying jobs to boot."
Schumer said he discussed the plan with Trump during a meeting with Congressional leaders Monday.
But Republicans have long opposed attempt to spur the economy through government spending — especially with $20 trillion in federal debt.
"What I'm against is a replication of the Obama simulus package," Senate Minority Leader Mitch McConnell said, when asked where he stood on infrastructure bills. "We'll take a look at it. I hope it will be something credibly paid for...I think we all want to tackle infrastructure in a credible way."
The Democratic plan could give Congressional Democrats more leverage as they try to negotiate a final bill. If the public or Trump latch on to a Democratic proposal, Congressional Republicans could feel more pressure to include Democratic ideas in future legislation.