Soundcheck
Deltron 3030: The World-Building Hip-Hop Group Returns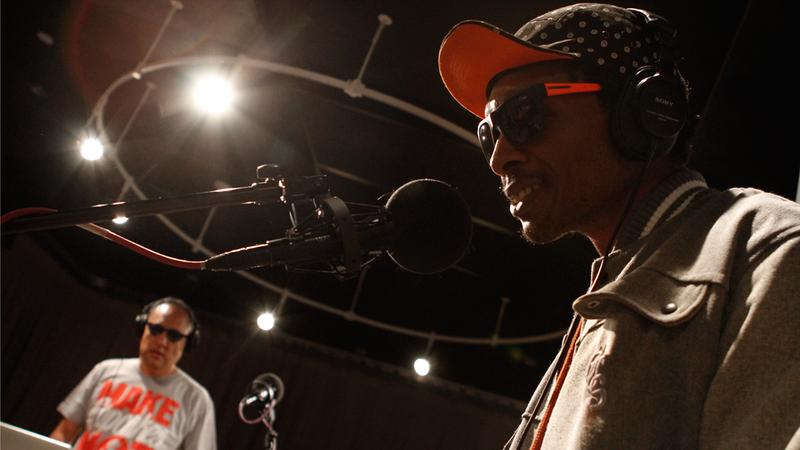 In 2000, there wasn't anything quite like Deltron 3030's high-concept world-building music. On its self-titled album, the Bay Area alternative hip-hop supergroup -- comprised of veteran MC Del the Funky Homosapien, Kid Koala and producer Dan "The Automator" Nakamura -- unleashed a dense dystopian future set in the year 3030, where Deltron Zero (Del's alter ego) battled against corporate overlords. It was a decidedly sci-fi and geek culture-leaning record -- before that notion became cool -- full of intricate raps and cosmic production.
Since then, rumors of a follow-up led to delays and postponements that stretched on for years. But now, 13 years later, Deltron 3030 has finally regrouped and is revisiting that future -- this time, set in 3040 -- on the sequel, Event II. This time out, the group is joined by a slew of unlikely guest stars -- from Rage Against The Machine's Zack De La Rocha and The Lonely Island to actors Joseph Gordon Levitt and Amber Tamblyn, comedian David Cross and even chef David Chang.
Still, despite the extra star-power, Event II is definitely darker. The songs and skits delve deeper into the storyline, depicting a bleak post-apocalyptic hellscape where they can comment on the present: There are clear references to economic desperation, wealth gaps, and over-reaching government surveillance. It's a bold, if sometimes unwieldy album, but an inventive one.
Watch Deltron 3030 recreate the songs and sounds from Event II in the Soundcheck studio.
Set List: 
"The Return"
"Nobody Can"
"City Rising From The Ashes"