Continued Delays For Housing at Atlantic Yards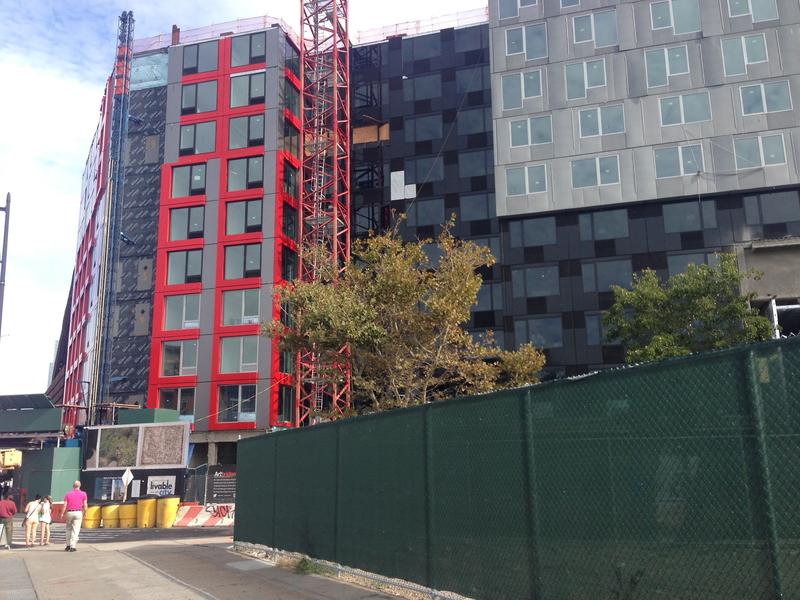 Work remains halted at the site of the modular residential tower next to the Barclays Center arena in Brooklyn. The building is part of the 22-acre, mixed-use development formerly known as Atlantic Yards and now branded Pacific Park.
The construction firm Skanska filed a complaint in New York State Supreme Court against Forest City Ratner affiliate, Atlantic Yards B2 Owner, and then Skanska was hit with a counter suit from Forest City.
The dispute, according to court papers, began as early as last January and centers on the design and construction of the pre-fabricated units that make up the modular tower. The 34-story residential high-rise was supposed to be completed in July 2014. So far only 10 of the proposed 34 stories are finished, and there is no end date in site for the proposed residential tower. It was to have been the world's tallest building made up of pre-fabricated modular apartment units built off site. 
"According to Forest City, they had 'cracked the [modular] code.' That turned out not to be true. Now, rather than acknowledging their problems, they are slinging mud at Skanska," said Richard Kennedy, Skanska's co-chief operating officer.
The building's 930 pre-fabricated steel modules fit together to create completed apartments. They're trucked from the factory to the site, then stacked like blocks to form the finished building, according to court documents filed by Forest City Ratner.
In the developer's lawsuit, the firm blames Skanska for "massive" cost overruns and delays.
Skanska stopped work at the Brooklyn building last week.
"Skanska's unilateral action has barred construction from continuing, and this lawsuit is the first of many steps we intend to take to get this building moving again," said MaryAnne Gilmartin, Forest City Ratner Companies president and CEO.
Half of the modular tower's 363 units were being built for moderate and lower income tenants.
"We hope the parties can resolve this matter quickly so workers can get back to work and this affordable housing project can move forward," said Wiley Norvell, deputy press secretary for Mayor Bill de Blasio.
Forest City said no new end date for the modular tower has been set.